Protect Your Home And Business In Thompsons Station, TN
The pests that commonly invade your home can be divided into two categories: nuisance and destructive. Nuisance pests (which include odorous house ants and boxelder bugs) are annoying, yes, but generally do not cause any damage to structures or introduce disease into your home. Nuisance pests can, however, enter your home in extremely large numbers and can be incredibly difficult to eliminate. Destructive pests (including termites and mice) are insects and rodents capable of causing major structural damage to your home. Given the opportunity, some of these pests will contaminate food, damage personal items, and expose your family to various diseases. At All-American Pest Control, we have a keen understanding of the pest pressures faced by homeowners in our region, and we proudly offer a wide variety of pest control solutions.
Home Pest Control
If your home is currently under attack from a particular pest OR if you want to be proactive in protecting your home from an infestation, All-American Pest Control can help. We offer a variety of home pest control options, including:
Perimeter PLUS Pest Control - Providing comprehensive pest control indoors along with protection against five common outdoor pests - including mosquitoes, flies, Japanese beetles, spiders in your landscape and boxelder bugs.
Green Choice Pest Control - Providing coverage for over 47 types of pests with detailed exterior treatments and interior services (as needed) with no annual contract. If pests return between scheduled visits, we will return to treat at no additional charge. The difference with this program is that we use all-natural, plant-based material including Essentria™ to treat your pest problems.
Our residential pest control offerings also include brown recluse spider control, flea & tick yard treatments, fire ant control, and mosquito reduction services.
Termite Control
Termites are pests that, once discovered on your property, need to be controlled immediately. Termites in Tennessee have the ability to work unnoticed for months or even years, which can lead to significant undetected structural damage to your home. If you find yourself in need of termite control, All-American can safely and efficiently eliminate your termite problems. We are authorized operators of the Sentricon® Termite Colony Elimination System which not only eradicates the termites that are currently feeding on your home or business but also ensures that termite colonies do not have the opportunity to establish. The Sentricon® System is:
An eco-friendly termite control option.
A non-invasive way to eliminate termites from your property. (No drilling, digging, or trenching required!)
The ideal solution rids your property of termites and prevents future infestations.
If you've noticed termite damage, spotted a termite swarm, or simply want to protect your property from termites, contact us today.
We're Ready To Help
Call Our Office or Fill Out The Form to Schedule Service Now
Pest Prevention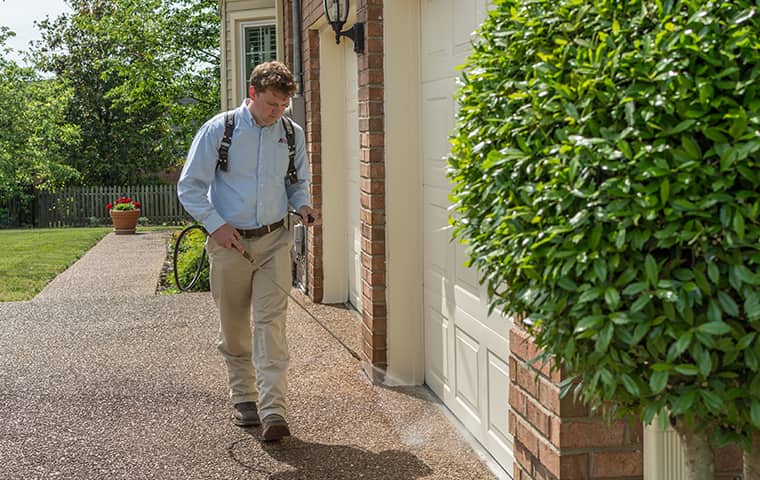 As a homeowner, there are several steps you can take to prevent pest problems in and around your property:
Seal cracks in your foundation or elsewhere on the exterior of the home.
Caulk gaps around your windows and doors.
Make sure that all door and window screens are completely intact.
Trim bushes and trees away from your home and clear debris from your yard.
Store woodpiles and garbage cans away from the outside of your home.
Make sure that your chimney is covered by a has a tightly fitted cap.
Install mesh coverings over vents.
Remove clutter from your garage, basement, attic, and other storage areas to eliminate hiding spots for pests.
Empty trash cans inside the home often.
Do not leave dirty dishes in the sink overnight or for extended periods of time.
Clean up spills and crumbs as soon as they happen.
Vacuum or sweep under appliances often and remove food and grease build-up on the top and sides of the oven and other kitchen appliances.
Dave Ramsey Trusts Us, You Can Too!
If you've found ants, spiders, or mouse droppings in your home, All-American Pest Control can help you get rid of them. In fact, world-renown personality and Nashville Dave Ramsey trusts us to protect his home from pests. So can you! We've been helping home and business owners in Middle Tennessee since 1961. Our trained technicians live in the same areas they are treating, and we will give you reliable, quality service no matter what your pest problem may be. Contact us today for more information on any of our pest control programs.