Protect Your Home And Business In Thompsons Station, TN
The pests that commonly invade your home can be divided into two categories: nuisance and destructive. Nuisance pests (which include odorous house ants and boxelder bugs) are annoying, yes, but generally do not cause any damage to structures or introduce disease into your home. Nuisance pests can, however, enter your home in extremely large numbers and can be incredibly difficult to eliminate. Destructive pests (including termites and mice) are insects and rodents capable of causing major structural damage to your home. Given the opportunity, some of these pests will contaminate food, damage personal items, and expose your family to various diseases. At All-American Pest Control, we have a keen understanding of the pest pressures faced by homeowners in our region, and we proudly offer a wide variety of pest control solutions.
Home Pest Control
It's our mission at All-American Pest Control to ensure that your Thompson's Station home is always protected from pest invaders. We're able to accomplish this goal with our implementation of Integrated Pest Management techniques. This system ensures that you always benefit from treatments that are tailored to your precise needs.
Our service starts with an evaluation in order to provide our technicians with all of the information that they need. We then clean up any visible signs of infestation, including removing any spider webs that we find. We also treat the interior and exterior of your home, seal off entry points, and provide ongoing services in order to monitor the results and tweak treatments when necessary. To learn more about our residential pest control offerings, please call us today.
If your home is currently under attack from a particular pest OR if you want to be proactive in protecting your home from an infestation, All-American Pest Control can help. We offer a variety of home pest control options, including:
Perimeter PLUS Pest Control - Providing comprehensive pest control indoors along with protection against five common outdoor pests - including mosquitoes, flies, Japanese beetles, spiders in your landscape and boxelder bugs.
Green Choice Pest Control - Providing coverage for over 47 types of pests with detailed exterior treatments and interior services (as needed) with no annual contract. If pests return between scheduled visits, we will return to treat at no additional charge. The difference with this program is that we use all-natural, plant-based material including Essentria™ to treat your pest problems.
Our residential pest control offerings also include brown recluse spider control, flea & tick yard treatments, fire ant control, and mosquito reduction services.
Commercial Pest Control In Thompson's Station
At All-American Pest Control, we provide reliable solutions for all of your Thompson's Station business's pest concerns. We are a locally owned business backed by more than 60 years of pest control experience. Each of our technicians is an expert in their field and will always be professional and helpful.
Because we employ the Integrated Pest Management method, we are able to best understand your needs. This system utilizes detailed property inspection in order to build tailored treatment programs that we monitor for efficacy over time. Some of the services that we may provide include setting bait stations, using glue boards, and sealing off cracks and crevices. Given our experience, we are ready to work with hotels, restaurants, offices, warehouses, and more. For more information on the benefits of our commercial pest control programs, please call us today.
Termite Control
Termites are pests that, once discovered on your property, need to be controlled immediately. Termites in Tennessee have the ability to work unnoticed for months or even years, which can lead to significant undetected structural damage to your home. If you find yourself in need of termite control, All-American can safely and efficiently eliminate your termite problems. We are authorized operators of the Sentricon® Termite Colony Elimination System which not only eradicates the termites that are currently feeding on your home or business but also ensures that termite colonies do not have the opportunity to establish. The Sentricon® System is:
An eco-friendly termite control option.
A non-invasive way to eliminate termites from your property. (No drilling, digging, or trenching required!)
The ideal solution rids your property of termites and prevents future infestations.
If you've noticed termite damage, spotted a termite swarm, or simply want to protect your property from termites, contact us today.
We're Ready To Help
Call Our Office or Fill Out The Form to Schedule Service Now
Pest Prevention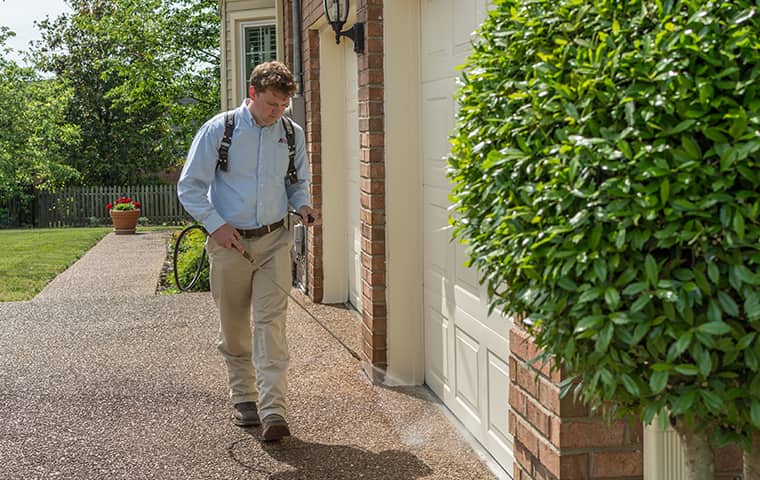 As a homeowner, there are several steps you can take to prevent pest problems in and around your property:
Seal cracks in your foundation or elsewhere on the exterior of the home.
Caulk gaps around your windows and doors.
Make sure that all door and window screens are completely intact.
Trim bushes and trees away from your home and clear debris from your yard.
Store woodpiles and garbage cans away from the outside of your home.
Make sure that your chimney is covered by a has a tightly fitted cap.
Install mesh coverings over vents.
Remove clutter from your garage, basement, attic, and other storage areas to eliminate hiding spots for pests.
Empty trash cans inside the home often.
Do not leave dirty dishes in the sink overnight or for extended periods of time.
Clean up spills and crumbs as soon as they happen.
Vacuum or sweep under appliances often and remove food and grease build-up on the top and sides of the oven and other kitchen appliances.
Dave Ramsey Trusts Us, You Can Too!
If you've found ants, spiders, or mouse droppings in your home, All-American Pest Control can help you get rid of them. In fact, world-renown personality and Nashville Dave Ramsey trusts us to protect his home from pests. So can you! We've been helping home and business owners in Middle Tennessee since 1961. Our trained technicians live in the same areas they are treating, and we will give you reliable, quality service no matter what your pest problem may be. Contact us today for more information on any of our pest control programs.
The Most Effective Rodent Control For Your Thompson's Station Home
You have one of two reactions when you see a rodent in your house. You either think they are cute, with their whiskers, noses, and fuzzy ears, or you jump up on a table and scream at the top of your lungs. Whether you think they are cute or terrifying, you don't want rodents in your Thompson's Station home. The good news is that there are steps you can take to keep rodents out of your house, such as:
Seal cracks, crevices, vents, and utility openings with rodent-proof material.
Store food, including pet food, in airtight containers.
Eliminate excessive moisture caused by leaking pipes, HVAC units, and other water sources.
Store firewood at least twenty feet from your home.
Along with taking these steps, the best method for keeping these fuzzy pests out of your home is professional rodent control from All-American Pest Control. Our trained experts will quickly eliminate rodents in your home and help you take the necessary steps to keep them from returning.
Don't try to handle a rodent problem on your own. Let us safely and effectively solve your rodent problems and keep your home rodent-free.
Five Signs Your Thompson's Station Home Has A Cockroach Problem
Developing a cockroach problem in your Thompson's Station home is a lot easier than you might think. Some species utilize your drainage system to enter your home, while others infest packages or simply slip through any flaws in your foundation. They come in search of moisture, food, and water. Unfortunately, determining whether or not you have cockroaches can be a challenge because they live out of sight and are primarily nocturnal. That said, here are five signs that your home might be infested with cockroaches:
Shed skins or body parts
Lots of fecal matter on countertops that resemble pepper grounds
Finding live adult cockroaches
Tiny chew marks on items like cereal boxes or bags of flour
Smear marks along your walls that come from liquid feces
If you notice any of these signs in your home, the best thing to do is reach out to All-American Pest Control for cockroach removal in Thompson's Station. Our company has been providing quality cockroach solutions since 1961. All of our services are based on the principles of Integrated Pest Management, which means that they address the root cause of problems and are safe for the entire household. For more information on cockroach control, call us.
What You Need To Know To Keep Mosquitoes Out Of Your Thompson's Station Yard
Mosquitoes will appear around your Thompson's Station yard year after year. They begin to appear when temperatures rise in the spring and will last throughout the early days of fall. Not only are these pests a nuisance, but they have the potential to be very dangerous to people and pets. In order to keep them away, try these tips:
Start with standing water. One of the most enticing conditions for mosquitoes is areas of standing water. This means that it's very important to turn over bird baths routinely and clear out buckets or other items that collect water.
Plants matter. There are some plants that contain properties that are said may deter mosquitoes. Those include basil, lavender, and citronella.
Landscaping can help. In order to eliminate other potential hiding places for mosquitoes, clear away all yard debris.
Making yourself unappealing to these pests is important. Female mosquitoes need your blood to reproduce and they will find you. In order to make yourself less attractive to them, opt for unscented hygiene products, limit your alcohol consumption, and wear light-colored clothes.
Bring in assistance. The truth is, there are so many things that lure mosquitoes to yards like yours. For reliable mosquito treatments in Thompson's Station, consider reaching out to your local pest pro.
For more information on mosquito control, call All-American Pest Control today.
When Are Beetles Most Active In Thompson's Station?
Beetles are considered nuisance pests that usually enter Thompson's Station homes because of light, but also in search of yard debris and pantry items. Whether it's carpet beetles, Asian lady beetles, cigarette beetles, drug store beetles, grain beetles, or otherwise, all beetles can be a nuisance and potentially a destructive force within your Thompson's Station home.
If local residents are wondering when they are most active, they can expect to see an increase in populations during the months of July and August. Adult beetles typically die off in the beginning of fall. It's also important to note that beetles do lay dormant for certain parts of the day, so it may be more difficult for homeowners to locate them on their properties. They are typically active in the early hours of the morning and in the late afternoon.
At All-American Pest Control, we provide ongoing support against beetles with year-round beetle control in Thompson's Station. Our company has been providing these services for more than 50 years. We follow Integrated Pest Management methods in order to create long-term relief from pests like beetles. It also ensures that we utilize the safest treatments possible. For more information on beetle prevention, please call us today.
How To Keep Flies Out Of Your Thompson's Station Home
Flies are primarily considered a nuisance pest; however, they can sometimes be linked with food poisoning, E. coli infections, and dysentery. Around Thompson's Station, some of the most common fly species we see include house flies, cluster flies, drain flies, bottle flies, fruit flies, and phorid flies.
In order to keep flies out of your Thompson's Station home, try these tips:
Seal off gaps. To keep flies outside, you should repair worn window screens and apply weatherstripping around doors, vents, and windows.
Be conscientious about food. In order to eliminate enticing factors for flies, dispose of food outdoors or in well-sealed garbage cans. It's also important to take out the trash often. You'll also want to get rid of fruits that have gone bad and disinfect your counters and floors to get rid of spills.
Try plants. There are some plants that might provide some relief from flies. Those include lavender, catnip, and basil.
Address moisture. Flies are lured to moist conditions, so it's imperative that you fix any leaks and make sure that you shut off faucets completely.
Work with a professional. Flies can end up in your home seemingly overnight. For the most reliable fly control in Thompson's Station, consider working with a pest control expert.
For more information on keeping your home fly-free, call the experts at All-American Pest Control to find out about our fly control services.