Why Choose All-American Pest Control
Hi! I'm Erin Richardson, and I'm not only the owner, I'm a Mom. Give us a call today! At All-American, we know the best way to control creepy critters is to hire and grow great people. Great people give homeowners safety, security, and truly remarkable service.
Other companies don't seem to get this, but we don't believe we're a pest control company. We're a people company... that happens to control pests.
Check out our reviews online. We look forward to meeting you!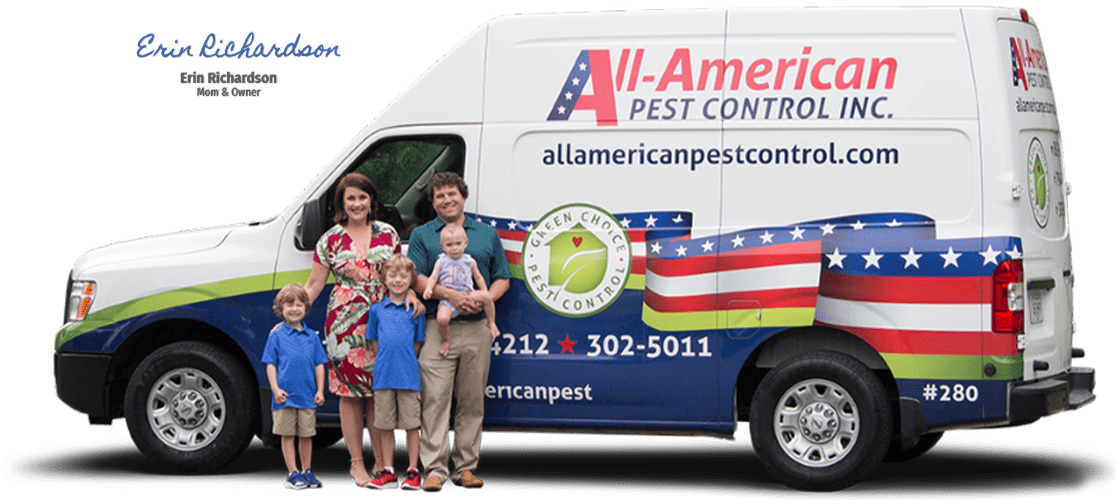 We're Ready To Help
Request a FREE evaluation or get a quote over the phone.
Home Pest Control + Mosquito
In Nashville, homeowners call on All-American Pest Control to keep their home pest-free. This is not a simple task. Each season in middle Tennessee brings out new bugs to battle.
Our Perimeter PLUS Pest Control program is designed to keep all bugs out of your home with a 1-2-3- Guaranteed! approach.
Step 1: Spiders Beware Our first trip around your home each visit is to make an inspection and remove spider webs that we can reach
Step 2: Stop Pests Before They Get Inside Our second trip around your home each quarter includes a perimeter application with traditional materials and/or a granule band to stop pests before they get inside.
Step 3: Misting Applications Our third trip around your home is to mist your landscaping, under decks and tree canopies close to your home. This misting application targets outdoor flying pests like mosquitoes, spiders in your landscaping, wasps, boxelder bugs, stink bugs and Asian lady beetles.
Guaranteed! As long as you are on the program, if you have a pest problem on the inside of your home - call for an appointment- there will be no additional charge for additional services on the inside of your home for covered pests.