All-American 5-Star Business Care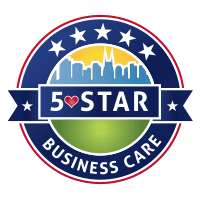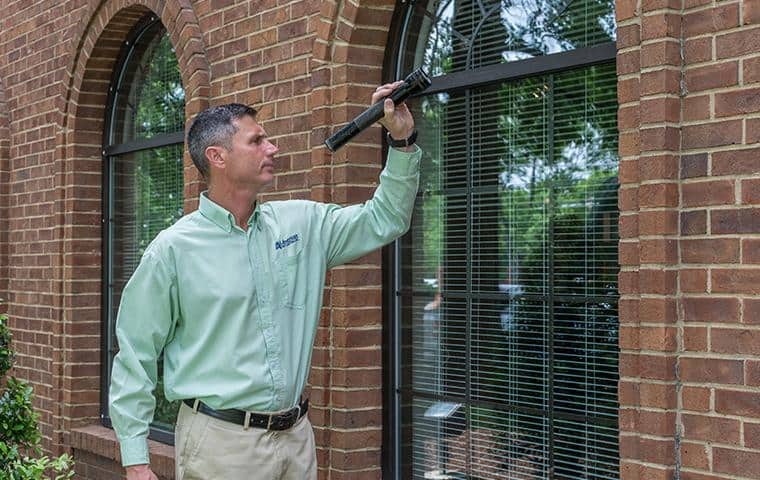 Our All-American 5-Star Business Care program is designed with 3 simple promises in mind –
We get results! We drive the results through proven systems designed around hiring the best team, never cutting corners, follow-up calls, and pro-active service visits.
Excellence Behind the Scenes! While all pest companies boast that they can get rid of your pests, we understand that it's just as important to show up on time, do what we say we are going to do and bill accurately.
Expert Customization! We will work with you to customize our 5 Star Business Care Program to fit the needs of your business and budget! As your business grows and changes, we are here to grow and change with you.
Schedule a free business evaluation, it's easy!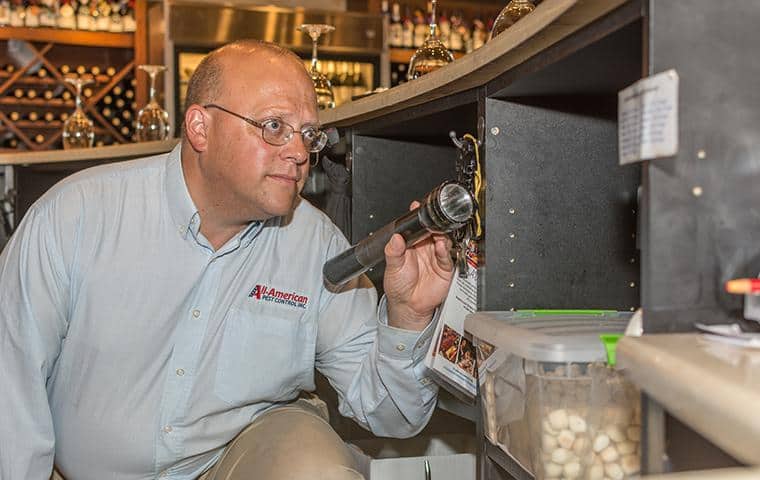 Backed by nearly 60 years of pest control experience, our goal is to help you protect your people, profits and reputation in the marketplace with smart, sensible, reliable pest control services.
That is why we offer a free business evaluation. This consists of a thorough look from a trained professional under, in and around your business. We'll make expert recommendations and customize a program that fits your growing businesses needs and budget.


Our customers tell us we save them time, money and headaches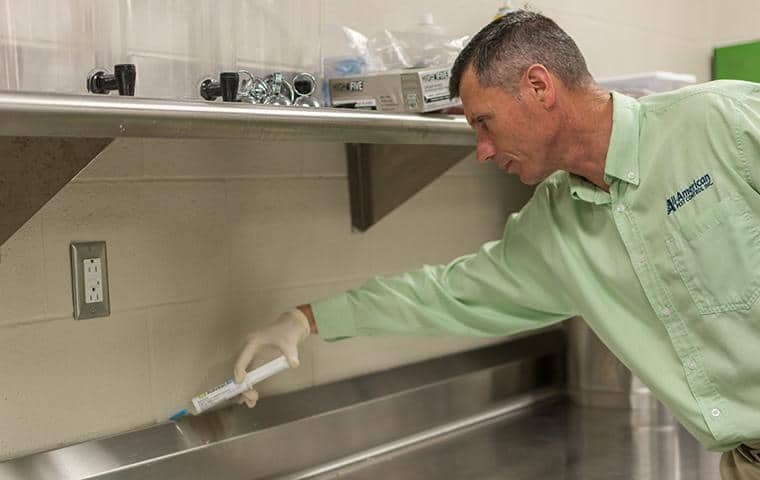 We get rid of their pest problems quickly

We are reliable and show up on time

We bill accurately and offer a variety of fast and easy payment options

We save our customers' time and money by customizing programs that fit their facility usage and vulnerabilities

We save customers from headaches because we answer the phone, make decisions and are accountable for our actions
We're Ready To Help
Call Our Office or Fill Out The Form to Schedule Service Now
Why work with All-American

Results
We get results! We drive the results through proven systems designed around hiring the best team, never cutting corners, follow-up calls, pro-active service visits, and results facilitator check-ins.

Excellence
Excellence behind the scenes! While all pest companies boast that they can get rid of your pests, we understand that it's just as important to show up on time, do what we say we are going to do, and bill accurately.

Customization
We will work with you to customize our 5 star commercial pest control program to fit the needs of your business and budget! You get to pick the combination of options that work best for you!

Expert
Our trained technicians provide top-quality services and answers to any questions you may have.
What You Can Expect with Commercial Pest Control from All-American
When termites, rodents, ants, and other pests invade businesses and commercial properties, big problems soon follow. Even a minor pest presence can turn customers away, while severe infestations can have a lasting negative impact on your business - which is why every business in Tennessee can benefit from a high-quality commercial pest control program.
Pests spread illness to you, your customers and your employees while damaging property and inventory. Pest drive away tenants, reduce employee morale, and quickly develop a negative reputation for your business. And once a pest is inside your business, the problems they create will only compound the longer they're left untreated.
If and when pests become a problem for your business, you need a quick solution for the present that can also keep you better protected for the future. Luckily, that's exactly what All-American Pest Control can provide.
Here are some of the things you can expect when you sign up for commercial pest management from All-American Pest Control through our 5-Star Business Care Program:
Effective Pest Control: First and foremost, when you sign on for commercial pest management through All-American Pest Control, you can rest assured that your business will receive effective pest control built to eliminate any existing pests while protecting your property for tomorrow.
A quality commercial pest control program begins and ends with effective pest control, which is why our technicians make use of the most advanced products and strategies in the industry to protect every business they treat. Utilizing Integrated Pest Management strategies and EPA-approved green pest control solutions, All-American Pest Control provides Tennessee businesses with a level of protection unavailable anywhere else.
Professionalism: The service team at All-American Pest Control consists solely of licensed and certified pest control experts that take the protection of your business very seriously.
When you schedule a treatment, your technician will show up on-time and well-prepared. When you call us, someone will answer the phone promptly to answer any questions you may have. Before and after treatments, your technician will listen to your concerns and be able to answer any questions you have about your treatment.
Customized Service: When it comes to pest control, one size does not fit all. Different industries face different challenges when it comes to pests, and smaller businesses may require different levels of treatment compared to larger operations. Even if they face most of the same pest threats, a manufacturing plant may require different methods to be effective than a commercial kitchen, a retail business will have different needs than an apartment complex, and so on.
At All-American, we understand the different challenges that Tennessee businesses of all types face when it comes to pests. No matter the size or scale of your business, we'll customize your treatment program to meet your unique needs. We're with you for the long-run - as your business grows and changes, we'll continue to update and customize your treatment plan to grow with it.
Continuing Support: All-American Pest Control technicians will complete a number of proactive service visits to deal with pests before they can get into your business. These service visits are scheduled periodically throughout the year, designed to accommodate for changing pest pressures each season.
If pests ever find a way into your business, we provide interior treatments to put a stop to infestations quickly and completely. We stay in constant communication with you throughout this time to ensure all your pest problems are resolved.
Accurate Billing: With All-American, you'll never be in the dark about what you're paying for and why. At the completion of service, you will receive accurate billing information that can be paid through a variety of easy and convenient payment methods.
Frequently Asked Questions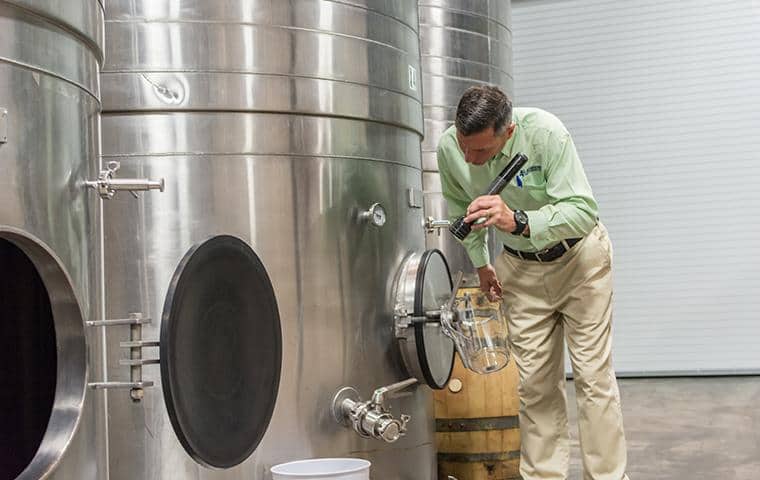 Does my business need interior or exterior pest control services?
For many businesses, we can focus on the outside of the business to stop pests before they ever become a program inside; however, due to the nature of some businesses, their location and pest issues, interior services on a regular schedule will get the best results. We help a business develop pest control strategies to minimize disruptions to their business while achieving great results. With all 5-Star Business Care pest programs, if a pest problem comes up in between services, all you have to do is call. We will come back out in between trips for no additional charge.
What industries does All-American does serve?
All-American provides professional pest control solutions to businesses of all shapes, sizes, and industries. From commercial kitchens, to food processing plants, to office buildings, to managed properties and more, business owners across Tennessee trust All-American to help keep business booming by ensuring pests never become a problem.
At All-American, we take every facet of your business into consideration to create a customized solution that's the perfect fit. Contact us today to find out if All-American is a right fit to protect your business or commercial property.
What pests will I likely face with commercial kitchens?
The most common pest issues facing commercial kitchens are roaches, food infesting pests (pantry pests), flies and mice. We have the knowledge and know-how to treat all appropriate areas in the kitchen, food storage, beverage center, dishwashing areas, and food prep areas. We partner with you and can make recommendations for food storage, cleaning, and maintenance that help prevent future headaches and infestations.
Do I need termite protection for my business?
Termites are a threat year-round in Middle TN. Some businesses aren't as susceptible to termites, however. We will make an honest assessment as to whether you should be concerned. If you choose termite protection, we recommend the Sentricon ® System. We have worked with the Sentricon System for nearly 25 years now and it's the most effective, least invasive termite protection program on the market. Usually, the installation fee alone is $500 or more- but since we are the market leader in Middle TN for termite protection, we were able to work with the manufacturer of Sentricon to get special pricing for commercial properties.
What do I do about mice and rats?
Mice and rats are an unfortunate reality for many businesses in Nashville and Middle TN. Mice and rats are prolific breeders and seeing signs of one- means there are more you don't see. We will make an inspection for you to determine just how many strategically placed interior and exterior stations are needed to eliminate a problem and/or prevent one from developing. During each visit, we will monitor and track activity, refill bait and strategic relocate the stations as needed for the best results.
How can I get rid of flies inside my business?
We get best results for fly control by treating outside around dumpsters, loading docks and around doorways and other entry points where flies tend to get inside. We will also foam drains each visit as needed for drain flies and gnats. Light traps and air curtains are also strategically recommended from time to time. If you want to add light traps and/or air curtains, we can order those from our distributor for you or we can send you web links to the devices we recommend. If your business as a small area that needs a light trap, we can bring you some small plugin light traps that work really well in small bathrooms, around desks and other tighter areas.
Many properties around the area in need of exterminators in Nashville, Brentwood and Henderson continue to use our affordable pest control services over and over. We offer commercial pest control services tailored to your unique situation. Get rid of pests such as unwanted bugs and rodents with a dedicated company that cares about your business. All American Pest Control in Tennessee, is backed by 60 years of pest control experience.
Depending on your business type, you should rest assured that our pest control services covers general pests that are prevalent in Tennessee. These include but not limited to, Bed bugs, fly control, cockroach control, termite control, wildlife control, bed bug control, rodent control, pigeon control, monthly mosquito treatments, and seasonal fire ant control. Some tasks that may appear to be simple, such as rodent control are best left to be handled by a professional exterminator. All American pest control is ready. Contact us today.