Protect Your Home Or Business With All-American Pest Control
As a local, family-owned and operated pest control company, we strive to deliver reliable and remarkable service to protect our community from the harmful effects of pest activity. If ants, mice, termites, spiders, or some other Nashville, Tennessee pest is causing you stress, our team of service professionals can help resolve your pest problem.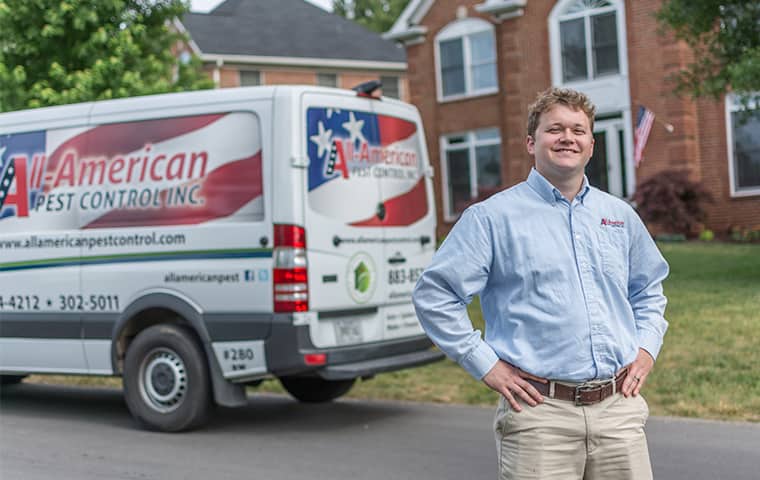 Pest Control Services For Your Nashville Home
Perimeter Plus Pest Control is the core of our residential pest control service. Our goal is to stop pests "before" they get into your home, and that is exactly what Perimeter Plus does. With this pest control plan, your service professional will do three passes around your home. The first pass is an inspection of your exterior to identify possible entry points and areas that are conducive for pest activity. The second pass is a perimeter application that works to address pests that crawl and fly. The third pass is a misting application designed to specifically control mosquitoes. Together, these three passes work to give you the protection you need to prevent more than 47 common Tennessee pests from impacting your health and harming your property. If you're dealing with pests inside your home right now, or if pests ever find their way in, this service comes with interior service as well.

For added protection, we offer All-For-One Advantage and All-For-One Complete Care, which include the same coverage as Perimeter Plus Pest Control but with proactive protection from subterranean termites and yard treatments for five difficult-to-eliminate outdoor pests.
Green Pest Control Services
For home and business owners in Nashville who are looking for an organic pest control option, we offer Green Choice Pest Control. This service uses borate-based products and materials like Essentria™, which contains rosemary oil, peppermint oil, and other natural botanical active ingredients. If green pest control is important to you, contact our Nashville office to learn more about Green Choice Pest Control and how it can work to eliminate and manage over 47 common pests around, and inside, your Nashville home or business.
We're Ready To Help
Request a FREE evaluation or get a quote over the phone.
Termite Control In Middle TN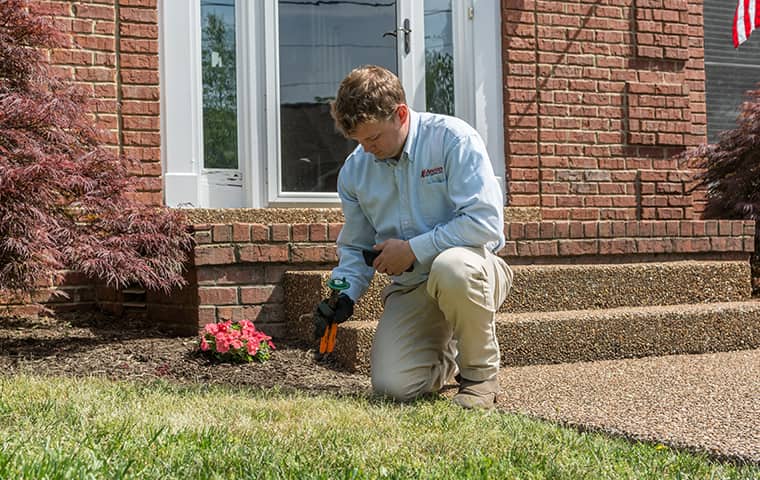 By far, the most destructive insects found in Nashville and throughout Middle Tennessee are Eastern subterranean termites. These wood-destroying organisms cost home and business owners in the United States billions of dollars in property damage each year. While termites do not bite or carry diseases, their insatiable hunger for wood and other cellulose-based materials can cause severe damage to the structure of homes and businesses. They are social insects that live in colonies of up to 500,000 individuals and can do a considerable amount of damage to man-made structures over time. Detection is key to termite damage prevention. Keep a lookout for these warning signs of a termite infestation:
Swarming termites (Learn more about this phenomenon).

Discarded wings of termite swarmers.

Mud tubes on foundation walls and in basements.

Timbers that sound hollow.

Windows and doors that don't open and close properly.

Floors that feel "squishy" underfoot.

Bubbling paint.
Termite damage can happen silently over many years. At the first sign of termite activity—or before—contact a certified termite professional.

At All-American Pest Control, we stop termites in their tracks with the Sentricon® System with Always Active™. This state-of-the-art termite-control solution employs a 3-step process of detection, baiting, and elimination to protect properties from infestation 7 days a week, 365 days a year. Subterranean termites never stop. Neither should your termite control. Get protected and stay protected with Sentricon® with Always Active™.

When it comes to protecting your equity from the threat of subterranean termites, you can trust the professionals at All-American Pest Control. We are a Certified Sentricon® with Always Active™ Installer for the Nashville area. Reach out to us today for immediate assistance.