Stop Those Buzzing, Biting Bugs Today!
Mosquitoes in Nashville are flying, biting insects that no one loves. There is no denying they are one of the most troublesome pests in Middle Tennessee. Everyone wants to easily get rid of mosquitoes. With Tennessee's hot and humid summers, the mosquito population in our state is thriving. Mosquitoes are bound to end up on your property and in your backyard. The good news is that there is an easy solution for mosquito control in Nashville. Continue reading for mosquito elimination tips and tricks in TN. We will also share All-American Pest's mosquito control solutions.
Since mosquitoes in Nashville can carry and spread a variety of harmful illnesses, including West Nile virus, it's important to act. At All-American, our top priority is reducing the mosquito population around your home. There isn't a perfect mosquito control solution, but we have designed our mosquito reduction misting services with you and your family in mind. Our trained, professional technicians use effective methods to help reduce adult mosquitoes and their breeding sites. Our team is committed to providing exceptional, reliable communication and service every step of the way. We understand the importance of creating a comfortable and enjoyable outdoor space for you and your family.
Mosquito Control Service Options
All-American has designed two different mosquito misting programs with you and your family in mind. Give us a call or send us a text to review the mosquito service options with our team. We will conveniently share mosquito service pricing over the phone.
Option 1: Mosquito MAX
This service includes 8 visits per year. With each service visit, a professional All-American team member will look for standing water, provide a misting service for mosquitos, and treat on the outside to also help prevent other household pests like spiders, ants, crickets, and centipedes from getting inside. With 8 visits a year, this program is your best bet for families that want the most effective mosquito reduction results.
Option 2: Perimeter PLUS Pest Control
This service program included 4 visits per year. With each quarterly service visit, a service professional will come to focus on the outside of your home to stop pests before they get inside. 3 of the four quarters, we will also provide our mosquito misting service to the landscaping, tree canopies close to the home and underneath decks if applicable.
No Contracts & Pest Control Service Guarantee
With both service options, if you notice any pests inside your home between your visits, just give us a call! We will send a technician out to address the problem at no additional cost to you. Also, with All-American, there are no contracts! With all our home pest control programs, you can cancel at anytime for any reason without penalty.
| | | |
| --- | --- | --- |
| | | |
| | MosquitoMAX | Competitor's Program |
| Covers over 47 different pests | | |
| Exterior, quarterly service to keep pests outside - you don't have to be home | | |
| Plus, MONTHLY misting to reduce spiders outside, mosquitoes & other flying insects | | |
| Free inside services upon request | | |
| Spider Web Removal | | |
| Rest easy knowing your home is protected from harmful pests by All-American's professional & reliable team! | | |
| No contracts! You can cancel at any time | | |
Covers over 47 different pests

Exterior, quarterly service

Plus, MONTHLY misting

Spider Web Removal

Rest easy knowing your home is protected

Indoor treatments as needed

No contracts!




LEARN MORE ABOUT
Competitor's Program >
Top 7 Easy Tips for Effective Mosquito Prevention
Keep grass cut short and shrubbery well-trimmed around the house where adult mosquitoes may rest. Keep drains, ditches, and culverts clean of weeds and trash so water can flow properly.
Clean debris from rain gutters to allow proper drainage. Most people don't think of gutters as a mosquito attractant, but standing water anywhere can be mosquito breeding sites.
Cover trash containers to keep out rainwater.
Regularly check around outdoor faucets and air conditioner units and repair leaks or puddles.
Empty containers that collect rainwater including plastic wading pools, bird baths, plant pots or drip trays at least once per week. Dispose of or empty water from old tires, tin cans, buckets, drums, bottles, plastic sheeting, or any water item that can hold water.
Irrigate lawns and gardens carefully to prevent water from standing.
Wear light colored clothing, plus long sleeve shirts and long pants for extra protection. Use repellents on skin and clothing especially during dawn, dusk and early evening when mosquitoes are most active.
At All-American, we are committed to providing the highest-quality pest control services and delivering exceptional results for our customers. Contact us today to learn more about our services in Nashville and experience the Mosquito Max difference!
Frequently Asked Questions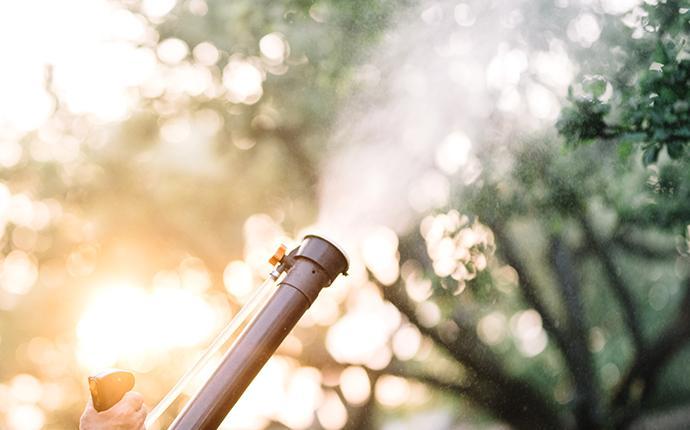 What are your treatment options for mosquito control?
We offer two mosquito control options to keep mosquitoes away. Our Perimeter Plus Pest Control is our main quarterly pest control service option. You can find information throughout our website about this service.
Our second mosquito option is Mosquito Max. It includes twice as many visits as our Perimeter Plus Pest Control. You can find more information about this service above.
Do you offer mosquito control for residential properties, commercial properties, or both?
Our mosquito control services are available for residential properties only.
What areas do you treat during the service?
We treat interior and exterior areas during the first service. Our quarterly services are exterior treatments that include spider web removal, a perimeter foundation treatment to stop pests before they get inside, and misting applications for mosquitoes and other outdoor flying pests. If
pests get inside between services, just call us. We will schedule a time to return to your home and treat the interior for no additional charge.
How often do you perform recurring services?
We perform our Perimeter Plus Pest Control on a quarterly basis or four times per year. We conduct our Mosquito Max service eight times per year.
Do you offer one-time services for special events?
We do! Contact us for pricing information.
We're Ready To Help
Call Our Office or Fill Out The Form to Schedule Service Now