We're not across the country. We're around the corner.
All-American Pest Control, an Inc 5000 company, has been serving Middle Tennessee families since 1961. Our formula for success isn't complicated. It's great people delivering a high-quality service – on time and with a smile. That's why some of our customers have been with us for over 50 years.
Locally Owned & Operated.
All-American Pest Control, Inc. is a local company, family owned and operated. Al Foster Sr. started the company in 1961. After graduating from Tennessee Tech in 1975, his son, Al, Jr., began working in the business. Al, Jr. purchased the business from his Dad in 1985. In 2012, Al sold the company to his daughter Erin Richardson, who today runs the day to day operations of the company.
Accessible.
Because we live and work where you live and work, you can call and speak with the owner of the company at any time. Try doing that with one of the big national chains!
Green.
Get the very latest environmentally friendly pest control and termite protection products and application methods.
Employee Hiring Process.
We're hiring people who will be in and around your home. That's why our employee selection process has been described as "jumping through hoops!" Candidates for employment go through a series of interviews and complete a battery of tests including a personality profile, a problem-solving test, a risk-assessment test, a drug screen, and a state and federal background check. And we check references!
Low Turnover.
Because our selection processes are so thorough, the employees we choose tend to stay with us. In fact, the average tenure for an All-American employee is nine years, which gives you service continuity that is hard to find in the pest control industry. It's very likely that you will see the same technician year after year!
A continuing family tradition
On November 12, 1961, Al Foster Sr. started All-American Exterminating. With a heart for people and a dream to own his own business, Al began by going from door to door to find people in need of termite and pest control services. Al's relatives, Pat and Bliss Foster, started All-American Exterminating in Atlanta, Georgia the same year.
In 1962, Al's wife, Ruth Bartz Foster started in the business. They were a perfect duo. Al would generate the new business and Ruth would ensure that the customers were happy, with accurate and on-time billing, ensuring that all services were performed when scheduled. To this day, much of Ruth's organizational skills are evident in how All-American handles its customers and day-to-day operations in the office.
Al and Ruth's second son, Al Foster, Jr., is the past owner and manager of All-American Pest Control. Al, Jr. worked in all aspects of the company and started full-time in 1975 after graduating with a business degree from Tennessee Technological University in Cookeville.
Erin Richardson, Al, Jr.'s oldest daughter, is carrying on the family tradition at All-American Pest Control, purchasing the business from her dad in 2012. Together with her father they have expanded into new markets, developed new service offerings and continue to look for ways to provide more effective pest control services and even higher standards for customer service.
Our Values
Do you know what makes it easier for All-American to control pests? An infestation of awesome people.
For three generations in and around Nashville, families have come to know and trust us in their homes because of:
The family values we share and around which we hire and train.
The extensive, exhaustive interview and screening process for new team members.
The regular, relentless training on service, skill, and servant leadership development.
At All-American, we know the best way to control creepy critters is to hire and grow great people. Great people give homeowners safety, security, and truly remarkable service.
Other companies don't seem to get this, but we don't believe we're a pest control company.
We're a people company... that happens to control pests.
To hear from some of our people about what our core values mean to them, watch the videos below.
Our Core Values are…
Reliable
Remarkable Service
Teamwork
Respect
Thoughtful Innovation
Servant Leadership
Our Leadership Team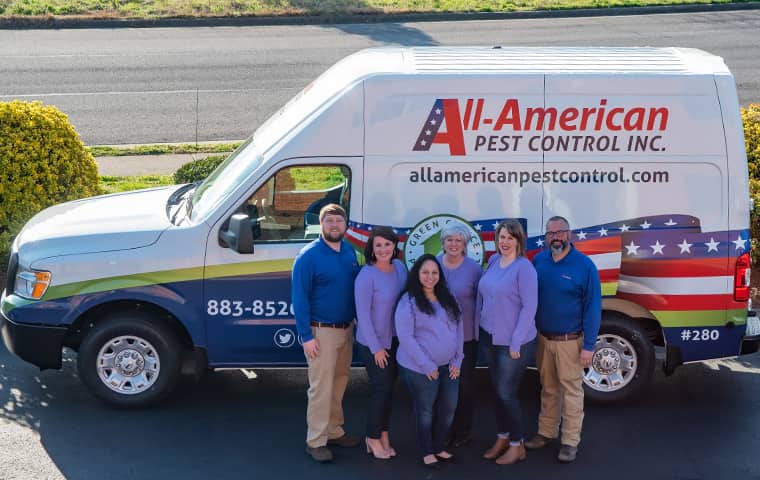 Erin Richardson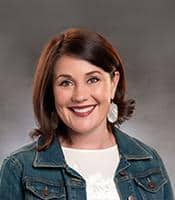 President
erin@allamericanpestcontrol.com
Erin Richardson never thought she would work with her family… but she loves it.
In 2003, Erin came on board part-time to help with routing and logistics. In 2005, she moved into a new construction sales role and aided in recruiting and hiring. "Early on I tried out several different positions at All-American. Then, I got the pest control bug, and began to see how I can help to continue to improve and grow our family business," says Erin. In December 2012, Erin purchased the business from her father. She currently serves as visionary and CEO.
Blake Foster
Director of Quality & Safety
blake@allamericanpestcontrol.com
Blake's role here at All-American Pest Control is that of quality assurance. He is part of the 'balance' of our checks and balance system for assuring our team meets our high safety and quality standards every day. Blake reviews daily and coaches our team regularly on driver safety, material handling, proper personal protective gear, and adherence to All-American's protocols. Blake also visits several customer homes on a weekly basis to check around their home right after a team member has been out to perform a service- you never know... Blake may visit your house next to assure that you are getting remarkable service!
Erin and Blake's grandfather started All-American Pest Control in 1961. Blake had always suspected that he might come to work for All-American. What he didn't expect though, was just how much he would enjoy it and enjoy working with the rest of the All-American family. Blake says "The best part about working here is the fantastic people I get to work with every day. I also really enjoy taking care of pest problems and getting great results."
John Oakley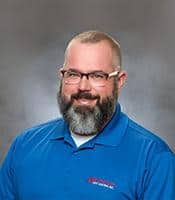 Director of Service & Training
john@allamericanpestcontrol.com
It is John's responsibility to ensure that all our team members have the most current and advanced training needed to service all of our clients. This is a crucial part of our overall business. Per John, "By keeping up on training we make sure that we are delivering proper treatments that lead to quicker successes and happier customers."
Working for All-American Pest Control is not all that he thought it was going to be; it is so much more! "The level of customer service we are empowered to provide combined with how we are committed to using the latest in technology keeps me motivated and having fun. I have been with All-American for over 12 years and I'm proud to work here and with such a great team."
Carolyn Cox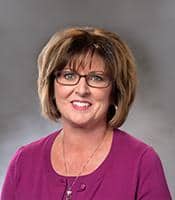 Director of Operations
carolyn@allamericanpestcontrol.com
Carolyn's position here is to assist the team in any way possible to ensure that we are all delivering exceptional customer service to all customers and to each other. Listening, learning, asking, coaching and working closely with our Leadership Team are Carolyn's tools for keeping our team in shape to stay at the top of our game in the pest control business.
"Our clients and team members deserve the best, and I work hard to make sure that they get the best," says Carolyn. She adds that what she loves the most about our team and serving the customers is "everyone's included and everyone gets to see and be a part of the big picture."
Anna Lewis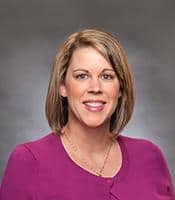 Director of Sales & Customer Care
anna@allamericanpestcontrol.com
Anna's role at All-American is to build a team of great listeners and communicators to provide a remarkable customer experience. Anna says, "We build a foundation for remarkable customer experience by first hiring people that love to serve others and want to Make Someone's Day. With the right people on our team, our customer's WIN!
Anna has been with All-American for over 11 years. Her tools for success include a thorough recruiting and hiring process, impeccable listening and problem-solving skills, and an all-around great attitude.
Lexus Crowder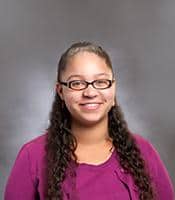 Director of Team Experience
lexus@allamericanpestcontrol.com
Lexus' responsibility is creating an environment for an exceptional team experience. "True teamwork, flexible systems, and processes, servant leadership are the foundation of our family culture and team experience at All-American Pest, " says Lexus.
Lexus started with All-American in May 2015. She began as a customer care team member, moved to team leader and recently moved to the senior leadership team. Lexus adds, "I love the people at All-American Pest Control. We have a really great team!"
All-American Pest Control Has Moved To A Four-Day Workweek!
What happens when you reduce the hours your employees work, offer three day weekends, and increase pay to keep salaries the same? The results are actually surprising—so surprising that we've been getting a lot of attention from television news stations around the country because of our recent success with our decision to go to a 4-day work week. Our story has aired on Fox 17; News Channel 5; WSBT out of South Bend, Indiana; WLOS in Greenville, South Carolina; WCHS in Charleston, West Virginia; and other stations! Watch the video below to learn more!
A QualityPro Certified pest control company serving Nashville and Middle TN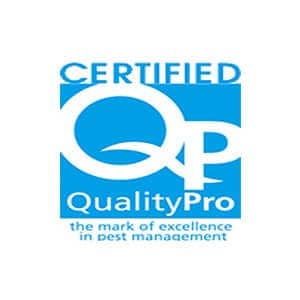 QualityPro is a certification program available to members of the National Pest Management Association throughout the United States and Canada. The foundation of QualityPro certification relates to how pest control companies do business in four key areas. These areas consist of:
Business Operations
Environmental Stewardship
Consumer Relations
Employee Education
The objective of this certification initiative is to help increase demand for our services by building consumer confidence in our industry. Customers can trust that they are receiving the highest level of service.
As active members in this program, our customers can rest assured when a technician comes to their door that they have passed a criminal background check, are drug-free, have safe driving records and receive numerous hours of continuing education each year. This continuing education ensures that they will stay up to date on the latest trends and techniques in the industry.
Along with meeting or exceeding QualityPro principles, our employees go through a thorough internal interview process. To complement the QuailtyPro standards, we look for reliable, innovative, trustworthy, hard-working, self-starting individuals for our growing team.
Choosing the right pest control company can sometimes be difficult, but it doesn't have to be; simply look for the QualityPro seal! For more information about All-American Pest Control or any of our pest control services offered, click here or, give us a call today.
"We chose to participate in the QualityPro Program because we believe in our industry! And we share the same values that QualityPro promotes," shares Erin Richardson. "QualityPro is a symbol that constantly reminds our team that we are among the best of the best. Not just in middle Tennessee, but as a leader in the pest control industry worldwide."
- Erin Richardson, President
All-American Pest Control



We're Ready To Help
Call Our Office or Fill Out The Form to Schedule Service Now