Veterans Help Make a Difference at All-American Pest Control
Every successful company is built on a foundation of core values that is designed to grow business and support the progress of its employees' careers. At All-American Pest Control, our core values include remarkable service, teamwork, respect, thoughtful innovation, reliability, and servant leadership.
While these are characteristics of all hard-working pest professionals, they also mirror many of the principles and beliefs of those who serve in the U.S. military. Thus, it's no surprise that All-American not only supports veterans but that 20 percent of our technician, sales, and service teams are comprised of former military.
Erin Richardson, president and owner of Nashville-based All-American Pest Control, is proud to have veterans working in several areas of the company.
"We have found veterans to be a good fit for our team and culture," Richardson says. "Veterans are leaders, value teamwork and respect, have a strong work ethic, and understand the importance of reliability.
"It's a joy for me to know that many veterans who work for All-American have found a career, friends who are like family, and a secure means to provide for their future with us. All-American's mentor program also provides one-on-one support, team huddles, and regular training for team members so that we all grow together. Our veterans enjoy a significant role in this program."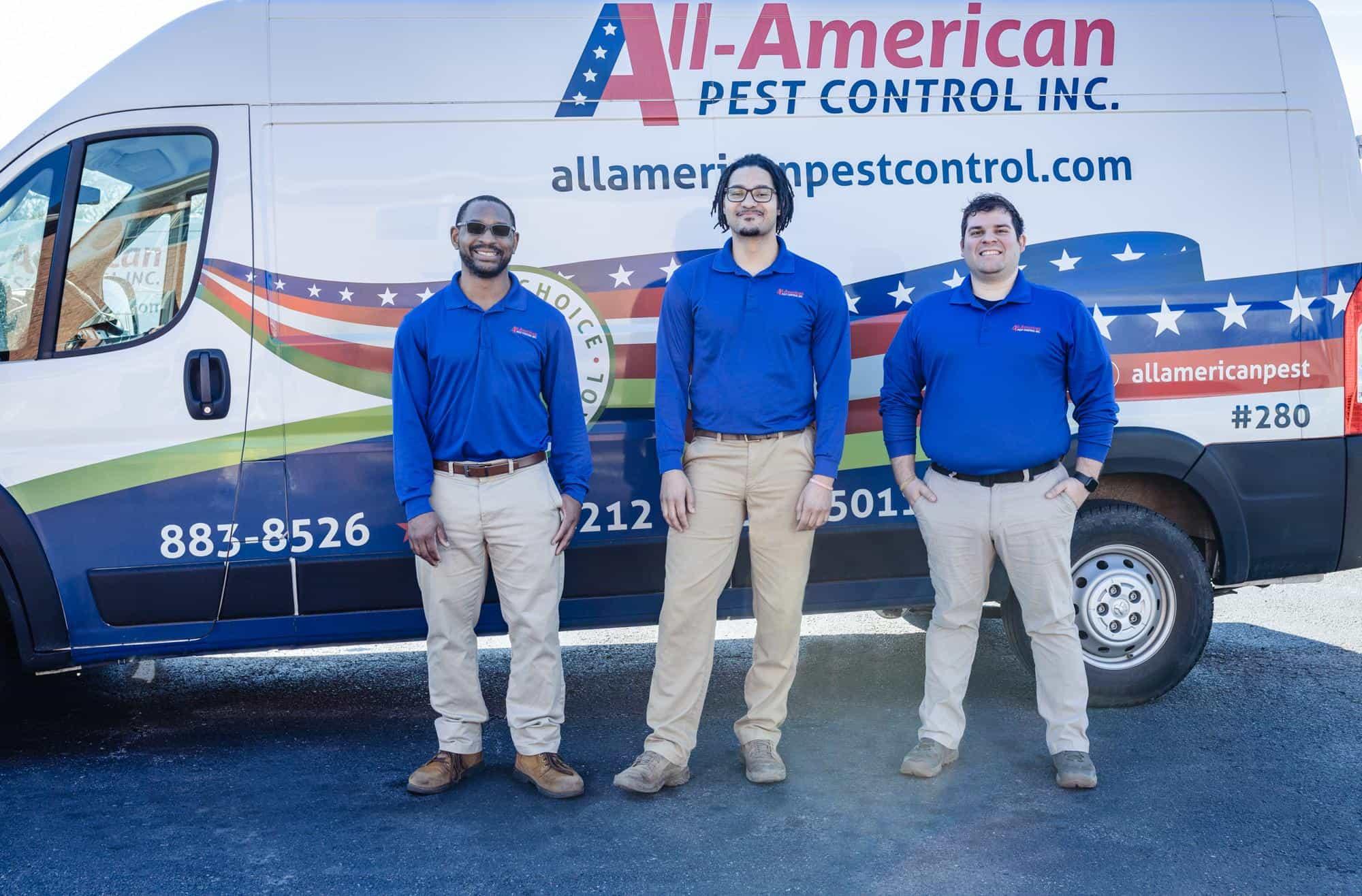 Navy Technician

Before Andre Cannon became a Support Hero at All-American, where he oversees equipment, warehouse ordering, product purchasing and more, he had two deployments on the USS Enterprise as an Aviation Support Technician in the Navy.
His role in the military included pulling Navy Seals from the ocean onto aircraft carriers using an equipment tool called a Tilly. The enormity of the role a group of 5,000 sailors plays on one ship had a strong effect on him.
"If you buy into the military and really apply yourself, you're going to get a lot of qualities out of it," says Cannon. "You need to be where you're supposed to – if a ship goes out to sea, you need to be on it on time. This taught me time management at a younger age.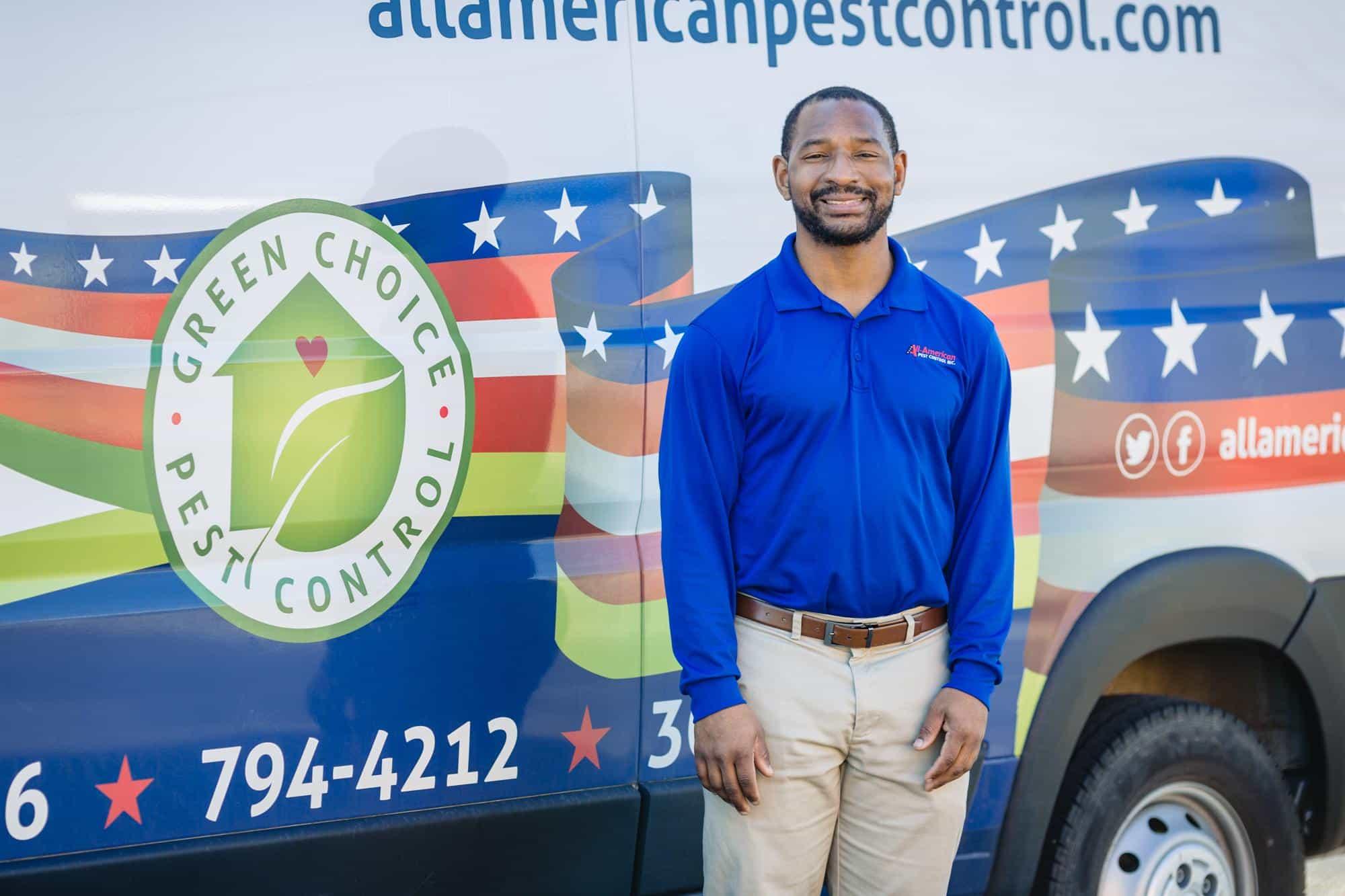 "Being in the Navy taught me to be cognitive of my teammates and the people around and to pay attention to detail. That translates directly to my daily job in pest control. It's about being aware of my surroundings and having strong listening skills. These pertain to working with co-workers, talking to residential and commercial customers, being a good employee, you name it."
While he used to work in the field, he now enjoys being in the role of Support Hero, where he engages with his colleagues to help them get ready for their technician routes.
"All-American has done nothing but give me opportunities and I'm thankful for it and the amount of support they've given to me and other veterans. I would say that hiring veterans for our company is smart. Veterans typically do great at detail-oriented jobs and in pest control, we get the job done. It's a good fit, for them and for us."
Army Police Officer

Robert Gerrard is a technician for All-American and has been with the company for a little over two years. He enjoys his role supporting all types of customers, from residential customers to restaurants, warehouses, and food processing facilities.
His last role? Army police officer. Gerrard spent more than seven years serving the Army as a military police officer before transitioning to the private sector. The skillset he developed serving his country helps him daily in pest control.
"I'd say that some of the generalized discipline the Army taught me has helped me with the ability to follow up and the team building skills I picked up in the service make a great skill to have in any business," Gerrard says. "The ability to take anything into consideration the whole aspect of a career. The military sets you up to get ready for any career. There's a lot of skills that people overlook.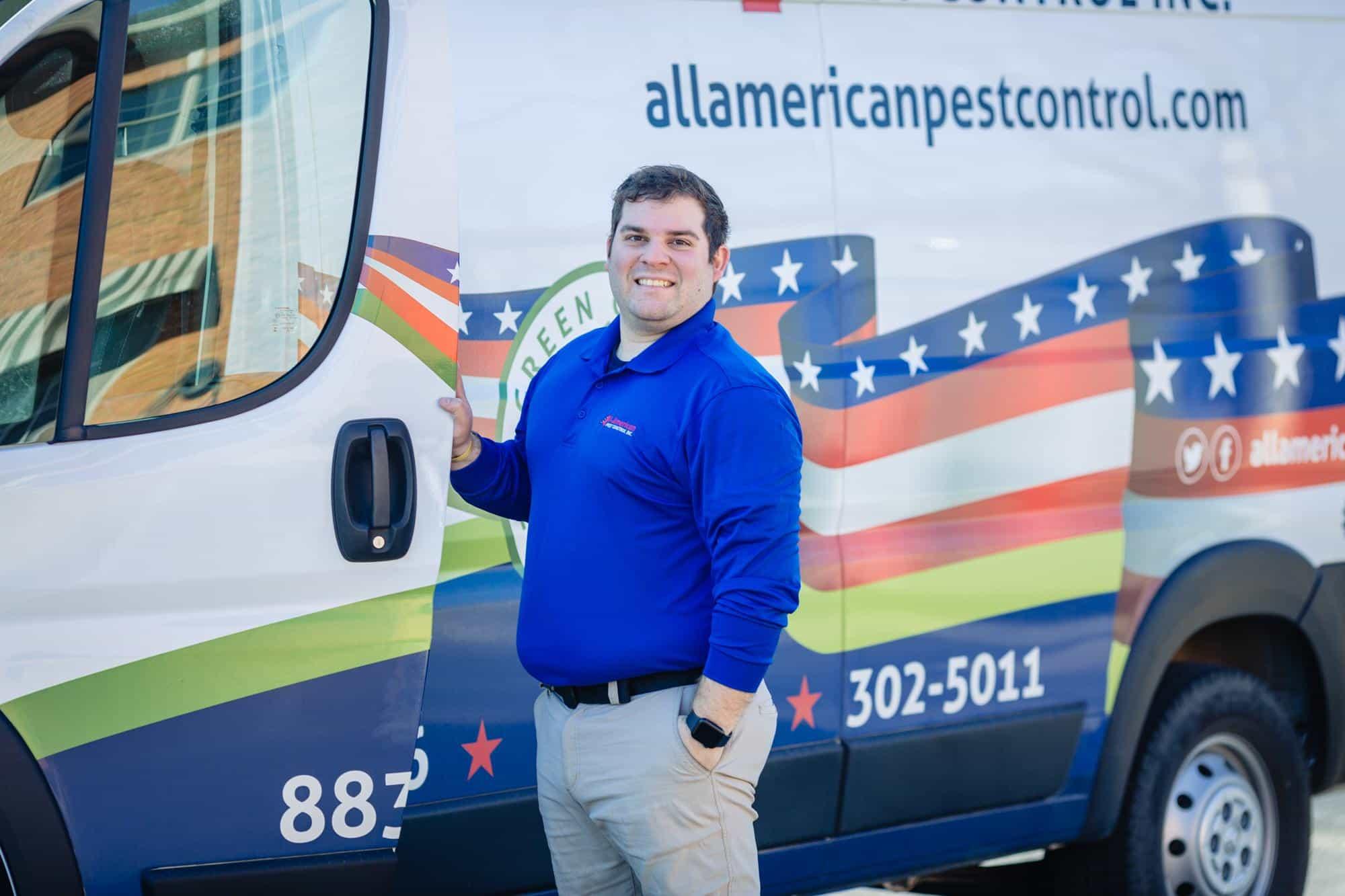 "For example, I was a military police officer and that's not a customer service job but now working with people on a day-to-day job, I am able to articulate in a manner that helps me with customers and represents All-American. I also understand how to portray myself as having the knowledge and the ability I am talking about and that's important, customers need to know that they are talking to an expert."
Having spent tours in Afghanistan, Gerrard understands how difficult the surroundings can be and that trained him for a pest control career after his military duty ended. He says there were days when the temperature was abysmal, or weather was just uncooperative but that's nothing compared to searching for pests on the worst day in Nashville.
Veterans prefer leadership, he says, and All-American really provides a great structure. "I'd have to say it's the leadership at the top from Erin to the rest of us in the field, the technicians, the customer service group, and everyone – we're one big team and our goal is to work together, and we work as a company in a great way."
National Guard Engineer
Tyrie McClure was an engineer in the Missouri National Guard for 10 years. During that time, he was attending college with a biochemistry major and pest control was already on his radar back then. He started working in pest control in 2016 and really loved how the fit was perfect for veterans of all types.
He came to All-American and uses the skills he developed in the National Guard to provide pest control services to residential and commercial customers.
"I have a bit of resiliency, that's one skill I learned from the military, and I still use it today," McClure says. "Just hustle, to have the ability to keep moving forward not sitting still too often. That's important and something I brought with me. And being able to work in a team setting too."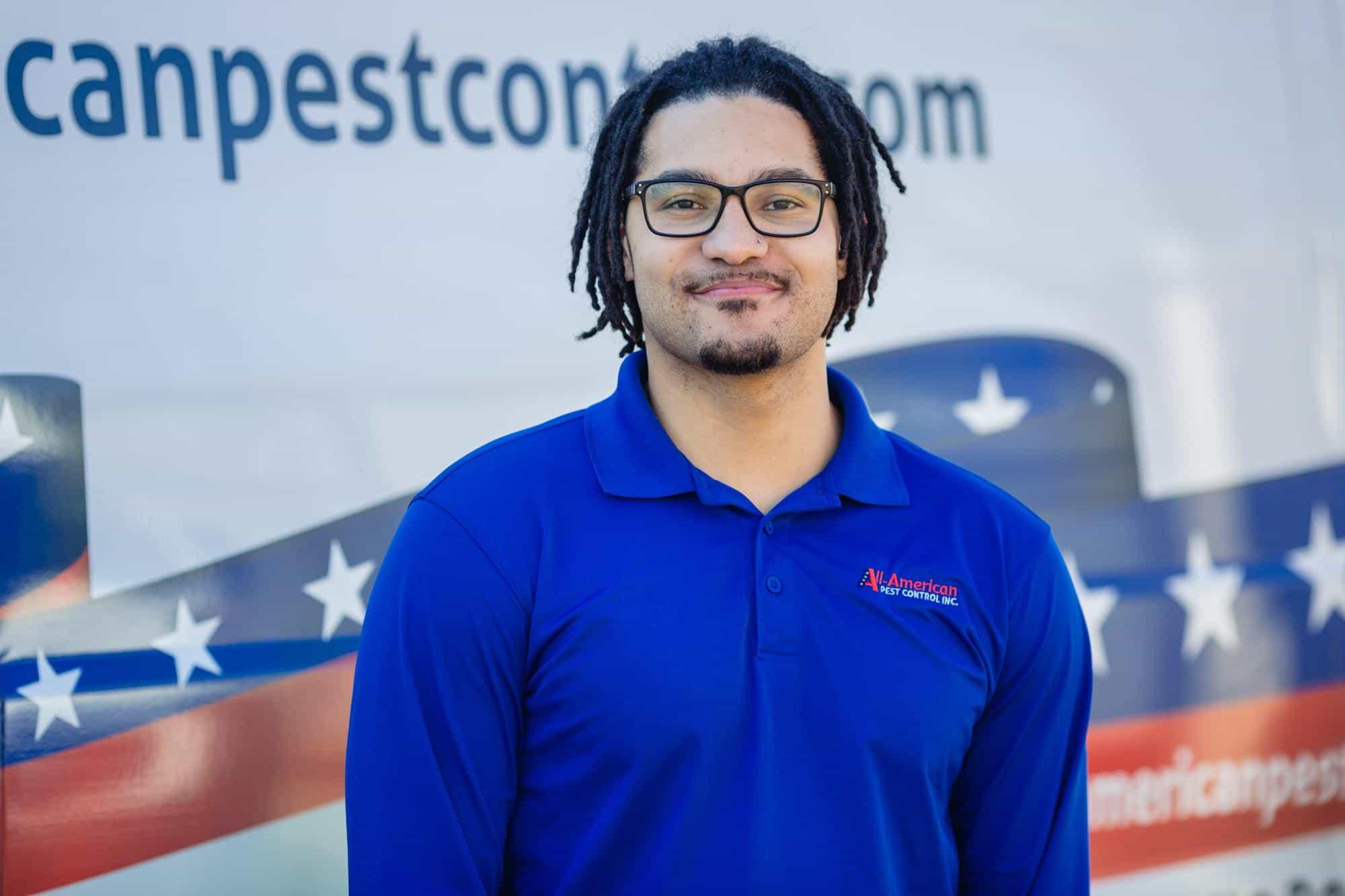 "I think it's just that they know our mindset because we're hard workers and we care about the hustle and things like that. Companies know that we're going to come in and get some stuff done. They do really appreciate us for sure at All-American. They went out of the way to make all veterans feel wanted and accepted and to be important team members."