Providing Pest Control For Tennessee Since 1961
With nearly 60 years of experience in Middle Tennessee, we believe in providing reliable, easy to schedule services that eliminate Tennessee's most persistent, uninvited pests. You can choose general pest control for your home, termite protection or yard treatments for fleas and ticks... or you can bundle these services together to save money and time!
You will love our team! We show up on time with a smile, we follow-up with you until our service exceeds your expectations, we will return in between trips for free by request, and we do what we say we will do! Check out our Google reviews and call us for more information!
Pests to Expect in Tennessee

Ask A Bug Pro
Not sure what pest is troubling you?
No problem! We can help you identify the most common pests in Tennessee as well as many others.
At All-American Pest Control We Believe...
Why Choose All-American Pest Control
Hi! I'm Erin Richardson, and I'm not only the owner, but I'm also a Mom.
For three generations and almost 60 years, our family's been controlling creepy crawlies in and around Nashville. We would love to have you as a customer. We can blanket your home in protection for as little as $39/month. Our most popular pest control program focuses on the outside to stop pests before they get inside. Call or text us today to get expert recommendations and a quote over the phone. Or, simply request a free home evaluation with one of our service pros. You'll love our team! We take pride in our people because only bugs should bug you!
At All-American, our Mosquito and Pest Control Services in Nashville, Hendersonville and Brentwood can help you eliminate mosquito breeding zones you've not previously thought about as well as help limit the population of adult mosquitoes that are on your property.
We offer pest control services for homeowners, and pest control services for businesses. We have home pest control service plans starting at just $39. Cover your self and protect your home from the most common pests in our area. Whether you are in Nashville, Brentwood or Hendersonville, American Pest Control services can protect you from Asian Lady Beetles, Boxelder Bugs, Fleas, Stink Bugs, Termites and Ticks. Contact us today.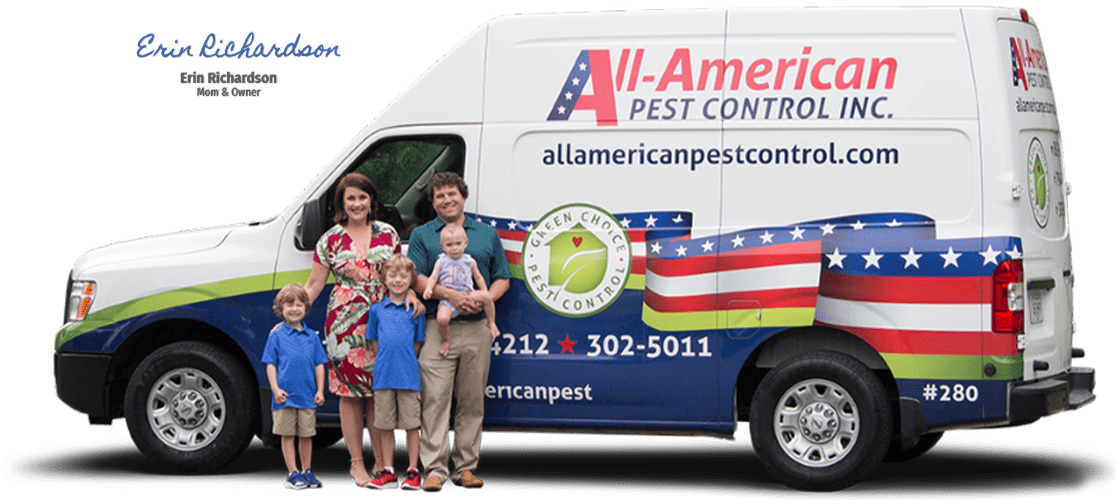 Frequently Asked Questions
Q: Where do you service?
A: All-American Pest Control provides pest control services a total of 41 towns and cities across Tennessee. We have three central offices (Nashville, Brentwood, and Hendersonville).
Unfortunately, Tennessee's climate makes it a perfect breeding ground for pests year-round. Luckily, no matter what pest you might be facing, the professionals at All-American Pest Control have the tools and experience necessary to eliminate it. For more details about our service area and a full list of locations we service, visit our Where We Service page.
Q: What does it mean to be QualityPro Certified?
A: The QualityPro certification program exists as a way for superior pest control providers to differentiate themselves from the pack by exhibiting proficiency in four key categories of pest control: Business Operations, Environmental Stewardship, Consumer Relations, and Employee education. QualityPro Certification is a coveted status that only the best of the best can claim.
As a QualityPro Certified pest control provider, All-American Pest Control can guarantee you safe and effective pest control provided by reliable, innovative, trustworthy, and hard-working service professionals.
Don't leave your pest control needs to just anyone. Trust the best - trust All-American Pest Control.
Q: What services do you offer?
A: All-American Pest Control provides a wide range of services designed to eliminate any and all pests that might be threatening your Tennessee home or business. From termites to mosquitoes to rodents and everything in-between, All-American technicians are extensively trained and use some of the best tools on the market to eliminate pests of all sizes and keep them from coming back.
Q: Are your pest control services safe for my home, family, and the environment?
A: Yes. All-American Pest Control takes great pride in providing pest control services that are tough on pests while remaining safe for families, pets, and the environment around your home or business. We use green, environmentally-friendly pest control methods to minimize our ecological footprint and keep Tennessee beautiful!
Learn more about how All-American goes green by heading to our Green Pest Control page.
Q: How long have you been in business?
A: All-American Pest Control has been serving Middle Tennessee homes and businesses with safe, reliable, and high-quality pest control since 1961. We have remained locally owned and operated since our founding.
While our methods have evolved over time to incorporate the latest advancements in pest control technology and our commitment to success has not wavered in that time - with some of our customers staying with us for over 50 years.
Check out our About page for more information about how All-American Pest Control got started, our mission, and where we're going next.
Q: How are your pest control methods so effective?
A: Our secret formula for success isn't a secret at all: our team employs the best team, equips them with the best tools, and trains them to use them effectively. We stand by our treatments, and our track record for success is part of the reason why some of our customers have been with us for 50 years and counting!
Tennessee's Source for Green Pest Control
All-American Pest Control offers Tennessee home and business owners an organic pest control option like no other through our Green Choice Pest Control.
Green Choice Pest Control provides an environmentally-conscious method for Tennessee homeowners to protect themselves from over 47 common invasive pests. The Green Choice service is an all-natural, botanical-based program that offers protection to homes and businesses across Tennessee while remaining sensitive to the environment.
When you sign up for Green Pest Control through All-American Pest Control, you can expect:
Thorough Exterior Treatments
Coverage For Over 47 Different Pests
Additional Interior Services Provided For No Additional Charge
No Annual Contracts
The Green Choice Pest Control treatments are safe to use around humans, pets, fish and birds.
Contact us today for more information and find out if Green Pest Control is right for your home or business.