What are house flies?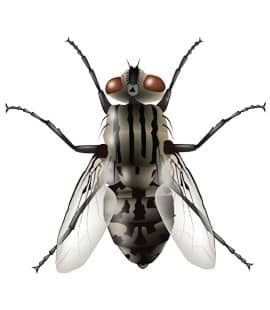 One of the most common pests found in Tennessee homes is the house fly.
Measuring about ¼ of an inch in length, house flies are grey with four distinct black vertical lines on the top of their body.
House flies need a water source because they constantly salivate; they use their saliva to liquefy solid foods because they are only able to ingest liquids.
Are house flies dangerous?
House flies are not capable of biting, however, they can spread as many as 65 dangerous diseases to humans. House flies land and feed on materials in garbage dumps and sewers as well as animal excrement. When they land on food to feed, they will defecate on the food; it is as if they were specifically designed to transmit bacteria and disease.
Why do I have a house fly problem?
House flies may be breeding and feeding on garbage cans or other debris outside of your home. These flies will then make their way into your home from the outside in search of other food sources.
How do I get rid of house flies?
At All-American Pest Control we offer our Perimeter Plus pest control program for homes infested with house flies as well as over 47 different pests. To learn more about our home pest control services, our green pest control solutions, or to find out how we can help you combat flies in your commercial establishment, please contact us today.
We're Ready To Help
Call Our Office or Fill Out The Form to Schedule Service Now
Can I do it myself?
Having house flies in your home is usually due to sanitation and exclusion issues. Sometimes it is difficult to pinpoint exactly where the flies are breeding in and around your home or even where they are entering from the outside. House flies can be quite numerous and active during the summer months, making them difficult to control. If you are having difficulty keeping them out of your home or business, contact All-American Pest Control for professional help with your house fly problem.
Why choose All-American Pest Control?
With over 50 years of experience, we know the time, effort and commitment it takes to solve your house fly problem. With All-American Pest Control, you'll receive services, a serious commitment, and thorough treatments from our trained pest control experts in Nashville and Middle Tennessee.
How can I prevent a house fly problem in the future?
Preventing house fly problems can be difficult to accomplish but keeping doors and windows closed or covered with proper screening can help. And, because they feed on trash and other organic debris, make sure to keep trash in sealed containers and well away from your home.
Helpful Articles About House Flies