Pest Control In Gallatin, TN
Since 1961, All-American Pest Control has been assisting home and business owners with the most comprehensive pest control options in Gallatin and throughout Middle Tennessee. Our Gallatin exterminators have thorough knowledge and expertise to identify and quickly resolve any pest infestation you may be experiencing no matter how big or small it may be. At All-American Pest Control, our core values are:
Teamwork
Reliability
Respect
Remarkable Service
Career Opportunities
Thoughtful Innovation
If you are searching for a Gallatin pest control company you can trust in, look no further than All-American Pest Control.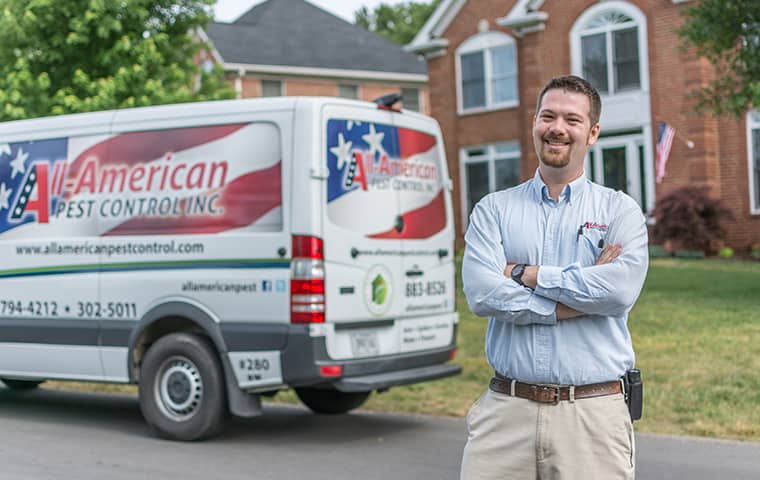 Home Pest Control
There are times that unwanted pests will enter your home in search of food, water, and shelter, making your building the ideal location. At All-American Pest Control we have designed our home pest control services to effectively get rid of common household pests in Tennessee, including:
Ants
Roaches
Spiders
Mice
Wasps
Fleas
And a whole lot more!
Our Perimeter Plus Pest Control treatments and the Green Choice Program were developed to focus on the exterior of your home to prevent 47 of the most common pests from entering. To make sure you are not inviting pests into your home without your knowledge, let our professional exterminators provide you with a free home pest evaluation with absolutely no obligation.
Spiders In Tennessee Homes
While common house spiders are usually just a nuisance, there are two species of spiders that are more dangerous. Brown recluse spiders and black widow spiders are venomous and can cause serious health issues if you are bitten by one. Other spiders such as wolf spiders, jumping spiders, and the common house spider are non-venomous but can still be an annoyance if found inside your home. All-American's home pest control services will get rid of and prevent the non-venomous spiders. We also offer a special Brown Recluse Spider Removal if you are finding more dangerous spiders in your home. And when our spider control services are used in conjunction with our mosquito prevention treatment plan, it can greatly reduce the number of spiders inhabiting high areas of your home. If you have seen spider webs in the corners of your ceiling or have noticed spiders hiding beneath your decking, contact All-American Pest Control to have one of the highly trained technicians eliminate your pest problem today.
We're Ready To Help
Call Our Office or Fill Out The Form to Schedule Service Now
Protect Your Gallatin Business From Pests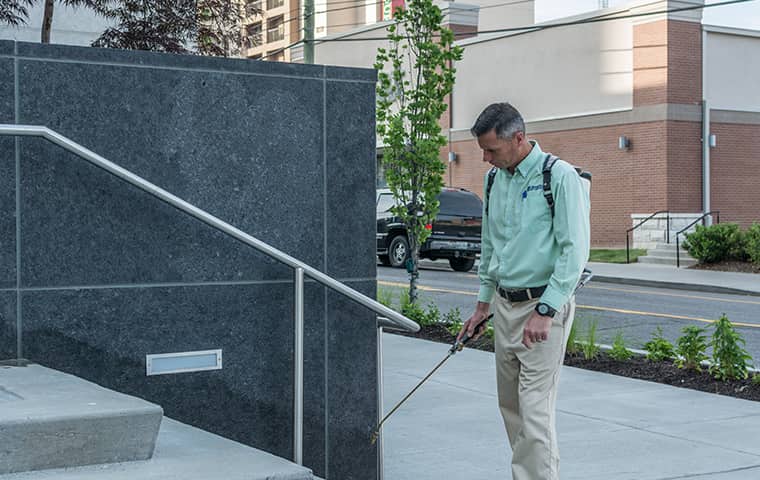 Pests inside your business can ruin products, tarnish your image, and wreck your reputation. With All-American Pest Control's commercial pest control services we will help protect your business from troublesome pests. We have served a wide variety of facilities in the commercial industry, including:
Lodging Facilities
Property Management
Warehouses
Healthcare Facilities
Food Service Establishments
Golf Courses
Offices
And More!
When calling on All-American Pest Control to get rid of your infestation, we will quickly resolve your pest problem by customizing a treatment plan to best fit your business. If you are looking for a pest control company that will quickly and efficiently exterminate all your pest problems, as well as preventing future pest problems from happening, you can count on All-American Pest Control!
Additional Services
In addition to our home pest control, commercial pest control, and brown recluse spider control services, All-American Pest Control also offers:
Mosquito Reduction Services
Fire Ant Reduction
And More!
Don't let unwanted insects and rodents cause you unnecessary stress and concern; let the professionals at All-American resolve all your pest problems once and for all.