The Problems With Pests In Your West End Home
You face many problems as a homeowner … including pests.
If insects and rodents issues are not prevented or left untreated, they can cost homeowners a substantial amount of time and money. Pests are more than just an annoyance. They can affect the structural integrity of your home and cause damage to electrical wires, insulation, plumbing, and more. These pests may also contaminate food and food prep areas with their feces and bacteria, and pests like yellow jackets and venomous spiders can cause serious allergic reactions. No matter the type of pest, the best way to eliminate them and prevent a re-infestation is to get help from All-American Pest Control.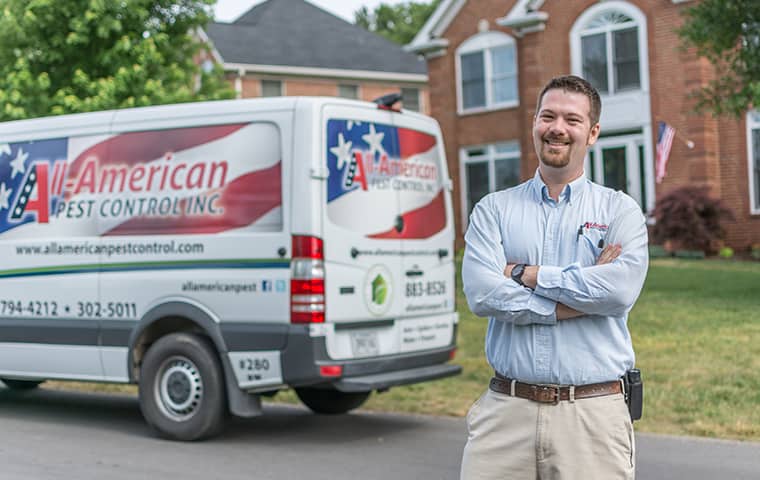 Pest Prevention Tips
Tackling pest prevention on your own can be a difficult task, but when you combine a few do-it-yourself fixes with a professional year-round pest control program, your home and family can be protected from pests and the damage they inflict. Here are a few pest prevention tips:
Trim back trees and bushes from the exterior of your home and leave a barrier between mulch and your home's foundation.
Keep trash can and woodpiles away from the exterior of your home.
Seal cracks and crevices in your home's foundation.
Caulk gaps around windows and doors and replace or fix torn screens.
Keep a tight-fitting cap on your chimney. Repair or replace loose roof tiles.
Store food in airtight containers or in the refrigerator instead of countertops.
Clean up crumbs and spills immediately. Do not leave dirty dishes in the sink overnight. Remove trash from your home in a timely manner.
Keep clutter to a minimum - especially in storage areas like basements and attics where pests like to hide.
Home Pest Control
All-American Pest Control can help keep your home pest-free with our residential pest control services. We can locate and eliminate 47 common household pests such as house spiders, ants, poisonous spiders, yellow jackets, clover mites and more. We offer several pest control options, including:
Perimeter PLUS Pest Control - Providing comprehensive pest control indoors along with protection against five common outdoor pests - including mosquitoes, flies, Japanese beetles, spiders in your landscape and boxelder bugs.
All-For-One Bundled Services - Providing the same great service as our Perimeter Plus pest control program, but with the added protection of termite coverage.
Contact us today for more information.
We're Ready To Help
Call Our Office or Fill Out The Form to Schedule Service Now
Pest Control For Ants, Moles And More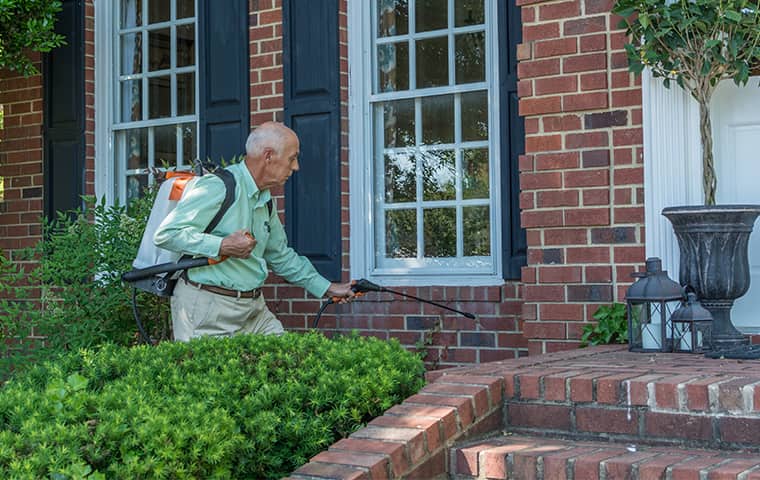 In addition to residential pest control programs, All-American also offers:
Mosquito reduction services
Mole control
Tick and flea yard treatments
In business since 1962, All-American Pest Control is a quality pest control company that takes pride in helping home and business owners overcome their pest problems. We proudly live and work in the area we serve, which means we truly understand the pest problems our customers face every day. Contact us for more information about our home pest control services and/or details on other pest control programs.
Commercial Pest Control In West End
No bustling city or town is complete without commercial properties. People rely on hotels, restaurants, coffee shops, retail spaces, schools, and hospitals daily. And industrial warehouses, offices, and multifamily buildings require protection from pests. When there is an infestation present, it can cause many problems for commercial activity and owners.
All-American Pest Control has the knowledge and tools to prevent pest infestations and treat existing problems caused by cockroaches, ants, mice, rats, and other unwanted critters.
If you were wondering whether it's worth signing up for quality commercial pest control services, All-American Pest Control offers the following:
We use only the finest industry-standard materials.
Our Integrated Pest Management is highly effective.
Enjoy customizable pest control services based on unique needs.
Keep track of pest control services with a customer portal.
Don't risk the frustration and stress because you have to shut down a business to chase out pests or incur expensive fines for violations. Talk to All-American
Pest Control to discover our range of targeted pest control services and Integrated Pest Management solutions.
Give All-American Pest Control a call to get a service quote and discuss your unique pest control needs to protect your property.
The Most Effective Termite Control For West End Homes
Termites are on the mind of many local homeowners because of their ability to chew straight through the wood of homes and cause extensive damage over time. The good news is that this damage happens slowly. The bad news is that most homeowners only identify these pests after serious problems have already occurred.
If you are looking for ways to avoid these destructive insects, you have two good options. The first option is to schedule your property for a yearly termite inspection, a great way to identify problems early before the damage becomes severe. It may not be a perfect solution, but it is the cheapest option. The most effective option is to invest in a year-round termite control plan. We are experts in this matter. With just one visit, we will identify your need for termite elimination and offer year-round control options to deter these pests throughout every season.
If that is what you are looking for, contact us today. We will help you better understand this service, answer any questions you have, and help you schedule an appointment for professional termite control for your West End home. Everything we do at All-American Pest Control ensures the job is done right the first time.
When Are Mosquitoes Most Active In West End?
Do you avoid your yard because you don't want to be bitten by mosquitoes? You are not alone. There are many property owners across West End that hate these nasty pests and avoid them at all costs. One way you can avoid mosquitoes is by understanding when they are most active.
Mosquitoes are not active during the coldest months of fall and winter. It is only as spring spawns and temperatures warm up that mosquitoes start to move around and breed. By late summer, these bugs are in full bloom. During these warmer months, avoid walking through or near swamps, marshlands, or other moist areas. We recommend spending less time outdoors during dawn and dust as these pests are most active at these times.
Easy Ways To Make Your West End Yard Less Attractive To Mosquitoes
When you live in West End, mosquitoes are a routine part of life during the spring and summer months. Instead of having to live with the constant bother, here are some easy ways to make your property less enticing to them:
Start with yourself. Mosquitoes usually appear wherever people are present because the females need human blood in order to lay their eggs. You can make yourself less enticing to them by using unscented hygiene products, wearing light-colored clothes, and applying an EPA-approved topical such as lemon eucalyptus oil.
Address water sources. One of the most exciting factors for mosquitoes is stagnant water, which is where they prefer to lay their eggs. Be sure to turn over water in kiddie pools and bird baths often and don't let water collect in buckets, tires, or play structures.
Pay attention to your landscaping. You can also eliminate other potential breeding sites by getting rid of leaf piles and excessive yard clutter. Planting items such as citronella and lavender may also work to repel mosquitoes.
Seek professional help. The most straightforward and reliable way to deter mosquitoes from your yard is with seasonal treatments from a trusted pest professional. These services will create a barrier of protection around your home and drastically reduce the number of mosquitoes that you see.
For more information on mosquito control, call All-American Pest Control today.
For complete protection from different types of mosquitoes on your property, get our All-American Pest Control team involved. We offer many great options for mosquito control and would be happy to mitigate these insects in and around your yard.
Total Rodent Control For Homes In West End
Rodents are some of the sneakiest pests that West End homeowners might encounter. They can fit through dime-sized crevices in foundations, utilize open doors, or in the case of rats, scale roofs and enter through other, more hidden openings. Because keeping rodents outside can be a challenge, the best way to deal with them is with help from All-American Pest Control.
We start the process where we look for signs of rodent activity as well as possible entry points and any damage that they could have caused. Our technicians will then use this information in order to create a tailored treatment protocol for our customers. This may entail setting bait stations, glue boards, and live captures. Because we are focused on making sure that future rodent problems don't appear, we'll also perform exclusion work. This means that we will seal off entry points with rodent-proof materials. These programs are backed by a one-year warranty. For more information on rodent control, call us today.