Home Pest Control In Nolensville, TN
Pest found living in Nolensville have the ability to invade your home at any time of the year, because of this, the best way to protect your home, family, and belongings from pests is to put into place a year-round pest control program. At All-American we offer three different year-round programs; all of the programs offer no annual contract and provide your property with both interior and exterior treatments; by focusing on the exterior of your home we are able to stop pests before they have the chance to make it inside. Our year-round programs also offer our customers peace of mind knowing that if for any reason pests return between our service visits, we will come back to take care of the problem at no additional charge to you! Our Perimeter Plus Pest Control program provides protection against over 47 different household pests. This program also provides spider web removal and outdoor misting treatments to provide protection against five common outdoor pests - mosquitoes, flies, Japanese beetles, boxelder bugs, and spiders. Our other two year-round programs include our All-For-One Advantage program that provides home pest control plus the benefits of termite colony elimination; and our All-For-One Complete program is our most comprehensive program and provides pest control for both your home and yard, in addition to termite colony elimination!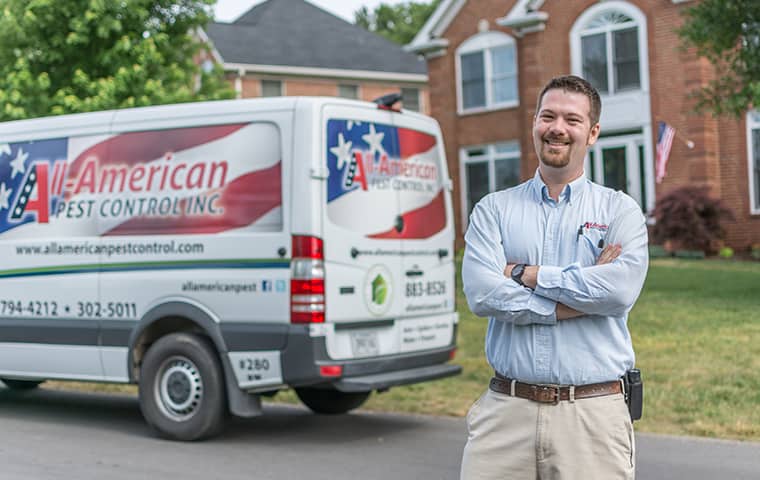 Tips To Avoid Brown Recluse Spiders In Nolensville, TN
Brown recluse spiders are a venomous species of spider that can be found living in and around Nolensville properties. While they aren't particularly aggressive, they can cause serious medical consequences (ulcerating and necrosis of tissue) if one accidentally bites you. To avoid coming into contact with these medium-sized, reclusive, eight-legged menaces the professionals at All-American offer the following tips:
To prevent them from entering into your home make sure to seal all entry points into your home.
Seal cracks in the foundation and exterior walls, install door sweeps, caulk gaps found around windows and doors, and make sure that all screens found in windows and doors are intact.
Seal spaces found around utilities, wires, and pipes entering into your home.
Keep clutter to a minimum in storage areas; cluttered areas give these venomous spiders a place to hide. Use extra caution when going into closets, boxes, or other places that are rarely disturbed.
Brown recluse spiders like to hide in clothing and shoes; to avoid coming into contact with them while dressing make sure to shake out clothing or shoes before putting them on.
Stack firewood at least 20 feet from your home and stack up off of the ground.
Put into place a year-round pest control program to control and get rid of the insects from your home and property that these spiders like to feed on.
If brown recluse spiders have taken up residence in your Nolensville, TN home All-American can provide relief through our targeted brown recluse spider treatment program; contact us today to learn more!
Protect Your Nolensville, TN Business From Pests
Protect your Nolensville business from pests by partnering with the regions commercial pest control experts. We offer continuous, industry-specific protection for businesses located in and around Nolensville, TN. Benefits to choosing All-American Pest Control to protect your business's pest control needs include:
We have over 50 years of industry experience.
We are a locally owned and operated company and therefore have a greater understanding of the pest pressures our local customers face each day.
We provide on-going services that protect people, products, facilities, and of course reputations.
We focus on the pests so that you can focus on your business.
Contact today about implementing a commercial pest control program for your Tennessee business.
We're Ready To Help
Call Our Office or Fill Out The Form to Schedule Service Now
Termite Control In Nolensville, TN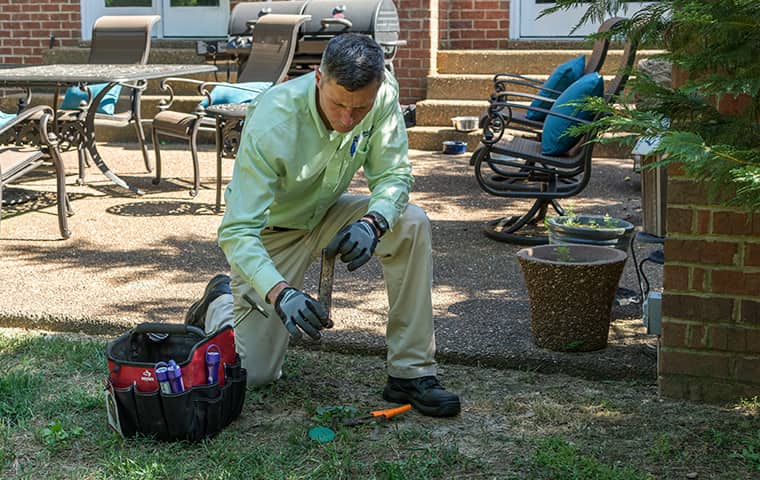 By far, the most destructive insect found in Nolensville and throughout Middle Tennessee is the eastern subterranean termite, costing home and business owners in the United States billions of dollars in property damage each year. While termites do not bite or carry disease, their insatiable hunger for wood, leaves, and other cellulose-based items can cause severe damage to your home's structure. These social insects live in colonies of up to 500,000 insects, eating away at the wooden structure of your home while building tunnels and nests for their colonies. Signs of termite activity are:
Swarming termites (Learn more about this phenomenon)
Tiny holes in wood surfaces
Sagging window and door frames
Mud tubes running along foundations and in basements
Crumbling plaster or drywall
Floors and ceiling appearing "squishy"
Termite damage can happen silently over many years. At the first sign of termite activity, professional exterminators should be contacted immediately. All-American Pest Control's termite control services will eliminate entire termite colonies with the Sentricon® Termite Colony Elimination System. This state-of-the-art treatment involves a three step process of detecting termites, baiting and eliminating the entire colony, and continuous monitoring to prevent re-infestations. Trust the professionals at All-American for the most effective termite control for your Nolensville home and business.