Home Pest Control In Green Hills, TN
Let one of All-American Pest Control's three year-round residential pest control programs protect your Green Hills home from being invaded by the household pests that thrive in our area. Each of our three programs offer protection against over 47 different household pests and protection against five outdoor pests (mosquitoes, flies, Japanese beetles, boxelder bugs, and spiders). Additional benefits include that there is no annual contract, we provide both interior and exterior treatments, and if pests return between our services visit we will return to take care of the problem at no charge to you. Our three year-round pest control programs include our:
Perimeter Plus- This program provides protection for your home against common household pests.
All-For-One Advantage- This program provides both pest and termite protection for your Green Hills home.
All-For-One Complete Care- This program is our most comprehensive and provides pest, termite, and yard protection!
To schedule your no-obligation, free home evaluation for your Green Hills home, give us a call today at All-American Pest Control.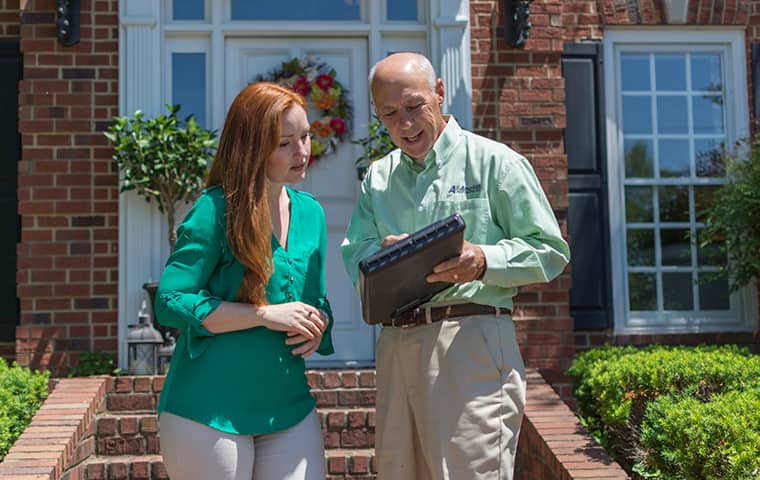 Tips To Avoid Brown Recluse Spiders In Green Hills, TN
Before you can learn how to avoid brown recluse spiders, a venomous spider that is unfortunately found living throughout middle Tennessee, you first need to know what they look like. Adult brown recluse spiders can range in color from light to dark brown, they have a round or oval shaped body that ranges in length from 1/4 to 1/2 of an inch in length. They are most often identified by their eight very long legs, three pairs of eyes that are arranged in a semi-circle pattern, and of course, by the "violin-like" marking that is found on the top of their body. Brown recluse spiders are shy and as their name suggests, reclusive; they hide in dark, quiet areas in the irregularly shaped webs that they weave. But, just because they are shy doesn't mean they aren't dangerous. A bite from these spiders can lead to the ulceration of the skin around the bite that can take a very long time to heal and cause significant scarring. To avoid accidentally coming into contact with these venomous spiders we suggest the following tips:
Place woodpiles up off of the ground and a good distance away from the exterior of your home; remove piles of grass, sticks, leaves, and other debris from your property. These are places that brown recluse spiders love to hide in.
Keep garages, shed, attics, basements, and closets free of clutter and organized. An organized space will give the spiders less places to hide in unnoticed by you.
When working outside always wear gloves, shaking them out before placing them on your hands.
Shake out clothing and shoes before putting those items on, this is especially important for items that haven't been worn for some time.
If you ever see a brown recluse spider in your Green Hills home do not hesitate to contact the brown recluse experts found at All-American Pest Control. Our professionals will place monitoring devices and look for the conditions that are attracting them and find their hiding spots. Our pros will then develop a treatment plan specific to your home to eliminate these dangerous spiders.
We're Ready To Help
Call Our Office or Fill Out The Form to Schedule Service Now
Commercial Pest Control Services In Green Hills, TN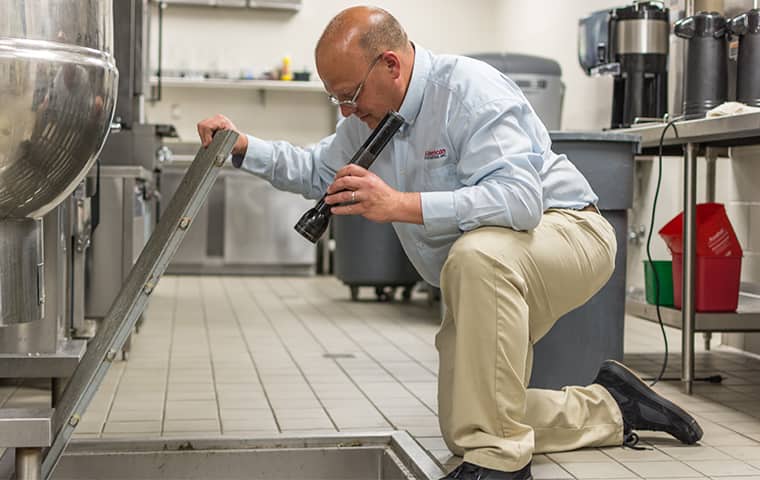 Trust that your business, your employees, your customers, and your reputation will be protected against pests by choosing All-American Pest Control for all your commercial pest control needs. The professionals at All-American Pest Control take pride in having over 50 years of experience in the pest control industry; we are committed to providing the commercial pest control services that will work to eliminate current pest problems in your facility and provide you with the solutions needed to prevent future pest problems. To get started protecting your Green Hills business from pests, schedule a free business evaluation today! During the no-obligation evaluation our professionals will:
Complete a thorough assessment of your facility
Made recommendations related to pest control and food storage
Identify rodent entry points
Discuss prevention measures
And more
Give us a call to learn more about our commercial pest control services.
Why Termite Damage In Green Hills, TN Is Usually Not Covered By Homeowners Insurance
You may have it in the back of your head that you don't need to worry about termites or their damage. You have homeowner's insurance after all and they'll cover the damage, right? Wrong! The truth is that most homeowner's insurance policies do not cover the structural damage that termites cause. This is because termite damage is something that insurance companies view as preventable. And in this case, the insurance companies are right! Termite damage can be prevented by partnering with an experienced pest control company.
At All-American Pest Control, we offer the most effective termite protection possible through the installation of Sentricon® System with Always Active™. This award-winning system will not disturb your day-to-day activities, requires no drilling, is eco-friendly, does not use chemicals, and is odor-free. To stop termites in their tracks, reach out to All-American Pest Control today and learn more about Sentricon® with Always Active™.