Forest Hills, TN Mosquito Control
Mosquito control for your Forest Hills property is important so that you, your family, and your pets can once again enjoy your backyard without having to avoid buzzing, biting, disease spreading mosquitoes. At All-American Pest Control, we offer a comprehensive mosquito reduction misting service that works exceptionally well to control adult mosquito populations. Our pest specialists spray tree canopies that are in close proximity to your home in addition to bushes, shrubs, and underneath deck areas--all of the places mosquitoes like to hide during the daytime. Our mosquito reduction service can be a stand-alone service, or they can be a part of our Perimeter PLUS Pest Control Service. Contact us today and start taking back your Forest Hills yard from mosquitoes!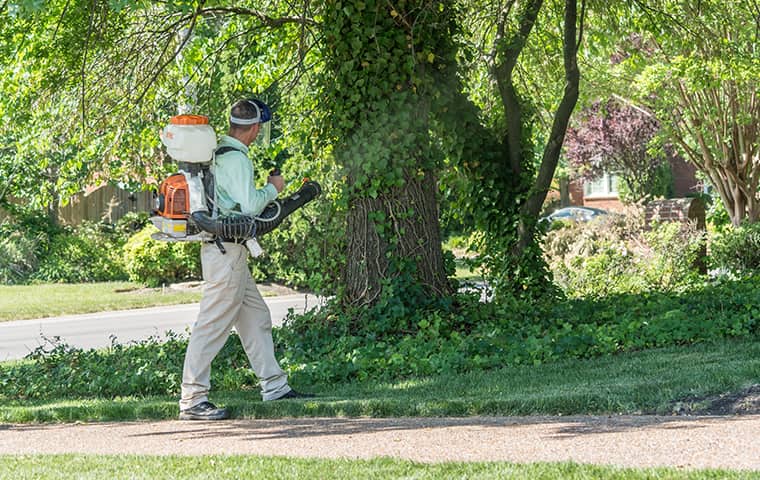 Home Pest Control in Forest Hills, Tennessee
In Tennessee, no matter what the season and what the weather, one thing is for certain; pest are here, active, and looking for a place to forage for food and to find shelter. Don't let your Forest Hills home become home to pests; put in place a year-round residential pest control program from All-American Pest Control instead.

All of our year-round pest control programs require no annual contract and provide your property with both interior and exterior treatments. By focusing on the exterior of your home, we are able to stop pests before they have the chance to make it inside your Forest Hills house. Our year-round programs also offer the peace of mind that comes from knowing that if for any reason pests return between our service visits, we will come back to take care of the problem at no charge to you!
Perimeter Plus Pest Control program - This program provides protection for over 47 different household pests. This program also provides spider web removal and outdoor misting treatments to provide protection against five common outdoor pests -mosquitoes, flies, Japanese beetles, boxelder bugs, and spiders
All-For-One Advantage program - This program provides home pest control plus the benefits of termite colony elimination.
All-For-One Complete program - This program provides pest control for both your home and yard, in addition to termite colony elimination!
Contact us today to learn more about any of our year-round residential pest control programs and/or our green pest control solutions!
We're Ready To Help
Call Our Office or Fill Out The Form to Schedule Service Now
Commercial Pest Control in Forest Hills, TN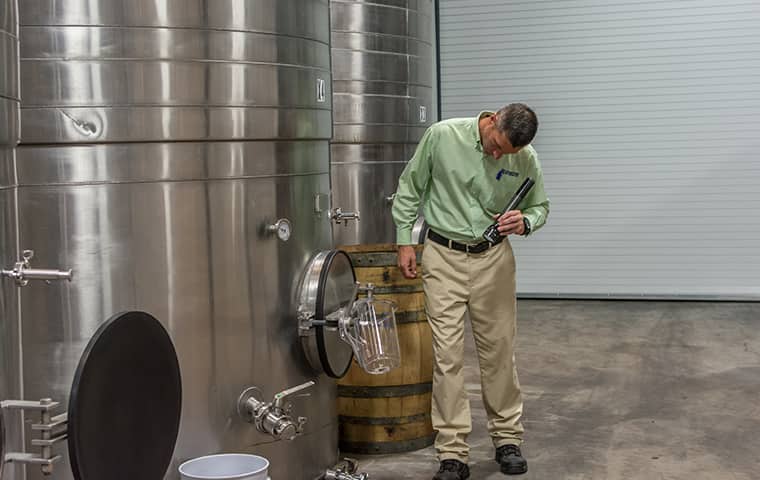 Forest Hills is a residential community, but that doesn't mean that the people living inside its borders won't need pest protection for their business located in a nearby business district. The professionals at All-American Pest Control take pride in having over 50 years of experience in the pest control industry; we have worked hard to gain the trust of the Middle Tennessee business community. At All-American, we are committed to providing commercial pest control services that work to eliminate current pest problems in your facility and provide you with the solutions needed to prevent future pest problems - protecting your facility, your staff, and your customers from dangerous and damaging pests.
You work hard every day to ensure your business runs smoothly from the top down. However, pest intruders can cause unsafe working conditions, tank employee morale, and disrupt your productivity and output in a flash. That's why it's an asset to bring a quality commercial pest control company on board. Our team at All-American Pest Control is here to lift the burden off your shoulders by transforming your facility back to the healthy, safe, and comfortable atmosphere that your staff can't wait to work in. Our comprehensive inspections expose the threats so we can eliminate them quickly. Contact us today to get started. We look forward to working with you.
Why Choose All-American Pest Control in Forest Hills, TN
Reliability, teamwork, and respect apply to every service we provide to every customer. At All-American Pest Control, we are all committed to getting rid of big or small pest problems in your Tennessee home or business. Nuisance, dangerous, and damaging pests like ants, mice, spiders, roaches, termites, and stinging insects are no match for our experts! We provide all of our local Middle Tennessee customers with exceptional pest control services that are always completed on time by friendly, trained, and experienced local employees who are familiar with local pests and the local area. We are also proud to say that we are a QualityPro certified company and are nationally recognized leaders in the pest control industry!

Give us a call today and find out why so many Forest Hills, Tennessee, residents trust all of their pest control needs to All-American Pest Control!
Types Of Flies That Invade Forest Hills Homes
Flies are a typical pest for Forest Hills homeowners but they're not all the same. Here are some species that homeowners ought to look for:
Fruit flies. These tiny flies are lured by decomposing fruits and sticky substances. They have an orange exterior with red eyes. They can also be the source of E. coli, salmonella, and listeria.
House flies. This species is larger in size and the type that most people hear buzzing around their kitchens or bathrooms. They also get lured by sweet foods and moisture.
Cluster flies. These flies are lured by light, which makes them significantly different from many other types of flies. The cluster fly is comparatively large for a fly, and has a brown and black body.

No matter the type of fly that you're dealing with, All-American Pest Control can help. We are a locally owned company that puts our knowledge to use in your home. Combined with the methods of Integrated Pest Management, we're unstoppable. If flies are an issue in your home, we will add them to the list of pests that we cover in your ongoing residential pest control program. When we treat your home, we are looking to address the reason behind flies in order to keep them from returning. And all of the products that we use are completely safe for children and pets. For more information on fly control, call us today.
What Are Effective Tick Prevention Tips For My Forest Hills Yard?
Ticks are potentially very harmful to have around your Forest Hills yard. They threaten the well-being of your household as well as any pets that you might have.
Treat your pets. Because cats and dogs are some of the most vulnerable hosts for ticks, it's important to talk with your veterinarian about tick protection. You'll also want to inspect them completely after you've spent any time outdoors or going for hikes.
Curb wildlife and other animals. Another common spreader of ticks is wildlife and rodents. They make an ideal host and can spread ticks around your property very easily. To keep them away, turn on motion-sensored night lights, take out the trash frequently, and opt for decoy animals.
Check yourself. After spending any time outdoors, perform a thorough tick check on yourself. You can also wear long pants and light-colored clothes as well.
Maintain a tidy yard. Eliminate harborage areas that ticks can use by scaling back trees and other plants.
Hire a pro. The most reliable way to keep ticks away from your yard is with professional help from a trusted pest expert on a seasonal basis.
For more information on tick prevention, call All-American Pest Control today.
Factors That Attract Stink Bugs To Your Forest Hills Home
If you find yourself dealing with a stink bug invasion each fall, it's time to start thinking about what is attracting these pests to your Forest Hills home in the first place. Although there are some factors you can't do anything about to stop stink bugs from being attracted to your house, there are others that you can change.
Stink bugs usually begin entering homes in the fall when the weather cools down. They'll typically gravitate to the outside side of your house that gets the most sun. However, they are also attracted to light, so avoiding having a lot of lights on around the outside of your home at night can help reduce the number of stink bugs that end up inside.
Even if you have stink bugs on the outside walls of your house, they can't get into a properly sealed home. Make sure to caulk cracks, repair holes, and fill gaps around your house so that stink bugs can't use them to gain access to the interior. Furthermore, make sure that all of your windows and doors have screens without holes or tears.
Finally, if you have a lot of stink bugs in or around your house, get in touch with All-American Pest Control. We can take care of your stink bug problem so that you don't have to deal with these seasonal pests.
A Helpful Guide To Wasp Control For The Forest Hills Home
Spending time outdoors on a beautiful summer day feels great unless it includes dealing with angry wasps. Although wasps are pests that will usually leave you alone unless they feel provoked, you don't want to get in their way if they do feel threatened. Luckily, there are things you can do to avoid having wasps around your yard.
Making your Forest Hills yard unattractive to wasps starts by reducing food and water sources. Get rid of standing water, move flowering plants to areas where you don't spend much time, and keep garbage bins shut tight and stored away from your house. While outside for a meal, keep food and drinks covered when not eating or drinking them. Try not to wear bright colors or sweetly scented perfumes.
If you still have a lot of wasps on your property, you may need to look for wasp prevention in Forest Hills. All-American Pest Control offers wasp control services that will safely remove wasp nests from your property so that you can spend time outside without worrying about being stung. Contact us to get started.

Effective Termite Prevention Tips For Forest Hills Properties
The thought of termites chewing through your home or business is enough to cause stress. This worry is the last thing we want for you. To avoid termites here in Forest Hills, we highly recommend finding some form of prevention that can deter these pests. If you have some time on your hands, you can utilize some DIY methods to combat termites. Here are some simple strategies to start with:
Remove wood, sticks, leaves, and other similar attractants from your property.
Remove fallen trees and dead stumps from your yard.
Store firewood and untreated lumber at least 30 feet from your building's exterior.
Make sure all of the wood inside your home or business is in good condition and not damaged by sun or water.
Fix leaky piping and damaged fixtures on your property.
Eliminate sources of water build-up and repair damage to gutters.
For more detailed options to combat termites on your Forest Hills property, turn to our team at All-American Pest Control. We offer year-round options to deal with these and other destructive insects. You can start by scheduling your property for a quick termite inspection to assess your risk. Call us today to learn more about our options.