Protect Your Home Or Business With All-American Pest Control
The secret to our success really isn't a secret at all. In fact, we think our mission statement says it all, "In everything we do, we strive to deliver reliable, remarkable service while protecting our community from harmful effects of pests!" And these core values are why we have some clients that have been with us for over 45 years! At All-American Pest Control, we offer all the cutting edge technology and techniques in the pest control industry for our Tennessee homes and businesses, including right here in Sylvan Park.
Home Pest Control in Sylvan Park
Being a homeowner comes with a certain amount of inherent stressors, but if you live in Middle Tennessee, pest control doesn't have to be one of them. Here at All-American Pest Control we offer both our Perimeter Plus Pest Control program, and our Green Choice Program; both of these programs focus on the exterior of your home, with the aim of preventing 47 pests common to the area from entering your home. And, in case a pest should show up inside your house, we are on call to return to your home and take care of the pest problem free of charge.
To learn if one of these plans may be best for you, we also offer a free home pest evaluation with absolutely no obligation. This will be a thorough evaluation inside, outside, and under your home, and will even provide a written report with suggested actions, if needed. But remember, some pests such as termites or rodents, could already be damaging your home without your knowing it, so time is of the essence. Contact us today!
Spiders in Tennessee
One of the most common pests we deal with here in Sylvan Park are spiders, particularly brown recluse spiders and black widow spiders. Although both species rarely bite, they are both venomous and their bites can require medical attention. Other common, non-venomous species are the jumping spider, the wolf spider, and the house spider. For most types of spiders, our home pest control program will do a more than adequate job of preventing an infestation. Also, unbeknownst to most people, our popular mosquito prevention treatment also does a great job of eliminating spiders on the property. However, some species, such as the brown recluse, can be particularly difficult to control due to their reclusive nature and the fact that they will occasionally travel inside the home. That's why All-American offers a specific brown recluse spider service. In the event of spiders invading your home, please give us a call first!
We're Ready To Help
Call Our Office or Fill Out The Form to Schedule Service Now
Prevent Spiders In Your Sylvan Park Home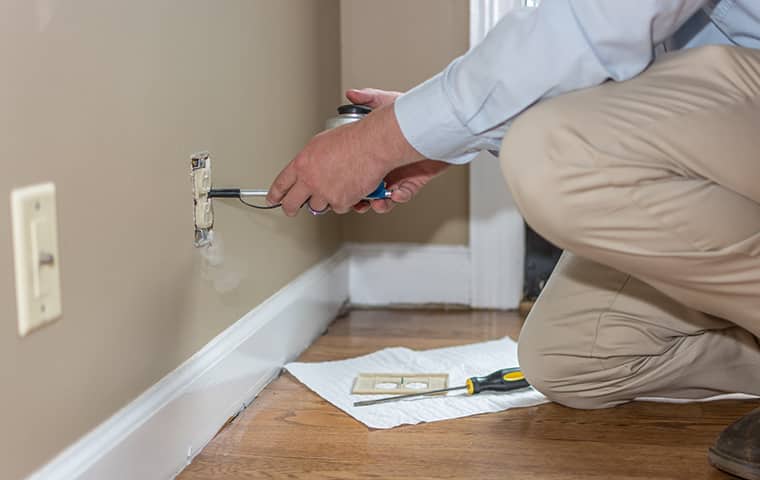 In addition to maintaining your year round pest control services, it is a good idea to spend some time spider proofing your home. Some simple tips for keeping spiders out of your house include:
Keeping storage areas clean and uncluttered; be aware of where they like to congregate (attics, closets, storage sheds)
Make sure you don't have any holes in your window or door screens; if so, replace them
Seal off cracks or holes along the foundation where spiders can easily crawl inside
Spider proofing tips are not always enough to keep the arachnids out. Contact us for your free evaluation today!
Additional Pest Services in Sylvan Park
We also offer a wide array of other services for Sylvan Park home and business owners:
Flea and Tick Treatments
Mole Control
Mosquito Elimination
Green Pest Control
To learn more about our pest control services in Sylvan Park as well as elsewhere in our Tennessee service area, please contact your local Sylvan Park exterminators at All-American Pest Control today!