Protect Your Home Or Business With All-American Pest Control
The secret to our success really isn't a secret at all. In fact, we think our mission statement says it all, "In everything we do, we strive to deliver reliable, remarkable service while protecting our community from harmful effects of pests!" And these core values are why we have some clients that have been with us for over 45 years! At All-American Pest Control, we offer all the cutting edge technology and techniques in the pest control industry for our Tennessee homes and businesses, including right here in Sylvan Park.
Home Pest Control in Sylvan Park
Being a homeowner comes with a certain amount of inherent stressors, but if you live in Middle Tennessee, pest control doesn't have to be one of them. Here at All-American Pest Control we offer both our Perimeter Plus Pest Control program, and our Green Choice Program; both of these programs focus on the exterior of your home, with the aim of preventing 47 pests common to the area from entering your home. And, in case a pest should show up inside your house, we are on call to return to your home and take care of the pest problem free of charge.
To learn if one of these plans may be best for you, we also offer a free home pest evaluation with absolutely no obligation. This will be a thorough evaluation inside, outside, and under your home, and will even provide a written report with suggested actions, if needed. But remember, some pests such as termites or rodents, could already be damaging your home without your knowing it, so time is of the essence. Contact us today!
Commercial Pest Control in Sylvan Park
Commercial pest control in Sylvan Park has to be taken seriously. At All-American Pest Control, we understand the pest concerns of facilities like doctor's offices, hotels, restaurants, schools, daycares, and more.
If you have a restaurant, school, or warehouse to protect, All-American Pest Control has the best options to meet your budget and unique needs. Commercial properties must be pest-free to prevent being shut down and stop rampant pest-related health problems. When cockroaches or mice are allowed to roam around businesses, it threatens your reputation and the bottom line.

You need dependable pest control services for your commercial building, so you can focus on serving your community. When businesses fail to have a professional pest control service routinely treat their facility, they risk their reputation and profits.

All-American Pest Control has a list of pest control services ideal for treating hotels, food service businesses, and high-density office buildings. We track our services and monitor our client's facilities so that we can provide optimal pest exclusion. Keeping your commercial property pest-free year-round is what All-American Pest Control cares about most!

Call All-American Pest Control to ensure that pesky insects and rodent pests don't invade your commercial building or business in Sylvan Park.
All-American Pest Control technicians will respond to your call quickly and take the time to listen carefully to your concerns. Our technicians are experienced in the identification of a wide variety of pests. They will thoroughly inspect the property, look for signs, and then talk to you about their discoveries and the things you can do to eliminate the problem and prevent it from happening again.
We offer custom treatment plans that include return visits from the technicians. We never want any of the businesses in our community to have to worry about pest infestations.
Spiders in Tennessee
One of the most common pests we deal with here in Sylvan Park are spiders, particularly brown recluse spiders and black widow spiders. Although both species rarely bite, they are both venomous and their bites can require medical attention. Other common, non-venomous species are the jumping spider, the wolf spider, and the house spider. For most types of spiders, our home pest control program will do a more than adequate job of preventing an infestation. Also, unbeknownst to most people, our popular mosquito prevention treatment also does a great job of eliminating spiders on the property. However, some species, such as the brown recluse, can be particularly difficult to control due to their reclusive nature and the fact that they will occasionally travel inside the home. That's why All-American offers a specific brown recluse spider service. In the event of spiders invading your home, please give us a call first!
We're Ready To Help
Call Our Office or Fill Out The Form to Schedule Service Now
Prevent Spiders In Your Sylvan Park Home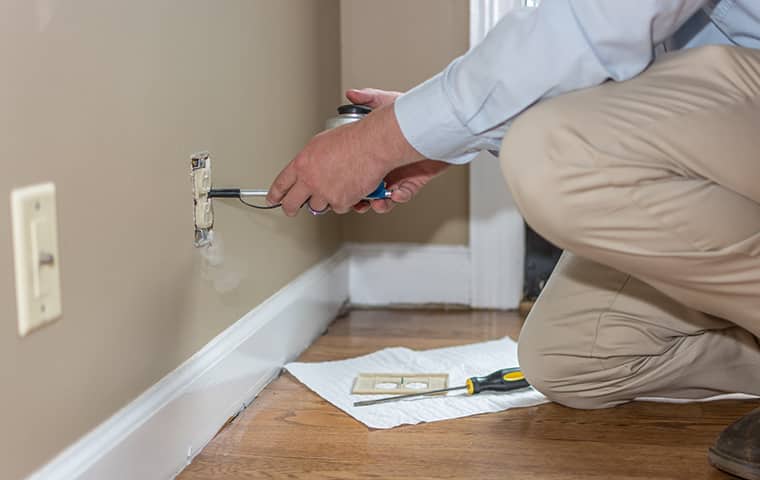 In addition to maintaining your year round pest control services, it is a good idea to spend some time spider proofing your home. Some simple tips for keeping spiders out of your house include:
Keeping storage areas clean and uncluttered; be aware of where they like to congregate (attics, closets, storage sheds)
Make sure you don't have any holes in your window or door screens; if so, replace them
Seal off cracks or holes along the foundation where spiders can easily crawl inside
Spider proofing tips are not always enough to keep the arachnids out. Contact us for your free evaluation today!
Additional Pest Services in Sylvan Park
We also offer a wide array of other services for Sylvan Park home and business owners:
Flea and Tick Treatments
Mole Control
Mosquito Elimination
Green Pest Control
To learn more about our pest control services in Sylvan Park as well as elsewhere in our Tennessee service area, please contact your local Sylvan Park exterminators at All-American Pest Control today!
How You Could Be Wrong About The Termites In Sylvan Park
Protecting the legacy of Sylvan Park starts with hiring the best pest control services available. When there are buildings older than a century to preserve for future generations, keeping pests away is an absolute must. Without proper, comprehensive protection from pests like termites, these pests could erase valuable history.
In Sylvan Park, you should look out for signs of the following termites on your property:
Subterranean termites
Formosan termites
Dampwood termites
Drywood termites
While all of these are potential pests, subterranean termites are by far the biggest threat facing Sylvan Park homeowners.
During the spring, you may notice reproductive termites flying around your property in swarms. Termites may create tubes leading to your building's foundation as they travel from the neighboring soil. Without scheduled termite pest control, these insects can gradually establish colonies and eat away at a structure.
Inspect structures for termites annually. Termites can silently excavate the innards of wooden buildings and structural elements undetected for years. The professionals at All-American Pest Control can determine where termites may be hiding on your property with an in-depth inspection.
Your property is an investment and deserves total year-round termite protection, and All-American Pest Control offers the best pest control service packages dedicated to controlling and preventing destructive termites. Contact All-American Pest Control for a free termite inspection today.
The Most Effective Way To Keep Mosquitoes Away From Your Sylvan Park Home
When the weather gets warmer, it's time to spend more time outside, enjoying good company, excellent food, and festivities. However, insects like mosquitoes also become more prevalent when the temperature rises. These pests may hang around properties with standing water or poor drainage, attractive flowers and plants, or fly through open windows. It's essential to be prepared and learn how to prevent mosquitoes and the irritating, itchy bumps they leave behind.
All-American Pest Control is in the business of controlling mosquitoes on your property and has an arsenal of exclusion products and techniques. You can help protect yourself from mosquitoes if you avoid wearing sweet-smelling scents, wear long sleeves, and ensure windows and doors have screens in good repair. If mosquitoes are a nuisance, an inspection from All-American Pest Control can find places where these pests are congregating, breeding, or coming inside your home. Remove factors that attract mosquitoes, like sources of water, open garbage, or yards with long grass and piles of debris or wood.
For help with these pests, schedule an appointment with All-American Pest Control, the best mosquito control company, to target mosquitoes on your property.
The Best Way To Get Rid Of Rodents In Sylvan Park And Keep Them Out
Rodent control is one of BHB's Pest Elimination particular concerns. Rodents like rats and mice can do property damage, and they can spread diseases. If you have noticed any signs of rodents in your home, the best way to eliminate them is to call a professional.
Why you should not use DIY elimination methods:
A frightened rodent is more likely to bite, scratch, or injure you.
You must come into close contact with a trapped animal exposing yourself to disease.
Rodents have fleas and mites that can jump from their body to yours.
With DIY traps, you may catch one or two rodents, but you still need to eliminate the majority.
Contact All-American Pest Control at the first sign of rodents, and let us eliminate the problem for good. We have same-day service available, and we always keep your family and pets' safety in mind when we choose elimination methods.