What are millipedes?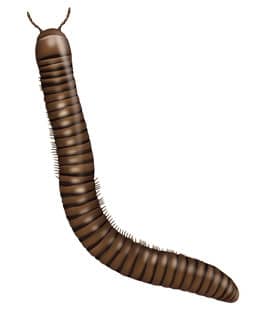 Although its name suggests it has a thousand legs, the millipede actually only has between 80 and 400 legs.
Contrary to popular belief, millipedes are actually an arthropod, not an insect.
Millipedes, often mistaken for centipedes, have two sets of legs for every segment of their body, and when in action, their legs appear to move in a wave-like fashion.
You can also tell the difference between a centipede and a millipede by their rate of speed; centipedes tend to move quickly and millipedes typically move slowly.
Are millipedes dangerous?
Millipedes are not poisonous and they do not bite or sting. However, these arthropods have the ability to emit a repulsive fluid that can cause irritation to the skin. Some species of millipedes can disperse this awful fluid up to several inches away. If you come into contact with this fluid you should immediately wash the area of impact and scrub thoroughly to ensure the odor has been eliminated. The fluid millipedes' release can also be toxic to small animals, including your pets.
Why do I have a millipede problem?
Millipedes' main source of food is damp and deteriorating vegetation. Millipedes are most commonly spotted outdoors in high moisture areas. However, when there is a lot of rain, millipedes will find their way into a home or business. Typically, a millipede's chances of survival in a house are slim as there is less moisture and fewer food sources. Although these arthropods' meals mainly consist of decaying plants, there are cases where they will feed off of dead insects as well.
How do I get rid of millipedes?
Millipedes are nocturnal creatures. Their elusive nature presents a problem in locating their whereabouts. At All-American, our professionals have the training, knowledge, and expertise to handle any millipede problem. Severe millipede infestation treatments involve raking back mulch and/or other landscaping to treat deep down in the soil where millipedes are living and breeding. Our millipede pest control pros can help you establish and maintain a pest-free environment in your Tennessee home or business. Contact us today to learn more about our Nashville home pest control programs, including the Perimeter Pest Control Program and the Perimeter Plus Program.
We're Ready To Help
Call Our Office or Fill Out The Form to Schedule Service Now
Can I do it myself?
Without the proper training and tools, elimination of any pest on your own is not a good idea. Most do-it-yourself sprays and repellents are ineffective and, if used improperly, these chemicals can expose your family and pets to dangerous toxins. At the first millipede sighting, don't hesitate; contact Tennessee's millipede experts today!
Why choose All-American Pest Control?
Since 1961, All-American Pest Control has been faithfully serving the home and business owners of Nashville and throughout Middle Tennessee. We pride ourselves in the exceptional workforce we have created and the outstanding services we provide. We are not a big, national chain; we live right here and we understand the pest problems that arise in this area better than anyone else. Most importantly, we are confident in our ability to rid your property of any pest. No job is too big or small for All-American! Contact us today for more information about our pest control offerings in Nashville.
How can I prevent a millipede problem in the future?
Prevention is a key component in pest management and there are tips that can help keep the pests out. When trying to avoid a millipede problem do not overwater your lawn and make sure all cracks and crevices around the house are repaired or filled in. You can also deter millipedes by keeping all crawl spaces, basements, and attics well ventilated and dry.
While you may try your best to keep the pest out, there are times the help of a professional is needed to create and stabilize a pest-free environment. If you are struggling with a millipede issue, contact the professionals at All-American Pest Control for dependable and effective pest services.