Pest Control In Lebanon, TN
Pests are a problem that can affect anyone, no matter how diligent you are at trying to stop them. But with help from the professionals at All-American Pest Control, you can ensure that your Lebanon home or business becomes and stays pest-free. Our employees work together to provide customers with high-quality, reliable, environmentally-friendly pest control services. All-American Pest Control is locally-owned and operated and has been helping home and business owners throughout Middle Tennessee keep their homes or businesses pest-free since 1961. For quality pest control in Lebanon and beyond, contact us today!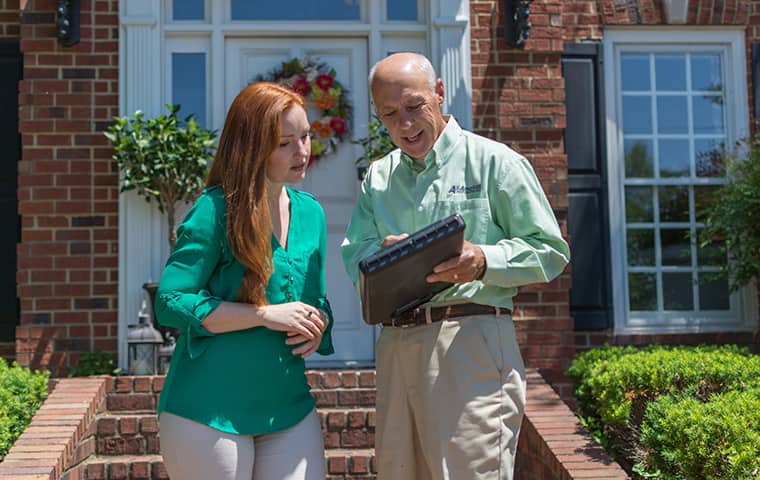 Protect Your Home And Family From Pests
Protecting your home and family from pests is not an easy task to accomplish on your own. For the safety of your family and pets, it's crucial that the correct pesticides are used, mixed properly, and applied by a trained professional. That's why you should trust All-American Pest Control to help protect your home from nuisance and potentially dangerous pests. These pests can damage the structure of your home, your personal property, and introduce a variety of diseases and bacteria inside your house. To stop pests before they enter your home, contact All-American Pest Control.
Residential Pest Control In Lebanon
It's a delight to live in Lebanon. However, pests won't only invade houses in the winter for food, water, and safe harbor. Even the most immaculate homes have unwanted visitors now and then. Without adequate protection, pests can harm the structural integrity of your home and spread pathogens.
All-American Pest Control knows regularly scheduled home pest control treatments is the best defense against invading pests. Homeowners can also reduce factors that attract pests in Lebanon to their property.
Why choose All-American Pest Control to defend your home from pests and their damage? Consider the following:
Being a family-owned and operated company, we use products that are safe for families, not pests.
We follow Integrated Pest Management methods and can customize pest control treatments.
Our company has been in business since 1951, proudly excluding uninvited critters.
Don't struggle to exclude pests in your home with homemade products or questionable methods. Call All-American Pest Control to inspect and treat your home year-round.
Helpful Pest Prevention Tips
While getting help from a professional exterminator is the best way to prevent pests, there are some easy, inexpensive steps you can take around your home to keep these pests from becoming a problem:
Trim back trees and bushes from the exterior of your home.
Keep outdoor trash cans away from the exterior of your home.
Store pet food in a plastic container with a secure lid - and pick up any uneaten food.
Seal cracks and crevices in your home's foundation.
Caulk gaps around exterior windows and door and make sure all screens are intact.
We're Ready To Help
Call Our Office or Fill Out The Form to Schedule Service Now
Commercial Pest Control For Lebanon Businesses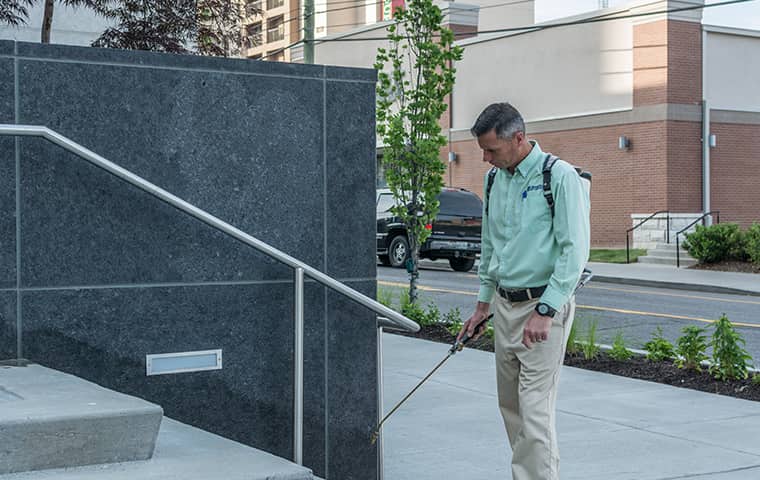 Everything on your commercial property impacts how potential customers view your business. If pests are visible in your establishment, they'll scare away visitors. Customers might also stay away if they pull into your parking lot and see weeds surrounding the building. Fortunately, there's a local pest control and lawn care service that can solve both of these potential problems.
Pests can cause significant problems for your business, damaging your structure, contaminating products, and spreading pathogens. At All-American Pest Control, we design our commercial pest control services to solve your problem. We'll inspect your facility to find pests and determine possible entry points. Our pest professionals will also look for vulnerabilities and factors that attract pests to your building.
Protecting your business from pests is essential, but we also provide lawn care, enabling us to keep pests from reaching your building while beautifying your exterior. Our professionals use the best lawn care products to promote healthy grass and plants while keeping potentially harmful insects off your property. We serve various businesses in various industries with the best pest control and lawn care in Lebanon. Give us a call to learn how we can help your business.
Whether your business is large or small, All-American Pest Control can help keep your facility pest-free.We assist a wide variety of business owners, including facility and property managers, realtors, builders, hotel and lodging managers, multi-family housing managers, and warehouse managers. Business owners in Lebanon and throughout Middle Tennessee rely on All-American Pest Control to protect their inventory, profits, and reputation. Our commercial pest control program will rid your business of any current problems while preventing future infestations.
Additional Pest Control Services
In addition to year-round pest control plans to keep spiders and flies out of your home, we offer additional specific services, including:
Mosquito Reduction Services
Tick & Flea Yard Treatments
Additional commercial pest control services include:
Termite Protection
Rodent Control
Why Call All-American Pest Control For Rodents In Lebanon
Calling a professional pest control company like All-American Pest Control for rodent infestations is essential for several reasons.
First, we have the expertise and experience to identify the types of rodents causing the infestation. We can locate their nests and entry points and have the tools to eliminate the problem effectively. Rodents are adaptable and resourceful; without a thorough rodent control strategy, you will often find yourself with a reinfestation in no time.
Also, it's important to remember that rodents can carry diseases and cause damage to your property. Attempting to remove them without professional help can be dangerous and result in injuries; big rats can be especially aggressive if threatened. Our experts have the training and equipment to handle even the most challenging infestations.
And finally, we always take steps to prevent future infestations, like sealing up entry points and showing you how you can make your home less attractive to rodents. Our strategies are faster and more effective than homemade ones and will save you time and money in the long run.
If you are struggling with a rodent infestation, contact us immediately to make it a thing of the past swiftly and for good.
Can I Get Rid Of Roaches In My Lebanon House On My Own?
It's unpleasant when roaches are skittering about your home. Homeowners who have a roach infestation need professional help to exclude these insects. Conventional bait and sprays aren't effective. The best way to get rid of these nasty bugs is to contact a quality pest control company.
All-American Pest Control uses safe, effective products to get a roach infestation under control. It's a fool's errand to get rid of roaches on your own. These bugs hide in the darkest, narrowest spaces to evade detection. A technician from All-American Pest Control can help get cockroaches out of your home fast.
Homeowners should schedule an inspection and multiple treatments to ensure their home stays pest-free. Besides calling All-American Pest Control, do the following to make these bugs uncomfortable:
Reduce clutter and store items in sturdy containers with airtight lids.
Avoid leaving food for people and pets out in the open.
Wipe up spills, keep drains clear, and never leave crumbs or dirty dishes in the kitchen.
Cockroaches are resilient and difficult to exclude on your own. Contact All-American Pest Control to treat your home if you have a roach problem.
What's The Best Mosquito Control For My Lebanon Yard?
Mosquitoes are a common problem for Arizona residents. These pests are noticeable around sunset and, while annoying, are relatively harmless. You might end up slapping or swiping at the nuisances as they attempt to feed on your blood, but most people don't consider them dangerous.
While most mosquitoes are harmless, some can spread illnesses when they bite people. Unfortunately, the small sizes of these insects make it hard to identify the dangerous ones. For this reason, you should take precautions whenever you see mosquitoes on your property.
All-American Pest Control technicians treat your property with a backpack fogger to keep mosquitoes away. We'll use this proven treatment on vulnerable parts of your property, including:
Lawns
Foliage
Bushes
Trees
We offer monthly services to provide year-round protection or one-time treatments for special events. Contact us when mosquitoes invade your Lebanon yard to avoid their potential dangers.