Protect Your Home Or Business With All-American Pest Control
For over 50 years, All-American Pest Control has provided comprehensive commercial and residential pest control services in Franklin and throughout Middle Tennessee. We are locally-owned and operated and we take great pride in offering quality, affordable, and eco-friendly pest control services. Our residential services, which include Perimeter Plus, All-For-One Advantage and All-For-One Complete Care give homes and families coverage for over 47 common Tennessee pests and specific protection for pests that present a unique threat. Our 5-Star Business Care provides commercial customers with reliable and professional services that are customized to meet their specific needs. If you're having trouble with pests, we're here to help.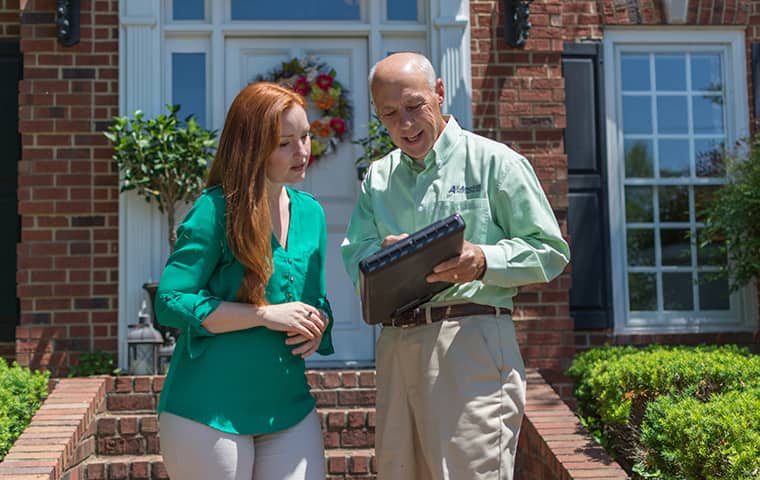 Home Pest Control In Franklin, TN
Pests can find their way onto properties and into homes during any time of year. Most pests that enter homes are nothing more than a nuisance, but there are insects and rodents that can present a health risk and pose a threat to property. With Perimeter Plus pest control, we provide coverage for over 47 common household pests, including:
Roaches

Ants

Mice

Non-venomous Spiders

Moths

Carpenter Bees

Fleas

Wasps

Crickets

And Many More!
We also offer Green Choice Pest Control for customers who wish to have green materials applied. This program is an eco-friendly treatment option that gets rid of over 47 common household pests through the application of all-natural, botanical-based products and borate-based products. When pests get in, we can help you get them out, with green pest control options.
We're Ready To Help
Request a FREE evaluation or get a quote over the phone.
Mosquito Prevention For Franklin, TN Properties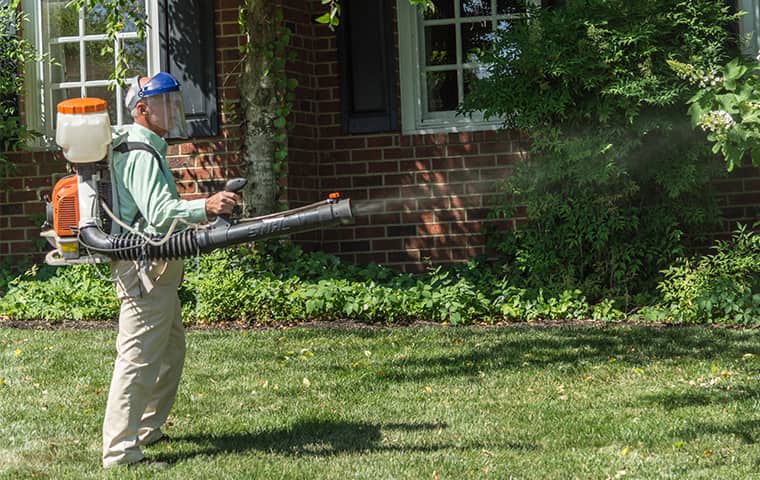 Have you ever been relaxing in your backyard and suddenly found yourself overrun by annoying mosquitoes? That's no fun. We can help you take your backyard back. With our Stinging and Biting Insect Yard Treatments, we can help you take a bite out of mosquito populations in your Franklin yard. For complete protection, consider All-For-One Complete Care. It gives coverage for over 47 common household pests, key yard pests and also mosquitoes.
Protect Your Franklin, TN Property With Termite Control
Termites are one of the most destructive and costly pests in the United States, costing homeowners billions of dollars each year. Often confused with carpenter ants, termites are lighter in color (generally a pale white to nearly translucent) and they feed upon cellulose. They are known for eating away at wooden structures to build tunnels and nests for their large colonies which can have as many as 500,000 individuals. In Franklin, All American Pest Control effectively gets rid of termites with the Sentricon® System with Always Active. This three-step process detects termites, eliminates entire colonies, and continuously monitors to prevent future infestations. If you have noticed swarming termites near your home, sagging window and door frames, small holes in wood surfaces, mud tunnels running along your foundation, or floors that feel "squishy," contact All-American Pest Control today and let our professional termite exterminators get rid of your termite problem quickly and efficiently.
Pest Control For Franklin Businesses
All-American Pest Control has been protecting Franklin businesses from unwanted pests since 1961. Our expert exterminators understand the importance of achieving and maintaining a pest-free environment to protect the image, brand, and reputation of your business. Our commercial pest control services are designed to solve your company's specific pest control problems. We will get rid of current pest infestations and keep pests from returning. For more information on our commercial pest control services or to schedule a free business evaluation, contact All-American Pest Control today!