All-American Pest Control is a family owned and operated company serving home and business owners in East Nashville, Franklin, Hermitage, Spring Hill, and other communities throughout Middle Tennessee. Being a locally owned company gives us the unique advantage of reaching and knowing our customers on a more personal level. We live and work in the areas that we serve - so we completely understand the pressure that pests put on our customers. Our awareness of these pest issues gives us the upper hand in relating to your insect and rodent problems. (This is a critical attribute many "big chains" lack.) Most importantly, we offer pest solutions that are effective and successful along with environmentally-friendly pest control to property owners in East Nashville and the surrounding areas. For more information about our comprehensive list of services, contact All-American Pest Control today.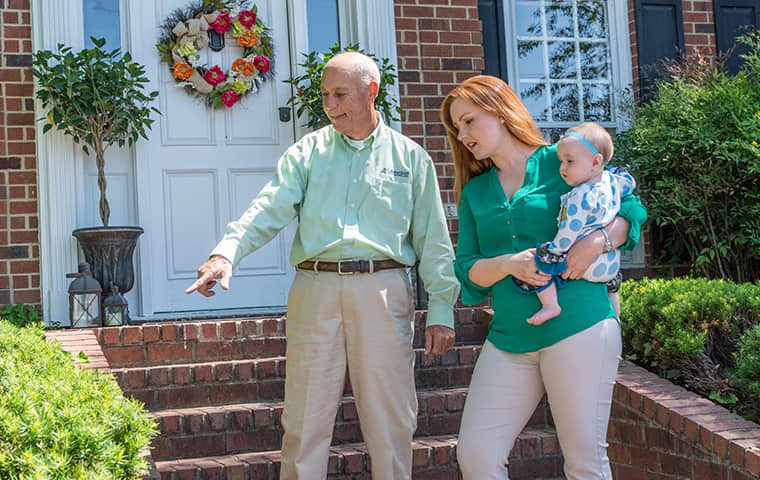 Residential Pest Control In East Nashville
There's nothing like kicking back at home, relaxing in the living room, or spending time with loved ones and friends. However, it's difficult to bear when pests enter your home and build nests, reproduce, and cause mayhem. DIY products and solutions to exclude critters are not as effective as calling the pros. When pests take over, they can make people and pets sick, contaminate food, and disturb your sleep.
All-American Pest Control puts homeowners at ease when they solve their pest problems. Our products and methods are safe and effective and quickly get pests out of your property. Since 1961, our family-owned and operated company has provided optimal home pest control.
We can handle problems with invading ants, rats, mice, spiders, stinging insects, and more. We encourage the discerning homeowner to sign up for our residential pest management services for year-round pest control. Contact All-American Pest Control for a service quote and to schedule your first home inspection.
Commercial Pest Control In East Nashville
When customers or employees enter a business, they expect it to be clean and safe. An infestation of rodents, insects, or other critters can pose a health hazard and endanger people. It's essential to have quality commercial pest control treatments monthly or bi-monthly. Pests can enter a property anytime, spreading pathogens, damaging inventory, and disturbing daily operations.
All-American Pest Control helps businesses in East Nashville stop unwanted visits from pests. A pest infestation can ruin a solid reputation, chase away business, and lead to lost revenue and closures.
When pests give companies in East Nashville a problem, All-American Pest Control uses state-of-the-art monitoring and control services to make them a thing of the past. We use Integrated Pest Management to control pests in retail shops, construction sites, restaurants, and hospitality entities.
Give All-American Pest Control a call to learn more about our commercial pest control options.
What are Termites?
Termites are wood-destroying insects that are in constant search of a food supply. Their meals can consist of wood, wallpaper, and even paper money. Measuring from 1/8 to 3/8 of an inch in length, the Eastern Subterranean Termites is the most common species of termite found in East Nashville and Middle Tennessee. They live in large colonies made up of the workers, soldiers, kings, and queens. Termite colonies can have over two million members and the queen termite can lay up to 40-thousand eggs a day! Their unique reproductive abilities combined with an elusive nature enable termites to quickly infest an area and remain unnoticed by the untrained eye.
How Do I Know If I Have Termites?
Early detection of termites can save you a significant amount of money, time, and stress. While termite activity can be difficult to detect, there are a few tell-tale signs to look for. If you see:
Wood damage
Visible reproductive wings
Mud tubes
Hollow sounding wood
If you have noticed any of these signs in your home or business, you may have a termite infestation.
We're Ready To Help
Call Our Office or Fill Out The Form to Schedule Service Now
Are Termites Dangerous?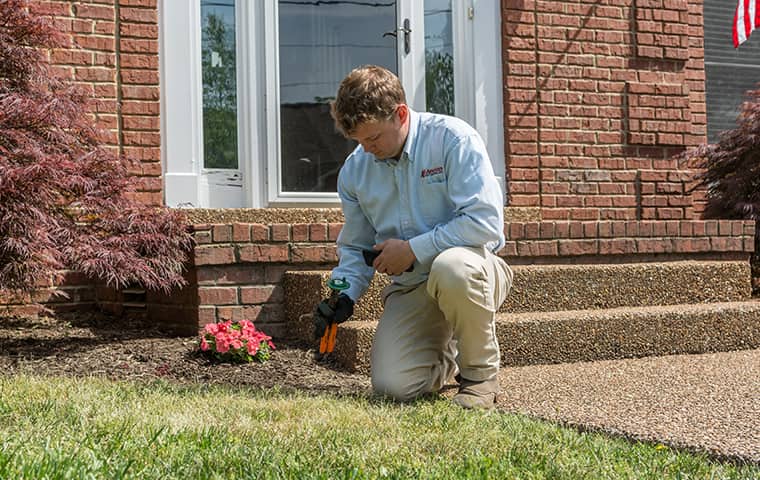 Termites do not pose any health risks. However, they are a major threat to the structural integrity of your homes and facility. Termites can also wreak havoc on valued wooden pieces of furniture. They eat 24/7 and are capable of causing your home to crumble. Most worrisome is how easily termites go unnoticed. Here are some helpful tips to keep the termites away this season:
Install properly functioning downspouts, gutters and splash blocks to divert water away from your home's foundation (This is crucial)
Remove old grade stakes, tree trunks, roots, and form boards from around your building
Trim back all shrubbery and tree branches away from the home
Maintain a minimum 18-inch gap between your home and any wood or soil source
Be sure the humidity level in crawl spaces, attics and basements is minimal with proper ventilation
Store firewood at least 20 feet away from the house
Routinely inspect the premises for any signs of termites
While these steps are not a guarantee, they can help deter these termites from destroying your home or business. If you suspect a termite infestation, don't hesitate.
Termite Control
Each year termites cause more than five BILLION dollars in property damage. Sadly, most homeowners insurance does not cover such damages. If you are a homeowner in East Nashville or beyond and would like to protect your home from these destructive pests, All-American has the perfect solution: The Sentricon® Termite Colony Elimination System. It's environmentally responsible, easy to live with, and requires zero drillings, trenching, or chemical injection. To learn more about our incomparable termite services, contact All-American Pest Control today.
Additional Pest Control Services
In addition to superior termite control for home and business, we also offer:
Mosquito Reduction Services
Tick & Flea Yard Treatments
Services for Hotel and Lodging Managers
Services for Multi-Family Housing Managers
And more!
Whether boxelders have invaded your business or mosquitoes are taking over your backyard, at All-American Pest Control, we have a solution to resolve the problem quickly, discretely, and efficiently. To learn more about our incomparable pest control services for East Nashville and beyond, call (615) 824-8814.
Natural Ways To Keep Rodents Away From Your East Nashville Home
When rodents like house mice, Norway rats, or roof rats invade your home, dealing with frayed wiring, droppings, and foul odors is difficult. These pests constantly need to chew and destroy property, contaminate food, and cause nighttime disturbances. It's no fun waking up to rodents scurrying around your home, squeaking and scratching. Excluding rodents is a challenge without professional pest control products.
All-American Pest Control knows how much trouble a rodent infestation causes homeowners. Contact All-American Pest Control to inspect and treat your home at the first sign of rodent activity.
Homeowners can deter rodents from hanging around their property. First, call the pros at All-American Pest Control for the most effective solution, and try the following:
Store items off the floor and in chew-proof containers with a lid.
Frequently clean your home and throw out garbage promptly.
Avoid leaving food unprotected in your kitchen, dining room, and other areas.
A rodent infestation can make your home uncomfortable and unhealthy. Call All-American Pest Control for effective rodent control and enjoy a pest-free house.
Identifying A Mosquito Problem On Your East Nashville Property
Each spring, mosquitoes may begin to appear around your East Nashville property. They are a seasonal pest that is attracted to warmth and moisture, which is plentiful during this point. It may also mean that you experience mosquito presence throughout the early days of fall. Some of the signs that might indicate that you're dealing with more mosquitoes than is typical can include:
Lots of mosquito activity beyond the scope of dusk and dawn
Egg sacs and larvae hatching in bird baths, pool covers, and flower pots
When citronella and lavender plants don't provide any relief
You or your guests end up leaving your property covered in mosquito bites
You've tried scaling back your trees and plantings but that doesn't work either
There are additional pests around your property that eat mosquitoes
If you're experiencing seasonal mosquito populations that won't retreat, consider professional help from All-American Pest Control. Our services are designed around detailed property inspections in order to find the areas where mosquitoes are lured to most. From there, we install our Perimter PLUS system in order to provide ongoing protection from mosquitoes. Once we've set up these baiting systems, you can enjoy a mosquito-free yard without worry. For more information on mosquito treatments, please call us today.
What To Do About Ant Hills Around Your East Nashville Lawn
With help from Home All-American Pest Control, ant populations get snuffed out before they can dot your lawn with unsightly hills or invade your home. We use granule treatments outside that soak into the soil and address entire ant colonies, as well as exclusion measures around your house that seal up access points and stop pests from fleeing indoors. Of course, if you already have established ant hills in your yard, we can help with those, too!
Get the best ant control in East Nashville by contacting Home All-American Pest Control today.
What It Takes To Get Rid Of Roaches In Your East Nashville Home
Roaches can be a persistent problem in East Nashville. Still, there are many steps you can take to stop them from taking over your home. Keep in mind that cockroaches are dangerous scavengers that will spread viruses and bacteria and could make your household sick. We recommend professional cockroach control strategies in addition to the following prevention tips:
Sanitize your home thoroughly: Roaches are attracted to food and water, so keeping your home clean and free of leftovers, crumbs, and more can help discourage them. Regularly taking out the trash is essential, as is storing food in airtight containers. Once you've cleaned all surfaces, sanitize them thoroughly.
Seal up cracks and crevices: Cockroaches squeeze into homes through even the tiniest openings. A professional pest control company can show you how to fill gaps around windows, doors, and pipes and remove other access points.
Consider cockroach control products: Various roach treatments are available, but you need to place them in areas where these unwanted scavengers are likely to hide, like behind appliances and cabinets. Roach colonies can be hard to find, but a pest control expert can spot them during an inspection.
Cockroach problems can go from mild to severe in just a few weeks. Hiring a professional exterminator is best to save time and money and keep your family safe from dangerous viruses and bacteria. At All-American Pest Control, we use cockroach control treatments that are more effective than most over-the-counter products and provide ongoing pest control services to prevent future infestations.
Call us today to learn more about our customized cockroach control strategies and to request a quote.
East Nashville homes and businesses can be the target of many pest infestations without the proper prevention strategies. All-American Pest Control has effective techniques and treatments to keep them out of your property year-round.