Home Pest Control in Antioch, Tennessee
Protecting your Antioch home from the never ending line of pests waiting to invade it is very important for your family, your home, and your belongings. At All-American Pest Control, we understand that pests never give up so we offer year-round services to protect your home from over 47 pests.
Our year-round pest control programs require no annual contract and provide your property with both interior and exterior treatments. We focus on the exterior of your home to stop pests before they have the chance to make it inside, and deal with any existing infestations in your home as well. Our year-round programs also offer the peace of mind that comes from knowing that if pests return between our visits, we will come back to take care of the problem at no charge to you!
We also offer pest control services for specific pests including brown recluse spider control, flea and tick yard treatments, mosquito reduction, and termite control. Let us help you get started protecting your home from nuisance and damaging pests.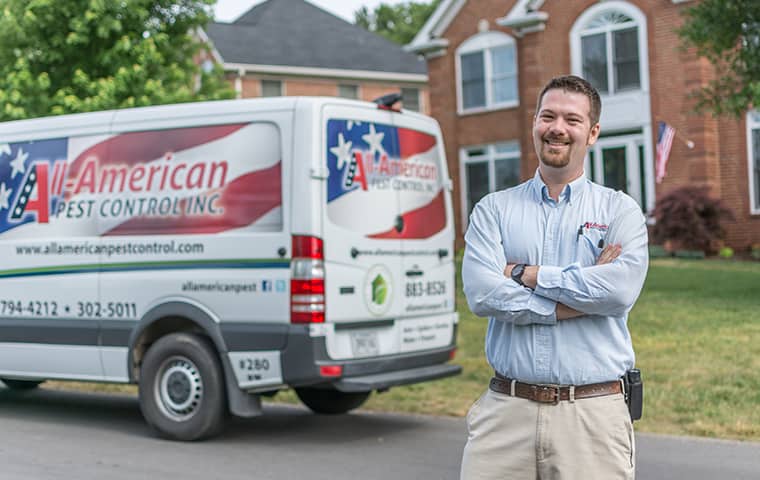 We're Ready To Help
Request a FREE evaluation or get a quote over the phone.
Termite Control in Antioch, TN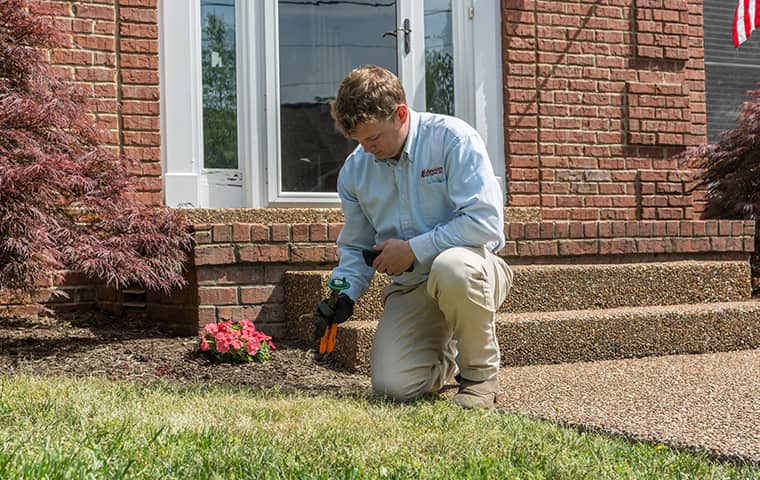 Termites are very dangerous pests that require fast, tough action. Termites are not dangerous because they cause any harm to people - they don't bite or sting and aren't even known to carry or transmit any diseases. They are dangerous because of the amount of damage that they can inflict to your property. Termite infestations left untreated, can lead to extensive and costly repair bills. The best way to control and prevent termites in your Antioch home or business is to partner with the termite control experts here at All-American Pest Control.

All-American Pest Control can provide termite control services that eliminate entire termite colonies and prevent future problems with these tiny damaging pests through the Sentricon® System with Always Active™. The Sentricon system requires no trenching or digging, is non-invasive, and is environmentally friendly. It works to detect termites and attract them to its baiting stations where the Sentricon system begins to eliminate the entire colony immediately and provides continuous monitoring to prevent re-infestations. Trust the Sentricon® with Always Active™ and the termite professionals at All-American to protect your Antioch home and property from damaging termites.
How Dangerous Are Brown Recluse Spiders In Antioch, TN?
Brown recluse spiders are dangerous spiders because their venom is strong enough to cause serious health risks in people. The good news is that these spiders are super shy and want to stay away from you just as much as you want to stay away from them!
Brown recluse spiders are small spiders that have a distinct dark brown "violin-like" marking on their back. As their name suggests, these spiders like to hide in dark out-of-the-way places. Contact with brown recluse spiders is usually accidental but should be taken seriously. A bite from a brown recluse spider is not only very painful but slow-to-heal and prone to infection. If bitten by one of these spiders, medical attention should be sought.
If you are seeing brown recluse spiders on your property or in your home, contact All-American Pest Control. Our professional pest controller will find and eliminate these spiders and provide the routine services needed to prevent their return.
Why All-American for Pest Control in Antioch, TN
All-American Pest control is a local Tennessee company that prides itself on providing local customers with exceptional pest control services that are performed on time by friendly, trained, and experienced local employees. We are proud to say that we are a QualityPro certified company and are nationally recognized leaders in the pest control industry. QualityPro certified means that we have exceeded the standards set by state and federal regulations in the areas of education & testing, business operation, environmental stewardship, and consumer protection. Trust All-American Pest Control to help you control and prevent pests in and around your home or business. World-renowned personality Dave Ramsey does, and so should you!