What are odorous house ants?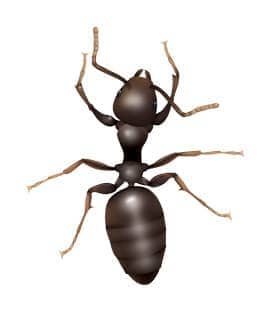 Odorous house ants are a common ant species that invade Tennessee homes.
These small black ants are about 1/8 inch long in length.
As their name suggests, when these ants are crushed they give off a foul "rotten-coconut" smell.
Are odorous house ants dangerous?
The odorous house ant is not dangerous. It is typically considered to be a nuisance. And, if present, they can contaminate your food. They love to eat sweets, especially melons.
Why do I have an odorous house ant problem?
These ants will enter your home looking for a warm place to stay during periods of heavy rain. They will also enter your home through cracks in your foundation, open windows and doors searching for a food and water source.
We're Ready To Help
Call Our Office or Fill Out The Form to Schedule Service Now
Can I do it myself?
In order to completely eliminate odorous house ants from your home, you must completely eliminate the members of their colony and their nesting area. This can be a difficult task to accomplish without professional help because there may be smaller nests around that you are not aware of and do not treat, therefore causing a re-infestation. If you have an odorous house ant problem, contact All-American Pest Control today.
Why choose All-American Pest Control?
With over 50 years of experience, we know the time, effort and commitment it takes to solve ant problems, no matter what type. With All-American Pest Control, you'll receive services, a serious commitment, and thorough treatments from our trained pest control experts in Nashville and Middle Tennessee.
How can I prevent an odorous house ant problem in the future?
Here are some prevention tips for odorous house ants to help you avoid an infestation:
Make sure that doors and windows are completely sealed and that all screens are intact.

Trim trees and bushes back from your house so ants can't use them as a bridge to gain access to your home.

Keep fruit in the refrigerator and dry goods in sealed containers to prevent the ants from using it as a food source.
Helpful Articles About Odorous House Ants