Pest Control In Mount Juliet, TN
The last thing you need is unwanted houseguests. No, we don't mean those relatives that come to visit and can't leave soon enough. We're talking about crawly critters. Just like any unwanted houseguest, these creatures seem to come when you least expect it. They make themselves right at home, leaving you wondering if they're ever going to leave. All-American Pest Control has been providing pest control in Mount Juliet since 1961. We have built our business on respect, reliability and remarkable service. You can trust us to help you get rid of any unwanted houseguest - except for your in-laws. (sorry!)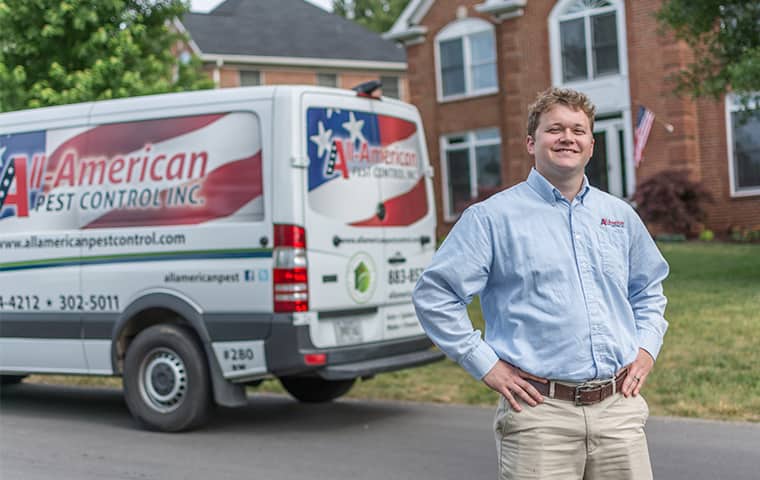 Home Pest Services
There's nothing worse than the feeling you get in the pit of your stomach when you think you might be facing a pest problem. No one wants to lose sleep worrying about bed bugs crawling on them at night, brown recluse spiders hiding in dark corners, mice rummaging through the cupboards, or termites literally eating you out of house and home.
Homeowners have plenty to worry about when it comes to keeping their homes well-maintained, even without considering that pests are one of the leading causes of property damage. While you're probably hesitant about having one more thing to put your time and money toward, there are good reasons to take residential pest control seriously and turn to experts for guidance.
At All-American Pest Control, we make the pest control process simple because we know you have plenty on your plate already. Instead of trying to deal with pests on your own via ineffective DIY methods or products, let our trained experts handle the problem for you.
Here's why more homeowners are turning to us over the competition:
Quality: We value quality and customer satisfaction above all else, which is why we back our services with a pest-free guarantee. If you spot a problem after our initial visit, we'll return free of charge.
Transparency: We always walk you through exactly what our treatment plan will be, ensuring you're getting exactly what you need and that you understand our methods.
Experience: We've helped countless homeowners deal with pest problems immediately threatening their property or emerging in their yards. Our experienced approach has earned the trust of many customers in Idaho.
Keep your Mount Juliet home free from pests and the damage they cause by turning to All-American Pest Control today.
All-American Pest Control can take care of any pest problem you can think of. We offer our Perimeter Plus Pest Control program to keep pests from ever getting into your home, termite protection, bed bug treatments, fire ant and mosquito reduction, tick and flea yard treatments, and brown recluse spider treatments. While some pests can be just a nuisance, others can pose a dangerous threat to you, your family, and your home.
Prevent Infestations in your Business
It's hard to believe how much a creature as tiny as a mouse, bed bug, or cockroach could cause so much trouble for your business. All it takes is one customer tweeting about going home with bed bug bites or posting an Instagram photo of a rat hovering near the kitchen to close your doors for good. As if owning or managing a business isn't hard enough without the added stress of something that's sometimes beyond your control. All-American Pest Control wants to take some of the load off your shoulders by providing customized, reliable commercial pest control. We work with you to find a discreet, efficient plan that fits best with your business. Leave it up to us to make pests one less thing you have to worry about when it comes to your business.
We're Ready To Help
Call Our Office or Fill Out The Form to Schedule Service Now
Commercial Pest Control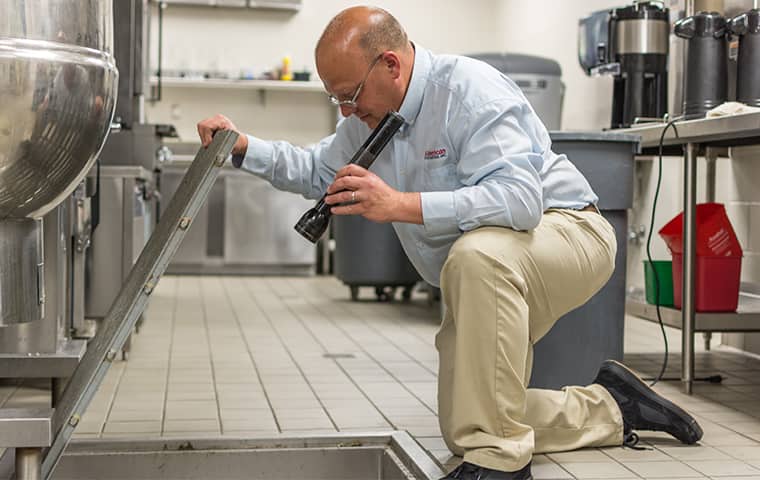 At All-American Pest Control, we understand the importance of keeping your business free of unwanted insects, rodents, and birds. With our commercial pest control services, we can help you achieve and maintain a pest-free environment in your business or facility.
Our commercial services can be customized to fit your specific pest problems. With a pest control plan tailored to your individual needs, our professionals can quickly eliminate current pest problems and ensure they will not return.
Let All-American Pest Control protect your business's image, brand, and reputation!
Brown Recluse Removal
Most people have heard of the dangerous brown recluse spider. However, many are unaware of what it looks like and how frequently you may come into contact with them. Brown recluse spiders are approximately ¼ to ¾ of an inch in size and are distinguishable by the violin-shaped mark on the top of their body. They tend to live in dark spaces such as closets, attics, basements, woodpiles, sheds, and inside cupboards. Brown recluse spiders are not aggressive, but when provoked they can inflict painful bites on their victim. The reaction to their bites can vary from pain and itching to necrosis and ulceration of the tissue, making this type of spider bite one you always want to have checked by a medical professional. Since these spiders are common in Tennessee, we offer a specific brown recluse spider service. With a thorough evaluation, effective spider control applications and preventative measures in the home, you can once again breathe easy. Contact us at All-American Pest Control today!