Home Pest Control in Leipers Fork, Tennessee
Living in Tennessee means that at one time or another you are going to come into contact with pests either inside or outside your home. Pests that aren't just a nuisance, some can bite, sting, contaminate food, and even damage property. By partnering with All-American Pest Control we can work together to put into place a pest control program that will eliminate and control common household pests throughout the entire year!
All of our home pest control programs provide protection for over 47 pests; our experts will focus on the exterior of your home in order to stop invading pests from being able to get inside. For added peace of mind, know that through our home pest control programs our professionals will come back at no charge to take care of pests problems that may pop-up in between visits.
All-For-One Complete Pest Control
Contact us today to receive more information about any of our home pest control programs. Our experts would also be happy to talk to you about our Green Choice Pest Control Program to see if it is right for your Leipers Fork home and family!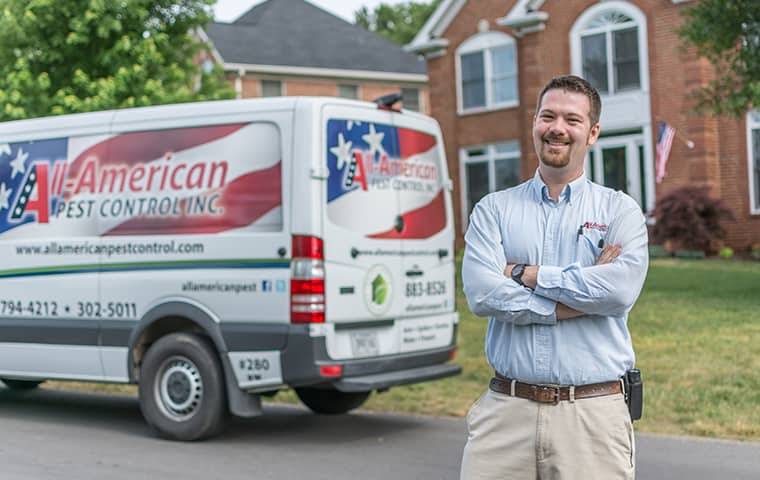 Commercial Pest Control In Leipers Fork
It's not a welcome surprise when a business or multi-unit property has a pest infestation. Uninvited insects, rodents, and wildlife can build nests in furniture and near entrances, making employees and customers uncomfortable. An infestation won't go away over time. Contact a reputable company for commercial pest control and exclusion services.
All-American Pest Control returns confidence to businesses when they step in to tackle an infestation. Using Integrated Pest Management, safe, effective products and smart exclusion methods keep properties pest-free longer.
Removing nests, cleaning up droppings, urine stains, or discarding insect or rodent bodies is risky. Aggressive pests might injure or sicken people or repeatedly return to a property. Choose All-American Pest Control to defend your business from invading critters and schedule regular treatments to keep pests out.
At All-American Pest Control we take great pride in our commitment to providing our business customers with pest control solutions that are both safe and effective and that will both protect and prevent pest problems in any commercial property. We have over 50 years of experience in the commercial pest control industry; let us take care of your business's pest control needs so that you can better focus on your business, your product, the community, your employees, and your customers!
Schedule an evaluation of your Leipers Fork commercial property by one of our highly trained and skilled professionals.
Leipers Fork, TN Termite Control
To protect your Leipers Fork home from termites you want the best, and the best in middle Tennessee is All-American. Our mission is simple- to eliminate every single termite from your property! At All-American Pest Control we are an authorized operator of and highly recommend the installation of the Sentricon® System with Always Active™. Benefits of choosing this system include:
It is non-invasive.
It requires no digging or trenching.
It is non-chemical and odor-free.
It is proven to eliminate entire termite colonies.
It is very environmentally responsible.
Sentricon® with Always Active™ can be installed to treat a current termite infestation or be installed to protect your home from future termite infestations. When living in middle Tennessee, it is not going to be a question of if damaging termites will invade your home, but when!
We're Ready To Help
Call Our Office or Fill Out The Form to Schedule Service Now
Why Choose All-American Pest Control In Leipers Fork, TN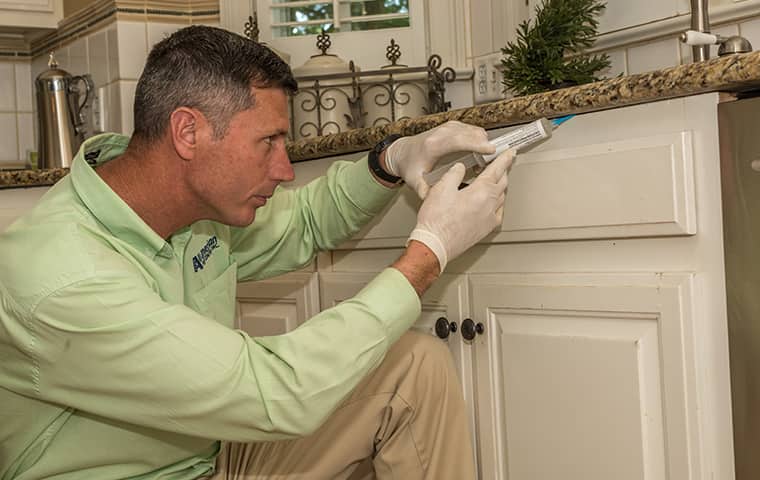 At All-American Pest Control we are all committed to ridding your Leipers Fork home or business of nuisance, dangerous, and damaging pests like ants, mice, spiders, roaches, termites, stinging insects, and more! We provide every single one of our local middle Tennessee customers with exceptional pest control services that are always completed on time by friendly, trained, and experienced local employees who are familiar with local pests and the local area. At All-American, we are committed to the environment and work very hard to ensure that we use only the most modern and environmentally- friendly pest control products to eliminate and control pest issues. We are also proud to say that we are a QualityPro certified company and are nationally recognized leaders in the pest control industry!
Contact us today and find out why so many middle Tennessee residents trust all of their pest control needs to the professionals found here at All-American Pest Control!
How Dangerous Is It To Have Fleas In My Leipers Fork Home?
Fleas are often carried onto properties by wild animals. After infesting your yard, they'll use their exceptional jumping skills to attach to dogs or cats, providing entry into your house. While they prefer to feed on pets, they'll attack people if animals are unavailable.
These pests can be dangerous when they get into Leipers Fork homes. Fleas usually catch various diseases from other animals and pass them on to people and pets. Some illnesses people can get from flea bites include:
Murine typhus: Fleas catch this illness from rats, cats, or opossums before passing it to people through bites.
Tungiasis: Female sand fleas spread tungiasis to people by burrowing into the skin and laying eggs.
Tularemia: Commonly called rabbit fever, fleas catch the disease from rabbits, hares, and rodents, before passing it to humans.
Bartonellosis: Cats catch the illness from fleas and pass it to humans through scratches.
Tapeworm: A parasite that lives and feeds in human intestines.
Additionally, pets can get anemia and tapeworms from flea bites. Fortunately, pest control professionals can protect your household from these problems. Our technicians at All-American Pest Control will discover the presence of fleas on your property and eliminate the infestation before it infiltrates your house. Let us know if you notice signs of fleas on your property so we can remove them.
How German Cockroach Infestations Start In Leipers Fork Homes
German cockroaches are a problem for residents when they invade Leipers Fork homes. These pests carry pathogens on their bodies and legs, spreading them to people when they crawl on food and surfaces. Additionally, their saliva, urine, and droppings can cause allergies and asthma attacks in some people.
These pests eat some materials, like paper and fabrics, but the biggest concern is the spread of illnesses to occupants. The best way to avoid German cockroaches in your home is to prevent an infestation from occurring in the first place. But how do infestations start?
German cockroaches in Leipers Fork enter buildings while searching for food, water, and shelter. They can fit through tiny holes or crevices in the building's exterior, providing entry behind walls, and often reside in rooms with moisture, like kitchens and bathrooms.
These pests continuously reproduce, so a mini invasion can quickly become an infestation. Fortunately, pest control professionals know how to resolve this situation. Our technicians at All-American Pest Control can find the intruders and use modern treatments to get them out. Call us today if German cockroaches are causing problems in your Leipers Fork home.