Pest Control In La Vergne, TN
Residents in La Vergne should always be ready for invading pests inside their homes or businesses. Insects, rodents, and wildlife can show up without warning. Infestations cause stress, damage, and health problems. It's always good to have a La Vergne pest control company to inspect and treat your property for pests.
Pests enter homes and businesses for shelter, food, and water. When the weather turns cold, residents in La Vergne might have an uptick in infestations. However, scheduling monthly or quarterly residential and commercial pest control visits is best to deter future problems.
All American Pest Control has been offering service with a smile for decades. Founded in 1961, we are a locally owned and operated business serving many parts of Middle Tennessee including right here in La Vergne, TN. We live and work in your community so we understand the importance of pest control for both homes and businesses. With the same values we started more than 50 years ago- reliability, service, teamwork and respect, allow our team to be your La Vergne exterminators!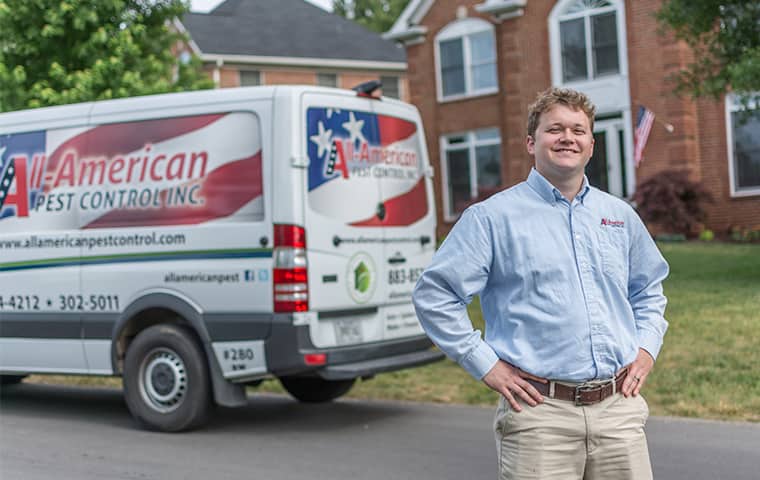 Residential Pest Control In La Vergne
Life is beautiful in La Vergne when your home is pest-free. When critters show up uninvited, they may trigger allergic reactions, contaminate food and water, and destroy your quality of life. It's hard to exclude pests with conventional or DIY products and solutions. The most effective way to exclude critters in your home is to call the pros.
All-American Pest Control dispatches friendly, knowledgeable technicians to provide the best home pest control. No matter how well you maintain your home, pests will find a way to intrude on your personal space.
It's no fun waking up to rustling, knocking, or scratching noises behind walls or from the attic. Homeowners shouldn't have to share their abode with insects, bats, mice, or rats.
Protecting the health and safety of your family and securing your home's structural integrity from pest-related damage is an absolute must. Call All-American Pest Control to inspect your home's interior and exterior and exclude unwanted pests.
Commercial Pest Control In La Vergne
Despite its small-town feel, La Vergne is a large city and a great place to operate a business. However, the area's pests present problems for commercial establishments when they invade. They damage machinery, contaminate inventory, and spread pathogens that can transmit illnesses to staff and customers. Commercial pest control in La Vergne, CA, protects local businesses from these problems.
All-American Pest Control has the solution for troublesome pests in your facility. Our inspectors will look through your building and exterior to find intruders, entry points, and conditions that attract them. We'll follow up with a treatment plan customized for your structure and industry.
Pests can cause significant problems for La Vergne businesses when they invade commercial facilities. Contact us to discover more about how you can benefit from our commercial pest services.
Common Household Pests in La Vergne
Pests are a common problem for homeowners. It's likely that, at some point, you will see signs of at least one of Tennessee's most common pests. Once these pests have moved into your home, it can be difficult to get rid of them. Many critters, such as spiders, hide in dark places and corners of your home which can make it difficult to know you have a problem (and to know if they're gone). Even a couple of spiders in your home can turn into many if they're not taken care of quickly.
Other pests to watch for are mice and rats. They move into homes to get out of the elements and look for food. Once inside, they don't want to leave. Mice and rats bring with them a variety of diseases that can be very harmful to humans. They're also known for chewing through wiring and causing damage to your home.
Other common pests are ants, crickets, stink bugs, silverfish, flies, and many more. Good news! We can protect you, your home, and your family from all of them!
Pest Control for Your La Vergne Business
Insects and rodents can be a business's worst nightmare. But if your business is in Middle Tennessee, All-American can help! Infestations can happen in the cleanest hotels or the most pristine restaurants. But that doesn't matter much to a customer that sees a mouse creep across the floor of their favorite pizza place or returns home from a hotel stay with bed bug bites. Give us a call today to learn more about commercial pest control in La Vergne, TN.
We're Ready To Help
Call Our Office or Fill Out The Form to Schedule Service Now
Brown Recluse Spider Removal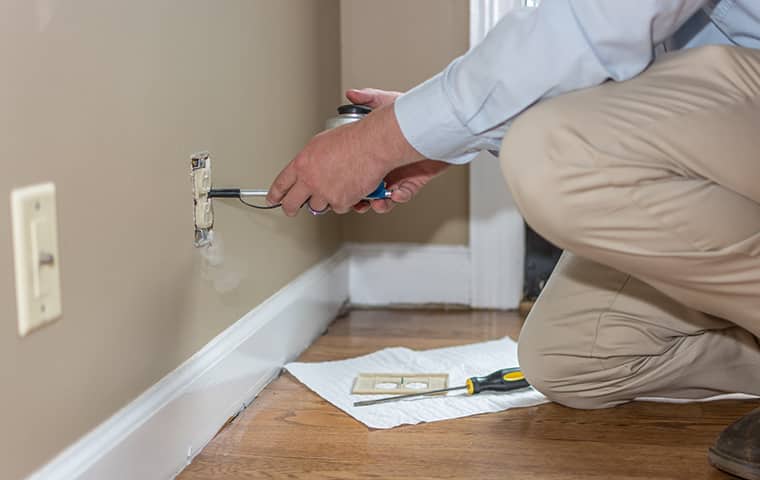 Like many spiders, brown recluse spiders make their homes in dark places such as corners, boxes, and furniture. While the brown recluse spider does not often bite, it can be very dangerous when they do. A brown recluse spider bite most often occurs when the spider is disturbed unintentionally. One of the best ways to protect your home against this type of spider is to keep the areas where they hide (such as basements or closets) free of clutter. You may also avoid a brown recluse bite by shaking out clothes or shoes before putting them on. If you suspect an infestation, it's important that you not handle the problem yourself as it can be very dangerous. Contact All-American Pest Control for help getting rid of brown recluse spiders!
Mini Guide To Minimizing Mosquito Exposure In La Vergne
We could write a book about mosquitoes and how to control these pests on your property. Since we do not want to bore you, we want to focus on the most important details of mosquito control today. Let's start with a few simple methods to eliminate breeding grounds on your property. Mosquitoes lay their eggs inside pools of stagnant water. To limit their opportunities for breeding on your property, take the following precautions:
Remove containers and other items from your property that might collect water after it rains.
Drain water that collects around your property after rainfall.
Make sure your gutters are in good working order, and clean them once a year.
Change the water in bird baths and ornate pools once every four days.
Stock ponds or other large bodies of water with mosquito fish.
To avoid bites by making yourself less attractive to mosquitoes, wear light-colored clothing, avoid going outdoors during dusk and dawn when mosquitoes are most active, and steer clear of moist areas like swamp lands and mashes. To drastically reduce the populations of these pests on your property, contact our team at All-American Pest Control to learn more about our mosquito control options and schedule an appointment.
Additional Services
We offer many services to keep your home or business free from a wide range of pests. In addition to brown recluse spider removal and rodent prevention and elimination, we also offer mosquito reduction, ant control, tick and flea treatments, and termite protection - complete with options that are environmentally friendly.
For any and all pest control pest control problems, contact All-American Pest Control today!