Pest Control In Kingston Springs, TN
Pest control is a concern for many Kingston Springs homeowners. Every season presents unique challenges with a variety of pests that are common to our area. All-American Pest Control has trained professionals that can respond to any of your pest concerns. We offer a free, no-obligation home evaluation to identify any problem pests in your home and create a custom plan for you. There are two types of home pest control plans offered by All-American. Both include free return treatments should you see a problem pest in your home in between regularly scheduled visits. All-American Pest Control's Perimeter Plus Control and the All-For-One bundled programs target, reduce, or eliminate 47 different pests common in the Kingston Springs area, such as ants, roaches, mosquitoes, mice, wasps, fleas, and many more. Begin the process by contacting All-American Pest Control for your free no-obligation home evaluation.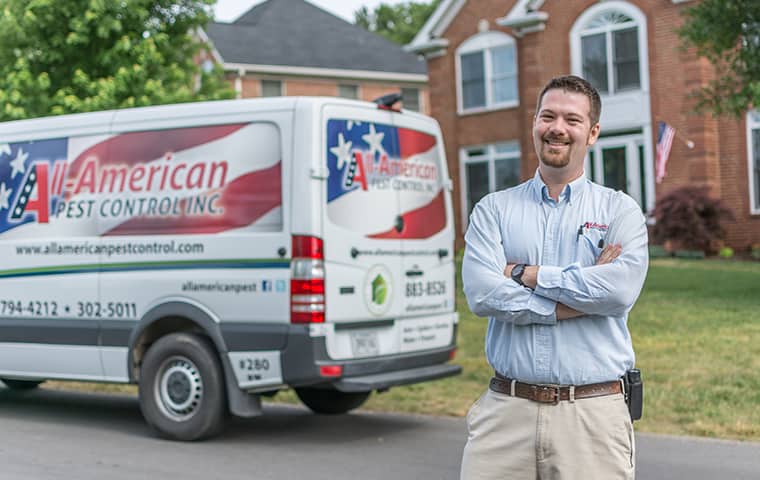 Commercial Pest Control
If you own a business in the Kingston Springs area, you already know that insects and rodents can pose a threat to your business, customers, and reputation. Each business is unique and will attract different pests in a different way. All-American Pest Control's trained staff can help identify the problem and develop a plan to help eliminate and prevent the pests from negatively impacting your business and the confidence of your clientele.
Here's what some of our valued customers have said about our commercial pest control service:
We are reliable and respond to their needs in a timely fashion.
We resolve the pest problem quickly.
Our billing is accurate and offers a variety of fast, easy payment options.
We develop customized programs that focus on their facility and vulnerabilities. This helps to save time and money for each client.
Our customers value that we answer our phone and respond promptly to their problems.
We make educated decisions on how to best address a pest situation and we follow through with every client.
If you're looking for an exterminator for your business, contact All American Pest Control!
How To Get Rid Of Brown Recluse Spiders
Have you discovered brown recluse spiders in your home? These pests can be a major health concern for your family and should be treated with great care. Like the name suggests, this spider's reclusive nature makes it difficult to locate and eliminate on your own. It takes experience, training, time, and effort to do this job correctly. That's why it's important to leave it in the hands of pest control professionals. Remember, the brown recluse spider's bite can create major health issues. So contacting All-American Pest Control should be your first choice if you suspect an infestation.
One of our trained professionals can visit your home to perform a complete, no-obligation assessment. We can then offer a plan to resolve the situation. Most brown recluse spider control plans will utilize the following steps:
Treatment for crawlspace and/or basement areas.
Interior areas at the base of closets, around furniture, behind bed frames, and other spider resting spots will also be treated.
Treatments to inaccessible areas such as walls will also need to be considered.
The attic can be treated, if applicable.
Application to the exterior areas of your home will also be done. These applications will concentrate on the perimeter along with cracks and crevices.
Removal of all exterior spider webs
We're Ready To Help
Call Our Office or Fill Out The Form to Schedule Service Now
Worried About Termite Damage In Your Home?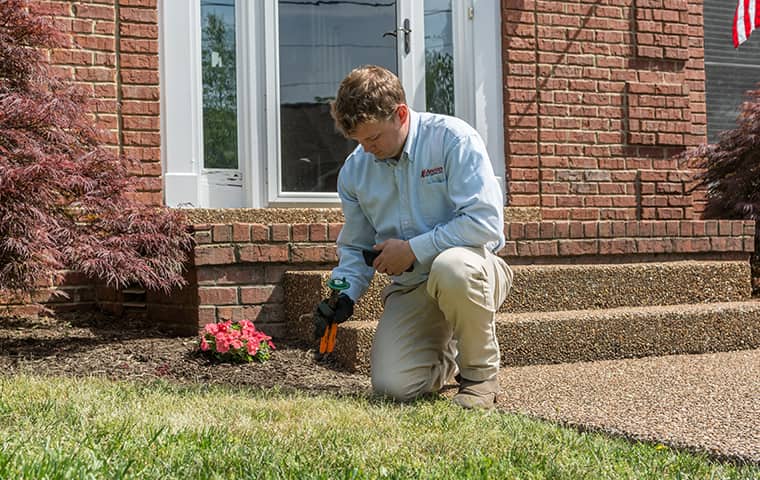 Termites can be very dangerous to the structure of your home. The eastern subterranean termite is the species most common to Tennessee. As their name suggests, this wood-destroying insect travels underground from their nest to their food source using tunnels they create. Even though termites are continuously working no matter what the season or time of day, it can often take homeowners months to discover an infestation. Termites most often enter homes through cracks in foundations as they are searching for food. Once inside they will go behind walls, inside the ceiling, and under floor boards to feed on the structural wood of your home and cause costly damage. At All-American Pest Control, we offer quality termite control that includes the installation of the Sentricon® Termite Colony Elimination System. The Sentricon® system is a non-invasive, eco-friendly way to exterminate termites. Bait stations are placed around your home. (No need for drilling!) Termites will feed on the bait and then take it back to the nesting area causing the entire colony to be eliminated. To learn more about residential termite control for your home or commercial termite protection for your business, please contact us today!