When Should I Be Worried About Mosquitoes?
There is no set time for mosquito season in Tennessee. Mosquitoes can hatch from their eggs in temperatures above 50 degrees. We may begin to see mosquitoes appear as early as the end of March and as late as October. That is a big window of opportunity for mosquitoes to grow their populations, and one of the reasons we have so many mosquitoes here.

Have you noticed that we have a lot of mosquitoes here? If you have, you're not alone. In a recent study, Nashville was ranked in the top ten U.S. cities most plagued by mosquitoes. It isn't just because mosquitoes in Nashville have more time to breed. There are other factors that contribute to mosquito-population growth. Learn more about them and how the Nashville pest control professionals at All-American Pest Control, Inc. can help!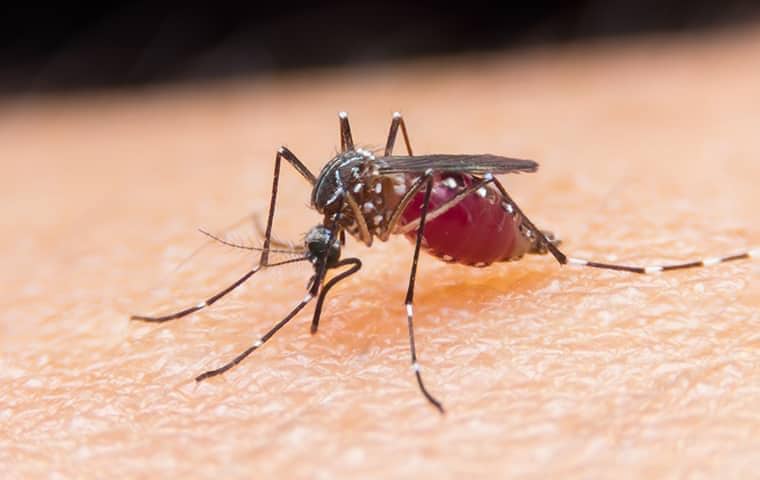 3 Things Mosquitoes Need
Mosquitoes need high humidity to thrive. That is why they are more plentiful near swamps and marshes.
Most mosquito species need still water in order to breed. That is why they are more plentiful after a flood.
Mosquitoes prefer shaded areas because the sun dries them out. That is one of the reasons mosquitoes are so plentiful in the woods.

Tennessee offers mosquitoes high humidity, plenty of still water resources, and lots of shade to survive and thrive. And, with temperatures being ideal for mosquitoes for as many as 9 months of the year, we have a ton of mosquitoes. That means we also have a high threat of mosquito-borne diseases.

There are many human pathogens that can be spread by mosquitoes. In the United States, we've seen the transmission of West Nile, malaria, dengue, yellow fever, Zika, chikungunya, and several forms of encephalitis.

Often folks contract these viruses and don't even realize it. Symptoms of mosquito-borne viruses can be easily mistaken for symptoms of the flu or the common cold.
What Can I Do About Mosquitoes In Tennessee?
You can actually have a big impact on mosquito populations in your yard if you deprive those mosquitoes of what they need: humidity, standing water, and shade. Here are some tips that will help:

It takes more than a week for a mosquito egg to go from egg to adult. Those eggs must hatch into larvae. Larvae must grow into pupa. And pupa must develop into adults, which then take to the air. If you pour out still water before the development process is complete, you can kill those mosquitoes. Inspect your yard for standing water and pour the water onto the ground so the sun can dry those mosquitoes out in all stages of development. Rainwater can collect in many containers such as kiddie pools, flowerpots, birdbaths, and in toys left in the yard.

A yard that has a lot of shade will be a haven for mosquitoes. You can make your yard less interesting by trimming tree branches and allowing the sun to dry your perimeter. Trimming bushes can also make a big difference.

It only takes a half a cup of water for a mosquito to breed. A breeding site that is often missed is water that is held in an obstructed gutter. It is important to keep gutters free of obstructions. If this is a problem for you, there are products that can be installed to protect your gutters from obstructions.

Along with preventing mosquitoes from breeding, it is important to eliminate mosquitoes in your yard. This is where professional Nashville mosquito pest-control services can really help.

At All-American, we assist families with mosquito control by offering our Perimeter PLUS pest control program. Not only does this program guard against 47 of Tennessee's common pests, but it also comes with a misting of mosquito resting spots. The product we use is only strong enough to take down mosquitoes and other bugs. It will not harm your children, your pets, or wildlife that come into your yard.

The reason Perimeter PLUS is so effective is that it turns mosquito-resting places into mosquito traps. When those mosquitoes rest, they come into contact with the knock-down agent and--bye-bye mosquito. Once that mosquito is dead, it isn't going to be breeding in your yard, or anyone else's yard and sending mosquitoes back into your yard.

If you've never invested in mosquito reduction service, give Nashville's Perimeter PLUS pest control a shot. You may find yourself shocked by how much of a difference it can make for you and your family.
We're Ready To Help
Call Our Office or Fill Out The Form to Schedule Service Now
View Our Home Pest Control Services Offerings