Are you in the market to buy a home in Nashville? If so, it is important to consider the threat subterranean termites in Nashville can present to your investment. These insects are a 5-billion-dollar-per-year problem in the United States and a serious threat in Tennessee. No homeowner should be without termite protection. Let's take a look at how termite protection works for a new home.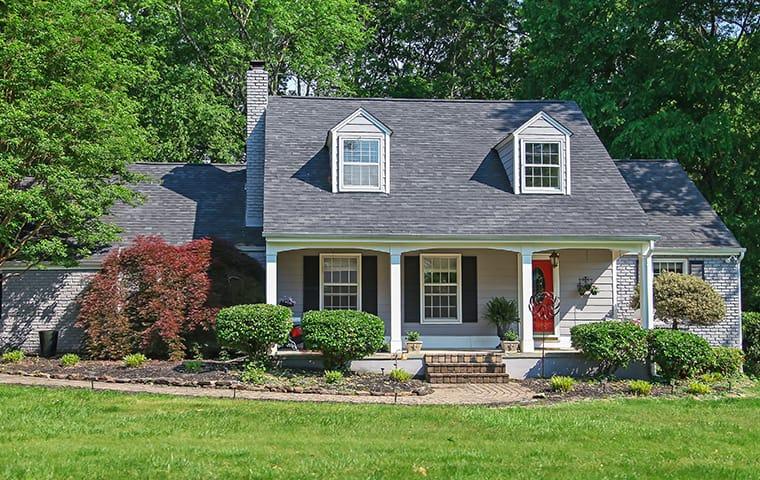 There are two ways you can purchase a home. You can have a home built or you can buy a new home that has already been built. In the case of building a home, it is best to invest in treatments for the wood and for the soil to resist subterranean termite infestation. This type of termite protection isn't complete but it is definitely a good place to start.
If you're buying a home that is already built, it is important to get a certified termite inspection, especially in Nashville. The last thing you need is to inherit someone else's termite damage. When termite damage is caught before the sale, you have the option to back out or to have the seller pay for that damage.
Whether you get a new home or a new-to-you home, it is vital to have ongoing termite protection installed around your home. The experts here at All-American Pest Control believe the best solution for this type of protection is the Sentricon® System with Always Active™.
Why the Sentricon® with Always Active™?
There are basically two solutions for protecting man-made structures from subterranean termite damage: Liquid termiticide treatments and Termite bait stations. The Sentricon® with Always Active™, which uses bait to eliminate colonies and prevent infestations, takes into consideration two important facts about the behavior of these wood-destroying insects.
Termites Never Stop — When a termite worker finds a source of wood to feed on, it alerts other termites to come feed on that food. But the termite workers in the area don't all feed on the wood that has been found. Many workers continue to search for other sources. This behavior makes it possible for termites to find a hole in a liquid barrier that has been injected into the soil around a home. Sentricon® with Always Active™ uses this behavior against those workers. Their constant search for food ensures that they will come into contact with the bait in Sentricon® with Always Active™ stations placed in the ground, and when they share the "food" they find in the Sentricon® with Always Active™ stations, the active ingredient slowly works its way through the colony, and the colony dies.
Termites Are Sneaky — When a liquid barrier fails, it can be difficult to tell. Subterranean termites can be hard to detect, even for an experienced service professional. The Sentricon® with Always Active™ takes the guesswork out of subterranean termite detection. When a service professional checks a Sentricon® with Always Active™ bait station that has been compromised, bait will be missing and often there will be dead workers or soldiers in the station.
If you're in the market to buy a home in Nashville, you should be aware of the threat Eastern subterranean termites present to properties in our state. While we can't tell you how much these wood-eating insects will do to your home or business, we can tell you that it is the kind of damage that can take you by surprise and has the potential to wipe out your savings account. When you invest in ongoing, always-active termite protection, you decide how much you'll allow these insects to cost. You can even make it a line item in your budget like Dave Ramsey suggests. Life has enough surprise expenses, doesn't it? Put your savings toward retirement, health care, or college for your kids, not unexpected termite repairs and ongoing repairs to address issues relating to termite damage. Reach out to us to get started and to learn more about our Nashville pest control services.
The purchase of a home is the largest purchase and largest investment most families will make. If you don't protect your investment from termite infestation, it could have serious repercussions. Let the Certified Sentricon® with Always Active™ installers at All-American Pest Control guide you through the process of keeping these homewreckers out of your Nashville home. If you're looking to protect a Nashville business from termites, we can help with this too. Reach out to us today for a consultation. We're here to help.
We're Ready To Help
Call Our Office or Fill Out The Form to Schedule Service Now
View Our Home Pest Control Services Offerings
With nearly 60 years of experience in Middle Tennessee, we believe in providing reliable, easy to schedule services that eliminate Tennessee's most persistent, uninvited pests. You can choose general pest control for your home, termite protection or yard treatments for fleas and ticks... or you can bundle these services together to save money and time!
You will love our team! We show up on time with a smile, we follow-up with you until our service exceeds your expectations, we will return in between trips for free by request, and we do what we say we will do! Check out our Google reviews and call us for more information!