Providing Pest Control In Ashland City And Middle Tennessee Since 1961
The quaint and quiet city of Ashland City, Tennessee, is just 'minutes away… to get away from it all!' Located on the banks of the Cumberland River and offering some of the most spectacular views of Sydney's Bluff, Ashland City is just 15 miles from Nashville, making it the perfect get-a-way location when you are looking for a place to relax and do some hiking or boating. With average annual temperatures of 58 degrees and very few days at freezing, Ashland City is also the perfect location for many nuisances, damaging, and harmful pests to live. This is why many of your friends and neighbors here in Ashland City rely on the trusted pest control professionals at All-American Pest Control to keep their homes and businesses safe from these insects and rodents.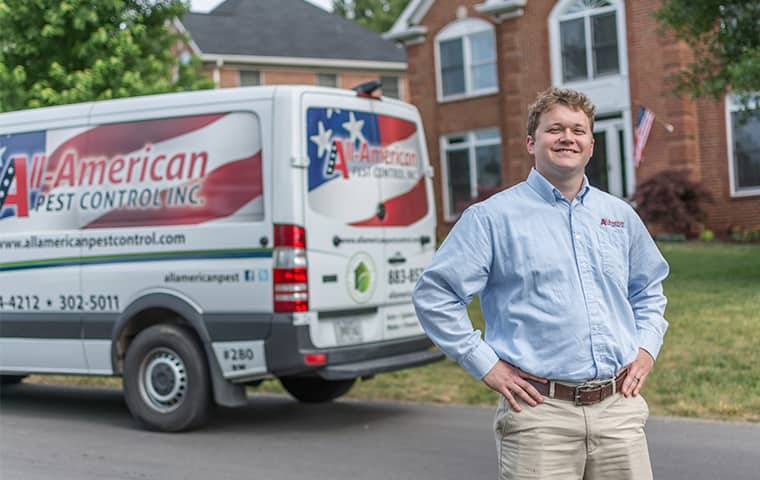 Home Pest Control in Ashland City, Tennessee
If you live here in Ashland City, then you know just how fortunate you are. Our town offers quiet, comfortable neighborhoods, great schools, and a wonderful small-town community atmosphere where people know and care about each other. Our way of life is well worth protecting, and one of the ways we protect our community is by keeping harmful and damaging pests like rodents, termites, cockroaches, and more from bringing illness to our families and damaging our homes.
This is where All-American Pest Control comes in. We are a local, family-owned and operated pest control company that has protected thousands of Tennessee homes from pests for more than 50 years. Our effective home pest control program will protect your home from more than 47 different types of pests; plus we offer termite monitoring and control services as well as flea, tick, fire ant, and chigger control solutions as well. We can help you protect your Ashland City home.
We're Ready To Help
Call Our Office or Fill Out The Form to Schedule Service Now
Ashland City, TN, Termite Control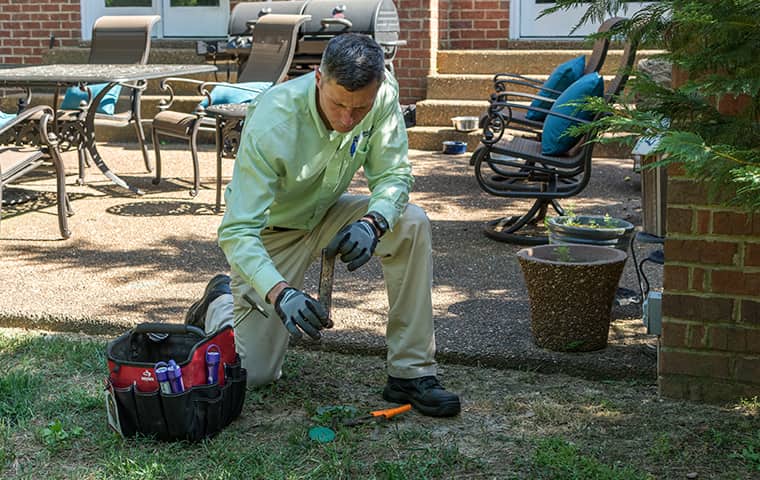 No matter how you look at it, termites spell trouble. These elusive pests can cause extensive damage to your Ashland City home or business before you even realize they are there. This is what makes termite monitoring and control services from All-American Pest Control a must for Ashland City residents.
Our termite control specialists are certified operators of the Sentricon® Termite Colony Elimination System which is the most effective way to intercept termites before they can enter your home or business and cause damage. With Sentricon®, there is no drilling or trenching necessary, and there will be no chemicals to pump near your family or pets. It is completely eco-friendly and safe. We are so confident that our services will keep termites from damaging your property that we offer a 1 million dollar termite damage repair guarantee. Contact us today and speak with one of our termite specialists to learn more about this service and our other industry-leading solutions for termites here in Ashland City.
Green Pest Control Services for Ashland City, TN, Property Owners
Controlling pests in a way that is safe for you and your family is important; and when those pest control products are safe for the environment, it is even better.
Here at All-American Pest Control, keeping you safe from the harmful and damaging effects of pests in an environmentally safe way is our highest goal, which is why we offer green pest control services throughout Tennessee and right here in Ashland City. Our pest control specialists know how to use plant-based oils and borate solutions that are tough on pests but easy on the environment; and our certified Sentricon® operators can eliminate termites in a safe and eco-friendly way.
To learn more about how we can help resolve your Ashland City pest problems using products and techniques that are highly effective on pests and friendly to the environment, please contact us today.
Common Tick Pressures in Ashland and How to Fight Them
In Ashland, there are basically three types of ticks you have to watch out for. They are the American dog tick, the Lone Star tick, and the brown dog tick. Let's take a quick look at them and discuss some tips to get rid of them in your yard.
The American dog tick is brownish red in color and has a preference for dogs, but dogs are certainly not the only animal these ticks feed on. In their junior stage, they'll take raccoons, opossums, mice, rats and other small animals as a host. When they mature and fall off, they will seek larger animals such as cattle, deer, and dogs. This can make them a big problem for pet owners because the American dog tick can spread diseases to dogs and humans.
Lone Star ticks are brownish with a pale dot in the center of their backs. These ticks are prone to latch onto humans and can be found in vegetation by the hundreds. They're definitely a bad past to have in your backyard.
Brown dog ticks are brown or dark brown with reddish coloration. While these ticks are canine specific, they can sometimes bite humans. The thing to really think about with these ticks is that they are the only ticks that can complete their entire life cycle indoors.
There are three main ways you can reduce ticks in your yard. Two you can do yourself.
Since ticks are brought into your yard on wild animals, everything you do to control wild animals will help to reduce ticks in your yard. Keep your exterior trash in covered receptacles. Put fencing around your property or around outdoor canine recreation areas. Reduce yard clutter to provide fewer hiding places for animals.
Ticks require a lot of moisture. If you keep your landscaping dry, you can actually make it harder for ticks to live in your vegetation. Put space between your plants, trim tree branches, and trim bushes. These will let the sunlight and the wind dry your plants after you water them.
Tick treatments performed by a licensed and experienced service professionals. There really is no better way to protect yourself, your family, and your pets from the threat of tick-borne diseases.
For assistance with tick control and other pest control in Ashland and throughout Middle Tennessee, contact All-American Pest Control.
What Can I Do About Wasps Around My Yard in Ashland City?
Pools seem to be a magnet for wasps and other stinging insects. Have you noticed? The reason they love your pool so much is that it is filled with water. All of that water is not only refreshing to you on a hot summer day, it is refreshing to insects as well. So don't be surprised when wasps and hornets show up at your pool parties. Let's take a look at a few ways you can prevent wasps from ruining your poolside fun.
Before wasps notice the water in your pool, they may have been lured onto your property for other reasons. By reducing attractants you may be able to reduce unwanted visits from wasps and hornets around your pool.
Open trash is like ringing the dinner bell for wasps and hornets. These insects can find many food sources in most bagged trash. Keep your trash covered and do a routine cleaning of your trash receptacles to reduce the aroma that can draw stinging pests in.
Wasps and hornets eat bugs. If you have lots of bugs around your home, you're going to have more problems with stinging insects and more poolside visits. One of the best ways to reduce bugs around your home is to reduce moisture. Many insects require a lot of moisture in order to survive. You can do this by trimming bushes and shrubs, trimming tree branches to let the sun in, and putting space between the plants in your landscaping. All of these will help the sun and wind dry your topsoil after watering.
Also, make sure your gutters are in good working order and are unobstructed. Clogged gutters are notorious for making foundation perimeters damp.
Stinging insects eat pet food. If you put food in bowls outside, the smell will draw attention from wasps and hornets. Consider only feeding your pet inside or put their food down only during mealtimes.
Visitations from wasps and hornets can be drastically reduced by making sure you don't have any nests on your property. Do a search for stinging pest activity around ground holes, rooflines, and in trees and bushes.
If stinging insects continue to be a problem for you, keep in mind that All-American Pest Control offers industry-leading pest control solutions for Ashland residents. Now is the perfect time to get started with a residential pest program that includes the management of stinging pests.
How Can I Fight Fleas in Ashland City?
How can the average homeowner in Ashland City fight fleas? Can they?
The answer to this question depends on how bad your infestation is. If you catch fleas early, you may be able to stop them by giving your pet a flea bath, vacuuming your rugs frequently, and washing your pet's bedding. But, for a flea infestation that has been going on for a while, or when conditions are present that give those fleas what they need to thrive, you may need a lot more than these simple tips to stop the infestation.

Fleas are frustrating and pernicious pests. If you don't apply the right strategies and products to control them, you could find yourself wasting a lot of time, money, and energy trying to get rid of them. The best solution for dealing with fleas in Ashland City is to let the service team here at All-American Pest Control help.

Our pest control experts understand how fleas develop in your home. So it is easier for them to diagnose your problem and get to the bottom of the mystery. If there are factors contributing to your infestation, your service professional will help you find a solution that works for your specific situation. On top of this, we use residual products that continue to eliminate fleas long after the treatment is complete. You won't have to worry about new fleas taking the place of the fleas that were eliminated!

Once your home is flea-free, we can also help you with the fleas in your yard, after all, you probably got that infestation because your pets brought fleas in from somewhere around your home. That's how it usually happens. With flea control treatments applied around your home, your pets will be able to roam around in your yard with less risk of flea exposure.

Does Flea & Tick Control really work? You betcha! Those parasites aren't all that imaginative about where they like to hide, and your All-American Service Professional knows where to apply the residual control product to prevent fleas from surviving near your home, where your pets can pick them up.

If you're dealing with a flea infestation or you'd like to prevent an infestation before it begins, we can help. When it comes to controlling Tennessee pests, you can trust the team at All-American Pest Control. At All-American, you won't get inflated promises; just results.