Providing Pest Control In Ashland City And Middle Tennessee Since 1961
The quaint and quiet city of Ashland City, Tennessee, is just 'minutes away… to get away from it all!' Located on the banks of the Cumberland River and offering some of the most spectacular views of Sydney's Bluff, Ashland City is just 15 miles from Nashville, making it the perfect get-a-way location when you are looking for a place to relax and do some hiking or boating. With average annual temperatures of 58 degrees and very few days at freezing, Ashland City is also the perfect location for many nuisances, damaging, and harmful pests to live. This is why many of your friends and neighbors here in Ashland City rely on the trusted pest control professionals at All-American Pest Control to keep their homes and businesses safe from these insects and rodents.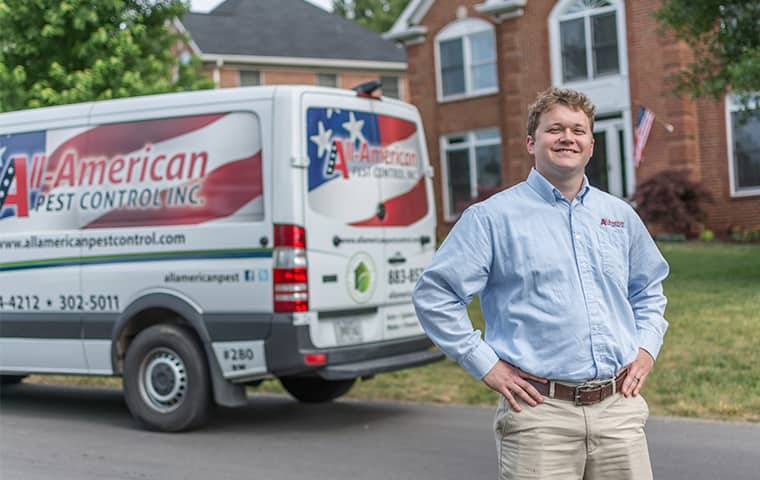 Home Pest Control in Ashland City, Tennessee
If you live here in Ashland City, then you know just how fortunate you are. Our town offers quiet, comfortable neighborhoods, great schools, and a wonderful small-town community atmosphere where people know and care about each other. Our way of life is well worth protecting, and one of the ways we protect our community is by keeping harmful and damaging pests like rodents, termites, cockroaches, and more from bringing illness to our families and damaging our homes. This is where All-American Pest Control comes in. We are a local, family-owned and operated pest control company that has protected thousands of Tennessee homes from pests for more than 50 years. Our effective home pest control program will protect your home from more than 47 different types of pests; plus we offer termite monitoring and control services as well as flea, tick, fire ant, and chigger control solutions as well. We can help you protect your Ashland City home.
We're Ready To Help
Request a FREE evaluation or get a quote over the phone.
Ashland City, TN, Termite Control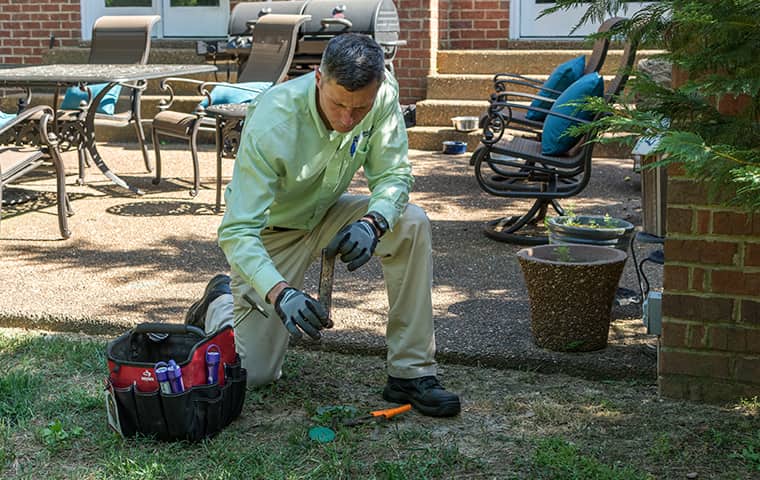 No matter how you look at it, termites spell trouble. These elusive pests can cause extensive damage to your Ashland City home or business before you even realize they are there. This is what makes termite monitoring and control services from All-American Pest Control a must for Ashland City residents. Our termite control specialists are certified operators of the Sentricon® Termite Colony Elimination System which is the most effective way to intercept termites before they can enter your home or business and cause damage. With Sentricon®, there is no drilling or trenching necessary, and there will be no chemicals to pump near your family or pets. It is completely eco-friendly and safe. We are so confident that our services will keep termites from damaging your property that we offer a 1 million dollar termite damage repair guarantee. Contact us today and speak with one of our termite specialists to learn more about this service and our other industry-leading solutions for termites here in Ashland City.
Green Pest Control Services for Ashland City, TN, Property Owners
Controlling pests in a way that is safe for you and your family is important; and when those pest control products are safe for the environment, it is even better. Here at All-American Pest Control, keeping you safe from the harmful and damaging effects of pests in an environmentally safe way is our highest goal, which is why we offer green pest control services throughout Tennessee and right here in Ashland City. Our pest control specialists know how to use plant-based oils and borate solutions that are tough on pests but easy on the environment; and our certified Sentricon® operators can eliminate termites in a safe and eco-friendly way. To learn more about how we can help resolve your Ashland City pest problems using products and techniques that are highly effective on pests and friendly to the environment, please contact us today.