Get To The Source Of The Problem!
Before the introduction of the Sentricon® Termite Colony Elimination System™ in 1995, the solution for termites in Tennessee was more of a bandage than a solution. While disruptive chemical treatments tried to keep worker termites from destroying homes, these treatments didn't get to the root of the problem which is the colony or colonies that were sending those worker termites. But the introduction of the Sentricon® System changed all that! This termite elimination system offered Tennessee homeowners a solution that addressed the source of the problem, not just the symptoms.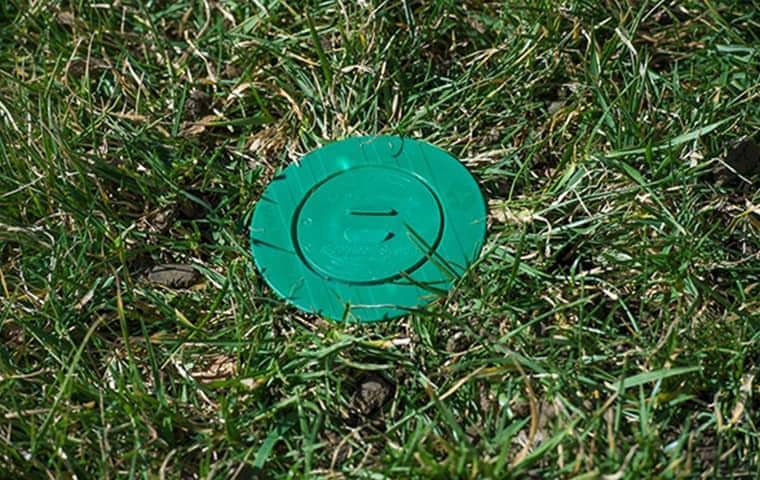 The Old Way
If you wanted to protect your Tennessee home from subterranean termites prior to 1995, the best way to accomplish that was to have a licensed pest control company come inject large amounts of termiticide into the soil around your home. This would have required drilling, trenching, hundred of gallons of chemical and other destructive processes to make sure the barrier around your home was complete.
The New Way
Some of the experts at Dow AgroSciences came to the conclusion that the best way to fight subterranean termites was actually to use the biology and natural behavior patterns of these termites against them, rather than dumping tons of termiticide into the ground. They envisioned a bait system that would utilize worker termites to spread an active ingredient throughout their own colony to eliminate the queen. And it worked! The scientifically designed bait spreads throughout the colony. This active ingredient, Noviflumuron, prevents termites from molting and results in the elimination of their colony!
Through the Years
This new technology was not only embraced by the pest control industry but was also meticulously studied in academia. Since its introduction, more than 30 independent studies have been done and more than 70 scientific papers have been written about the Sentricon® with Always Active™. And you know what they found in those studies? That Sentricon® with Always Active™ bait is actually more interesting to termites than wood. That's saying a lot as wood is a primary food source for these insects. What's more, they discovered that Sentricon® with Always Active™ bait becomes more attractive to termites as it ages. So, rather than breaking down over time like liquid barriers, Sentricon® with Always Active™ becomes more and more effective as time goes on.
The Best Part About Sentricon® with Always Active™
Have you heard the line "you had me at hello"? Well, the eco-friendly nature of the Sentricon® with Always Active™ is enough to convince any pest control company to adopt this system, and they have! In fact, Sentricon® with Always Active™ has the distinction of being the most rapidly adopted termite technology in the history of pest management, but that isn't even the best part. Sentricon® with Always Active™ solved an extremely difficult problem for pest management companies: it made termite detection a breeze!

As termite workers feed on the bait, both live and dead termite workers can easily be spotted in the Sentricon® with Always Active™ stations. This makes the detection of termites a whole lot easier for pest professionals which is really important as termites are extraordinarily difficult to detect, even for highly-trained and experienced termite control professionals.

Subterranean termites live deep in the ground and tunnel through the wood inside the walls of man-made structures. Both of these locations are impossible to look into without cutting into walls or digging up the ground. When performing termite inspections, service professionals must rely on detailed termite inspection protocols to uncover termite activity and identify conditions that are conducive to termite infestation. It is a complex process that can fall short if not done thoroughly. But with Sentricon® with Always Active™, a lot of that hassle can be avoided.
The Solution We Use
At All-American Pest Control, we trust Sentricon® with Always Active™. It is a highly-tested system with two decades of real-world success. It is also the only termite product to ever earn the Presidential Green Chemistry Challenge Award. And, if all that wasn't enough, Sentricon® with Always Active™ comes with a $1,000,000 repair warranty!

Having Sentricon® with Always Active™ installed is like buying termite insurance for your Tennessee home or business. When termites come to feed (and trust us, they will!), your certified Sentricon® with Always Active™ professional will know. And even before your service professional checks them, the bait in the Sentricon® with Always Active™ bait stations will already be working to eliminate those invading termites and the colony that sent them. That is some powerful termite protection!

Learn more about Sentricon® with Always Active™, the number-one brand in termite protection, by giving us a call to schedule a visit with one of our service team members. The Tennessee pest control professionals at All-American Pest Control is a certified Sentricon® with Always Active™ installer. Get your protection in place today!
Reach out today to get started and to learn more about our residential and commercial pest control services in Tennessee.
We're Ready To Help
Call Our Office or Fill Out The Form to Schedule Service Now
View Our Home Pest Control Services Offerings
With nearly 60 years of experience in Middle Tennessee, we believe in providing reliable, easy to schedule services that eliminate Tennessee's most persistent, uninvited pests. You can choose general pest control for your home, termite protection or yard treatments for fleas and ticks... or you can bundle these services together to save money and time!
You will love our team! We show up on time with a smile, we follow-up with you until our service exceeds your expectations, we will return in between trips for free by request, and we do what we say we will do! Check out our Google reviews and call us for more information!