What are rice weevils?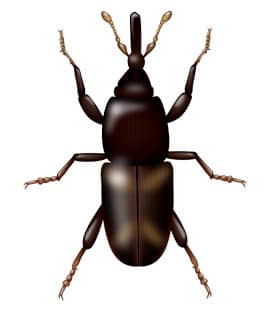 Rice weevils are small stored product pests that attack a wide variety of grains including barley, corn, rice, wheat, oats, rye, dry cereals, and pasta.
These winged insects are reddish-brown to black and have four yellow or reddish spots on the corners of their forewings.
Their "nose" is very distinctive as it is about 1/3 of its total body length.
Rice weevil larvae are legless; they have a plump, cream-colored body and a dark head capsule.
Are rice weevils dangerous?
Rice weevils are not directly dangerous to people because they are not known to transmit any diseases to humans. Rice weevils are, however, dangerous to the grain industry and can cause a lot of problems for homeowners by contaminating food sources.
Why do I have a rice weevil problem?
A rice weevil problem generally begins when adults infest crops found out in the fields; the crops are harvested and brought to a food processing facility- contaminating the facility with rice weevils. Rice weevils generally enter homes through products purchased at the store that are already infested with adult rice weevils or their larvae. It is also possible for adults to fly into your home through open windows or doors. Signs of a rice weevil infestation in your home include finding adult weevils or their casings in packages of grains or exit holes in grain packaging that are left behind after the adults emerge from them.
How do I get rid of rice weevil?
The fastest, safest, and most effective way to eliminate rice weevils or any other stored product pest from your home is to get help as quickly as possible from a professional. At All-American Pest Control, we can help to eliminate rice weevils and other common household pests from your home through our year-round Perimeter pest control program or our green pest control solutions.
We're Ready To Help
Call Our Office or Fill Out The Form to Schedule Service Now
Can I do it myself?
We do not recommend using DIY pest control products to get rid of rice weevils from your home; especially because rice weevils invade food sources. Pest control products found at hardware stores are not only often ineffective, but they can be very dangerous to use if not mixed or placed properly. Also, these products should never be used in close proximity to food sources. The best way to get rid of rice weevils and to prevent a re-infestation is to get help from a professional pest control expert. If rice weevils have infested your home's kitchen or pantry, contact the experts at All-American Pest Control today.
Why choose All-American Pest Control?
With over 50 years of experience, we know the time, effort, and patience it takes to solve any pest problem including problems with stored product pests like rice weevils. With All-American Pest Control you'll receive quality services, thorough treatments, and a commitment to solving your pest problem from our trained, friendly experts.
How can I prevent problems with rice weevils in the future?
Along with investing in year-round pest control treatments in Nashville, the following prevention tips can help to deter problems with rice weevils in your home.
Make sure that screens are placed in exterior windows and doors to prevent adult rice weevils from entering your home.

Inspect food packaging for signs of rice weevils, rips, and holes before purchasing items from the store.

Make sure to remove grains and other dry goods from their original packaging and place them into sealed plastic or glass containers.

Regularly clean out your home's pantry getting rid of expired items.
Call us at All-American today to schedule your free home evaluation today!