A Referral Program Where Everyone Wins!

If you refer new customers to AAPC and they mention your name when they call to start a new service...
We'll send you a $20 gift card.
Your referral will receive $20 discount on their new service.
Our friends at The Fisher House, Habitat for Humanity of Williamson County, or The Open Table of Nashville will receive a $10 donation.

Who wins?
Tennessee Fisher House Foundation

The Tennessee Fisher House Foundation, Inc. is a non-profit organization dedicated to bringing a Fisher House to the campus of the Alvin C. York VA Medical Center in Murfreesboro TN. It is also dedicated to assisting the house once it is built to attend to the needs of those who will be guests in the house.
For members of our Armed Forces, retirees, veterans and their families, the Fisher House offers shelter and support during a medical crisis. It offers a comforting home environment when a loved one is receiving care in an unfamiliar place during a stressful time of serious illness or injury.
Most importantly, due to the generous people, no family pays for their stay. The staffing and maintenance will be the responsibility of the VA once it is turned over to them upon completion of construction.
Habitat for Humanity of Williamson County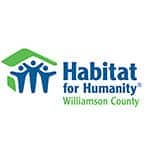 Habitat for Humanity of Williamson County (HFHWC) is a non-profit, 501(c)3 organization and ecumenical Christian ministry that works with low-income families and donors to build simple, decent homes and sell them with no profit and no interest. HFHWC has built more than 130 homes in Williamson County and continue to build 10-12 new homes per year.
HFHWC offers a hand up, not a handout. They build and sell simple, decent homes to qualifying families at no profit and carry the 20, 25 or 30-year mortgages at 0% interest. Habitat serves as both the general contractor and the mortgage lender on all of the houses. Habitat brings together sponsors and volunteers to fund and build each home in partnership with families. More than 70% of the work done on each house is done through volunteer labor, and HFHWC receives donations of money and materials from individuals, companies, and groups who are committed to the ministry of Habitat. A volunteer Family Selection Committee qualifies applicants for the Homeownership Program.
The Open Table of Nashville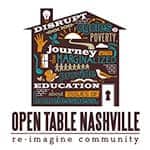 It all started in the summer of 2008 after the Nashville Flood displaced "Tent City"; the largest homeless camp in Nashville located along the Charles River. As many of us Nashvillians were working to clean out our floods homes and neighborhoods, our un-housed friends were struggling with similar issues. A group of local outreach workers helped the "Tent City" residents find alternative locations to camp. As relationships developed, Ingrid McIntyre was inspired to start a non-profit committed to disrupting the cycle of poverty.
The Open Table of Nashville disrupts the cycle of poverty by offering community and transitional housing opportunities for un-housed individuals and resident volunteers that promote stability, recovery, and wholeness. Our community homes foster hospitality while providing advocacy, supportive services, and mentoring relationships. The Open Table Nashville believes that in order to disrupt cycles of poverty and homelessness, we must first understand such cycles. Therefore, Open Table Nashville facilitates training and provide resources and curriculum to help groups better understand the complexity of these issues while promoting personal transformation and systemic change in the Nashville community.