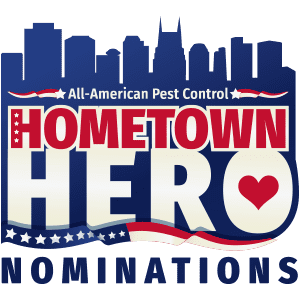 All-American Pest Control's Hometown Hero Award was created to celebrate all the good people in Middle Tennessee that keep our families, schools, churches, and community safe and strong! We are calling for your nominations of people you know that live All-American's core values of reliability, remarkable service, teamwork, respect, thoughtful innovation and servant leadership!
Who do you know that dedicates their lives in service to others and our great community? Say thank you to individuals, military and/or non-profit organizations by completing this form by 8 PM on Friday, April 3rd.
The All-American Hometown Hero Award recipient will receive 10 years of FREE pest control, mosquito reduction, termite protection, and yard treatments.
Learn About Last Year's Award Winner


All-American Hometown Hero Award Details
Nomination Window: Ends 8 PM Friday, April 3rd
Who is eligible? Individual homeowners and non-profit organizations in Davidson, Williamson, Maury, Dickson, Rutherford, Wilson, Montgomery, and Sumner counties.
Winner Announced: Thursday, April 16th
Award: 10 YEARS of FREE pest control and termite protection