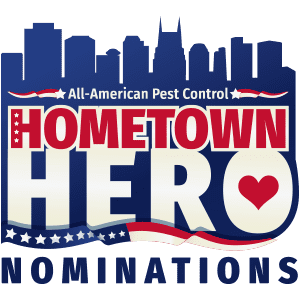 All-American Pest Control's Hometown Hero Award was created to celebrate all the good people in Middle Tennessee that keep our families, schools, churches, and community safe and strong!
We crowned our 2020 Hometown Hero Award winner on May 21, 2020 with a "social distancing" parade. Susan Landfield, along with her husband Jacob and son Levi, were present for the parade and presentation of 10 years of free pest control, termite protection, mosquito control, and tick yard treatments.
All-American Pest looks for people that live out their core values of reliability, remarkable service, teamwork, respect, thoughtful innovation, and servant leadership!




Learn About The 2019 Award Winner Here


All-American Hometown Hero Award Details
Nomination Window: Our 2021 Nominations Open in March 2021
Who is eligible? Individual homeowners and non-profit organizations in Davidson, Williamson, Maury, Dickson, Rutherford, Wilson, Montgomery, and Sumner counties.
Winner Announced: Spring 2021
Award: 10 YEARS of FREE pest control, mosquito control, termite protection, and tick yard treatments