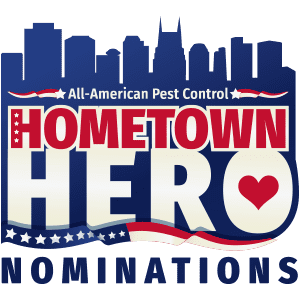 All-American Pest Control's Hometown Hero Annual Award was created over 3 years ago to celebrate all the good people in Middle Tennessee that keep our families, schools, churches, and community safe and strong!
We are now accepting nominations for our third annual Hometown Hero Award. The winner will receive a gift of 10 years of free pest control, mosquito reduction, termite protection, and yard treatment services. New this year, three runners-up will also be selected to receive one year of complimentary pest control services.
Nominations are open until 8 p.m. on April 23 and can be submitted below for anyone residing in the following counties: Davidson, Williamson, Maury, Dickson, Rutherford, Wilson, Montgomery, and Sumner. The nominee should be someone who lives by All-American Pest Control's core values of reliability, remarkable service, teamwork, respect, thoughtful innovation, and servant leadership. The winner and runners-up will be announced on May 6.
Learn about our 2020 Award Winner here
All-American Pest Control selected Susan Landfield, a working mom and LPN, as its 2020 Hometown Hero Award-recipient. Landfield was nominated for her selflessness in the way she continually gives of her time and talents to help her neighbors in Old Hickory Village—especially through COVID-19.




Learn About The 2019 Award Winner Here


All-American Hometown Hero Award Details
Nomination Window: Our 2021 Nominations Open in March 2021
Who is eligible? Individual homeowners and non-profit organizations in Davidson, Williamson, Maury, Dickson, Rutherford, Wilson, Montgomery, and Sumner counties.
Winner Announced: Spring 2021
Award: 10 YEARS of FREE pest control, mosquito control, termite protection, and tick yard treatments



HOMETOWN HERO AWARD OFFICIAL RULES