Termite baiting or chemical treatment?
When it comes to preventing termite damage in Tennessee, there are really only two ways that are effective: bait or chemicals. And, while both of these options can keep subterranean termites from eating you out of house and home, they each have vulnerabilities. Let's take a look at what these two termite control options are and discuss potential issues that can arise.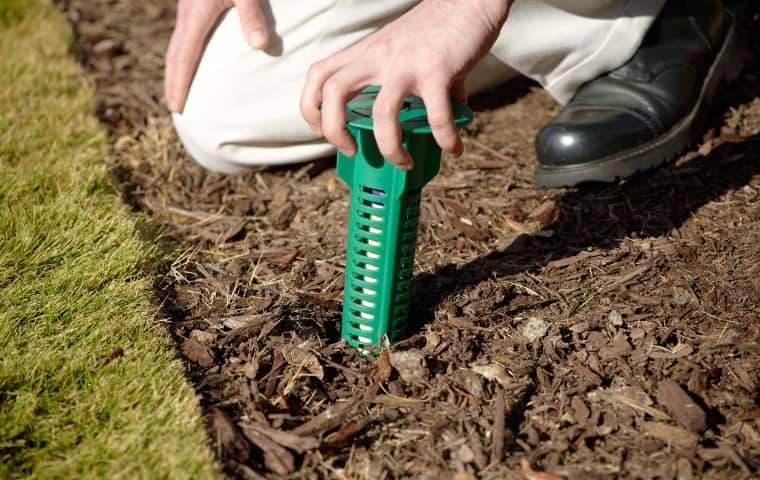 Chemical treatments
Usually, when a pest control company says they do chemical treatments to prevent termite damage, they're talking about Termidor. It is a chemical pesticide that not only kills termites, it has a patented transfer effect that uses worker termites to eliminate colonies. While Termidor can certainly get the job done, it comes with a long list of drawbacks.
In order to create a complete chemical barrier, hundreds of gallons of termiticide must be injected into the soil.
A chemical treatment requires trenching. The installer will create these trenches in areas where soil abuts the foundation wall. If not done properly, it can leave a gap for termite workers to get through.
In locations which cannot be trenched, drilling must be done. The installer will drill down through concrete, brick, and other materials in order to insert the injection tool and administer the product.
Termidor and other termiticides have an odor. If you see a product description that says odorless, it is referring to the ability of termites to smell it. Since you're not a termite, you can disregard this sales pitch. Termiticide has a smell to it.
Chemicals break down over time. This can leave your home Tennessee home vulnerable--and you won't even know it. You will have to rely on routine visits from your termite controller to catch an infestation that arises from a breach of your defense. And subterranean termites are notoriously difficult to detect, even for a trained professional.
For decades, termiticide applications were the only effective way to guard against termite damage, and some companies still cling to this tried-and-true method.
Reach out today, to get started and to learn more about our residential and commercial pest control services in Tennessee.
Termite bait stations
By now, you've probably noticed that we prefer a bait station solution for termite control. Bait is a smarter and more eco-friendly way to protect property from termite damage. It takes into consideration the natural behavior of termites. And, unlike chemicals, it becomes more effective over time.
It is also important to understand that not all bait station solutions are equal. The experts here at All-American Pest Control trust the Sentricon® System with Always Active™ because it has over two decades of real-world success behind it, and it has been the subject of over 70 scientific papers. It is also the only termite product that has earned the Presidential Green Chemistry Challenge Award. Here are some benefits to the Sentricon® with Always Active™.
Termite activity is difficult to see. Sentricon® with Always Active™ stations make termite detection simple. When termites take the bait, your technician will know. You don't have to rely on a complicated and detailed inspection to know that your property is termite-free.
Termites WILL take the bait. Sentricon® with Always Active™ bait is scientifically proven to be more interesting to termite workers than wood, which is their primary food source.
Termites will also take the bait because of their natural behavior patterns. When worker termites find a food source, they do not focus all of their effort on one location. While many workers will get the food that is found, others will continue to search for more. This constant search for food brings them into contact with the bait.
While chemicals can break down, the bait inside Sentricon® bait stations gets better with age. This doesn't do much to make the system more effective at protecting your property, but it certainly helps to ensure that it doesn't become ineffective over time like termiticides can.
Sentricon® with Always Active™ is, well, always active. That means you don't have to wait for a technician to see that a bait station has been attacked like some bait systems require. Sentricon® with Always Active™ stations have enough active ingredient to eliminate most termite threats on their own. If your home is attacked by more than one colony and more active ingredient is needed for colony elimination, that's no problem. Your technician will swap cartridges and make sure those colonies are taken down.
Give us a call to learn more about our termite control options today.
We're Ready To Help
Call Our Office or Fill Out The Form to Schedule Service Now
View Our Home Pest Control Services Offerings